Redd's is rebooting its lineup to bring back two of its most-successful flavors: strawberry and peach.
Redd's Strawberry Ale is back as a limited-time offering for spring and summer after a year in hibernation. The flavor debuted in 2016 and was Redd's most-successful flavor launch, quickly growing to more than 100,000 barrels. It is one of the most-requested flavors by Redd's social media followers, and performs especially well during spring and summer months, says Rose Osial, a Redd's associate brand manager.
Its return will sate pent-up consumer demand for the flavor that has persisted since the brand disappeared from retail shelves in early 2017. "We've seen continued requests over the last year to bring it back," Osial says.
Redd's Peach Ale, meanwhile, debuted as a limited-time offering in spring and summer of 2017, and is back in 2018 as a year-round flavor. Its return comes after the brand exceeded company goals, becoming the second-fastest moving Redd's flavor behind its flagship Redd's Apple Ale and the No. 2 selling peach-flavored flavored malt beverage in the market last year.
Peach, a flavor Osial says will bring incremental reach to the Redd's lineup by diversifying its offerings beyond apple and berry flavors, replaces Redd's Raspberry Ale as a year-round offering.
Both products began hitting retail this month. They're each sold in four-packs of 16-ounce cans and six-packs of 12-ounce cans. Peach also is featured in the new Redd's White and Blue variety packs alongside Redd's Apple and Redd's Blueberry.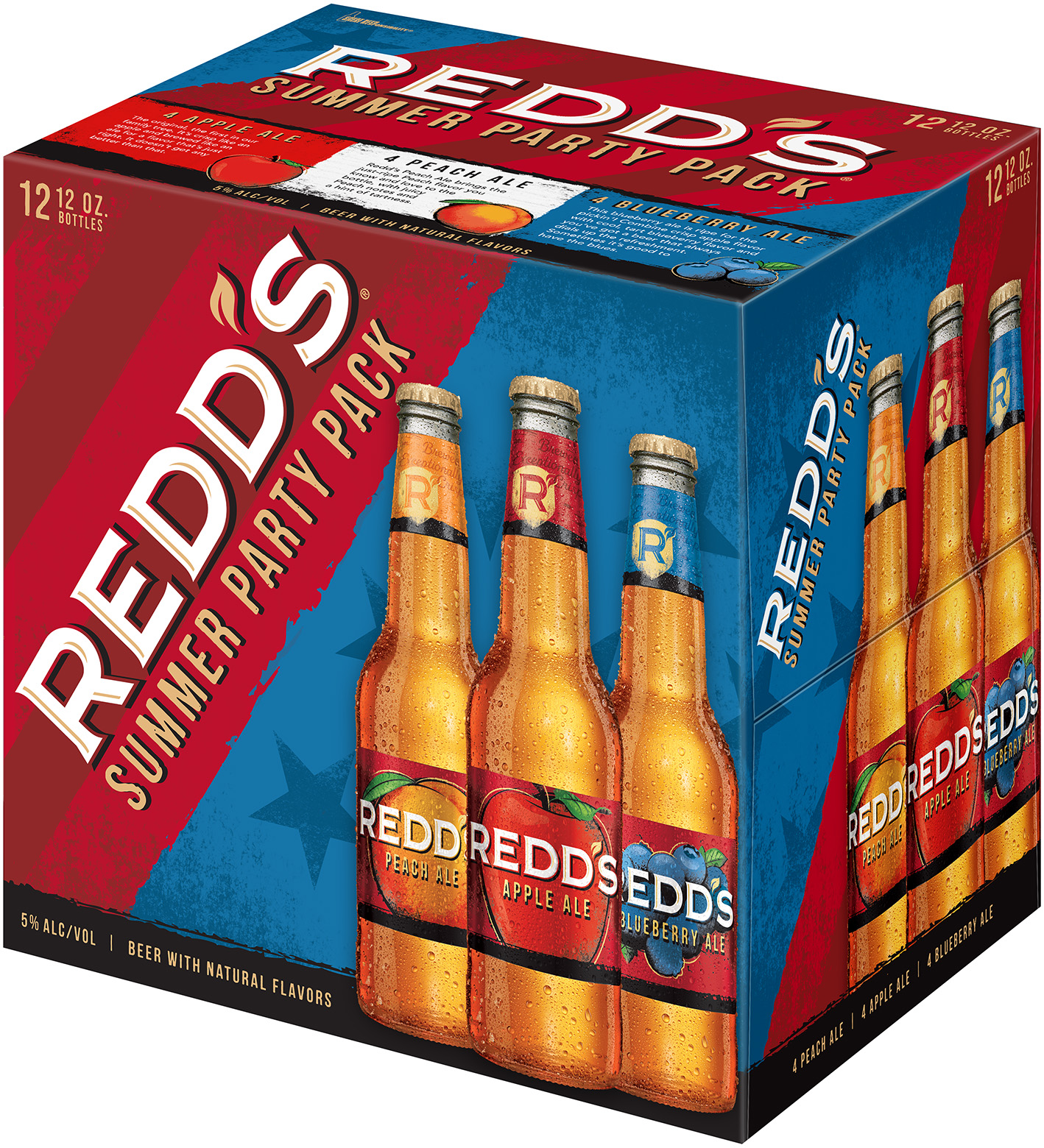 Redd's is coming off a challenging 2017. Refreshing its portfolio is critical to succeeding in the flavored malt beverage space, which has been driven by new brands and new flavors, Osial says. "Consumers in this space are constantly seeking something new, and brands that offer a variety of flavors and keep them fresh are the ones that gain the most traction."
Demand for variety is a key reason FMB variety packs are among the most-successful packs in the segment. The Redd's variety packs are among the best-performing items in the brand family; case volume is up double digits in the most-recent 13-week period and velocity has increased by 31 percent, Osial says. The red-white-and-blue American Pride-themed variety packs, which began rolling out this month, "should help those numbers even more and draw retailer interest and consumer preference," she says.
Redd's also is launching a new television spot that begins airing in May, marking the first time Peach will be featured on a national scale. The brand also is being supported with new out-of-home advertising as well as point-of-sale materials.