Madrí Excepcional, one of the fastest-growing beers in the U.K., returned to TV screens in Britain last week, kicking off a multimillion-pound, five-month summer marketing campaign.
Molson Coors' Spanish-inspired lager, which has become one of the company's top five above-premium brands globally since its late 2020 launch, aims to continue its momentum through the important summer selling season by building brand awareness.
Its campaign, titled "El alma de Madrid" or "The Soul of Madrid," aims to bring "the vibrancy, warmth and progressive spirit of modern Madrid to the U.K.," says Sophie Mitchell, senior brand manager for Madrí Excepcional.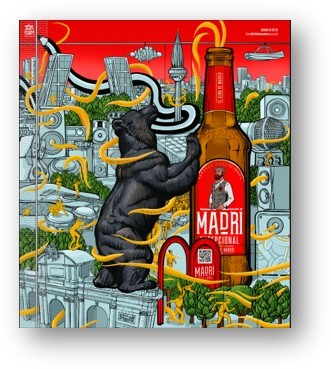 With a 60-second TV spot, special events, and digital and out-of-home advertising — including murals from the artists Sokram, Qubek and Choots — the campaign "will celebrate Madrí Excepcional's fusion of the soul of Madrid and the best of British brewing expertise," Mitchell says.
In a first for the brand, consumers can also scan QR codes on limited-time packaging and on murals at Madrí Excepcional events that will take them to an interactive platform called "Madrí Conectada." The platform gives consumers access to personalized maps leading to Madrí Excepcional events, exclusive music gigs and other activities.  
The TV spot, shot on location in Madrid by directing duo Julien & Quentin and Pulse Films, depicts a man traveling by train walking through a series of red doors that lead him through the bustling streets of Madrid — a sunny terrace, a street party, a mural-speckled street scene. He completes his journey on a rooftop bar where he's served a bottle of Madrí Excepcional, where he takes in what's known in Madrid as the blue hour, when the sun sets and the evening begins.
"There's a traditional side to Madrid but it's also very modern, progressive and inclusive," Mitchell says. "Madrí Excepcional takes tradition and moves it forward. It's a brand that embraces history, but builds upon it and takes it into the future."
Since its debut, Madrí Excepcional has been a rocket ship in the U.K., gaining more market share than any of Molson Coors' global brand innovations since the Molson-Coors merger in 2005. Molson Coors CEO Gavin Hattersley has called the brand "the standout star" of the company's global portfolio.
The marketing campaign follows a period of rapid growth for the brand, which became the U.K. on-trade's most successful new launch by delivering the highest sales value of any alcohol brand in its first year, according to CGA on-premise data spanning 2006-2022. And in the off-trade, Madrí Excepcional now ranks in the top five world lagers in the U.K., per IRI Great Britain volume data for the 52 weeks ended March 23.
Considering it's been in market for less than three years — and only in package since March 2022 — Madrí Excepcional may have only just begun to tap into its potential.
"While we saw brand awareness double last year, there's plenty of opportunity to increase this further as we're still a relatively new brand," Mitchell says. "Our big goal this summer is improving awareness with consumers while maintaining a consistent voice and message that brings to life what Madrí Excepcional stands for."