Hard sparkling water is one of the hottest products in the alcohol industry. And Henry's Hard Sparkling Water is making big moves in an attempt to take a bigger piece of the market in 2019.
The MillerCoors brand, which in the second half of 2018 was up 252 percent in case volume, plans this spring to:
release three new flavors — Blueberry Lemon, Pineapple and Peach Mango;
modernize its branding and packaging, which gives the brand a more sleek look and spotlights its zero sugar and 88 calories, per 12 fluid ounces;
launch two new variety packs: a 12-pack fruit fusion pack featuring Blueberry Lemon, Strawberry Kiwi and Lemon Lime and a tropical variety 6-pack featuring Pineapple, Peach Mango and Passion Fruit; and
begin a push into more on-premise accounts, such as bars and restaurants.
"We'll more than double our business in 2019," says Chris Steele, a senior marketing manager who oversees Henry's Hard Sparkling Water for MillerCoors. "We've got a lot of trade support, and there's a lot of excitement in the market around growing this new segment. We've got the tailwinds of the better-than trends happening across categories, and we're positioned to take share this year with our new flavors and packaging."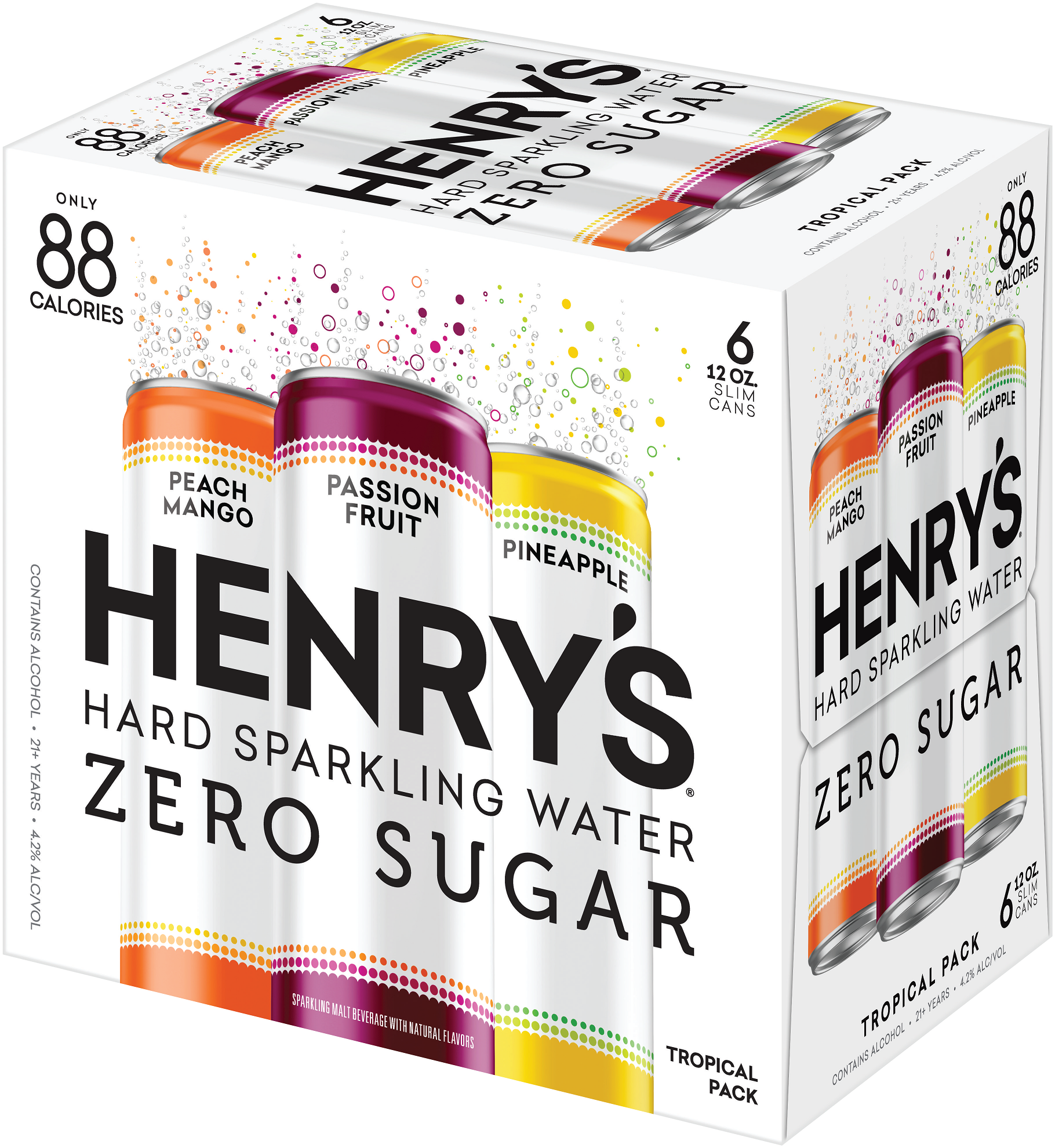 His goal isn't a stretch; the brand outpaced the segment in the back half of last year, and although hard seltzers are still small relative to the entire beer category with a 1.3 share, most everyone in the industry see plenty of blue sky ahead.
Buoyed by a growing movement among Americans to seek healthier lifestyles and lower-calorie drinks, the segment is up 202 percent in the 52-week period ending Jan. 26, per Nielsen all-outlet and convenience data. Variety packs led the way, growing 343 percent over that same period. They now account for some 70 percent of the segment's total volume and 82 percent of its total growth, per Nielsen.
That's why Steele and Sarah Walsh, the associate marketing manager who oversees Henry's Hard Sparkling Water, are particularly bullish about the brand's new variety packs for 2019. The six-pack, slated to launch in March, will give Henry's Hard Sparkling a way into smaller-format stores like convenience stores, "a place we weren't really playing before," Walsh says. "It also opens us up to new occasions. With the six-pack, it's easy to sling into a backpack and bring to a party or even home after a long day at work."
Henry's Hard Sparkling Water, which brought production in-house in late 2018 in order to give the brand more flexibility to meet consumer demand, also will release a 16-ounce can of its Strawberry Kiwi flavor, which will help it gain entry into stadiums, festivals and other events. For bars and restaurants, it is making 24-packs of loose cans of Lemon Lime and Strawberry Kiwi.
Its 2019 campaign, which swings into gear this spring, is heavy on targeted digital and social media and new out-of-home displays that play up the brand's zero sugar messaging.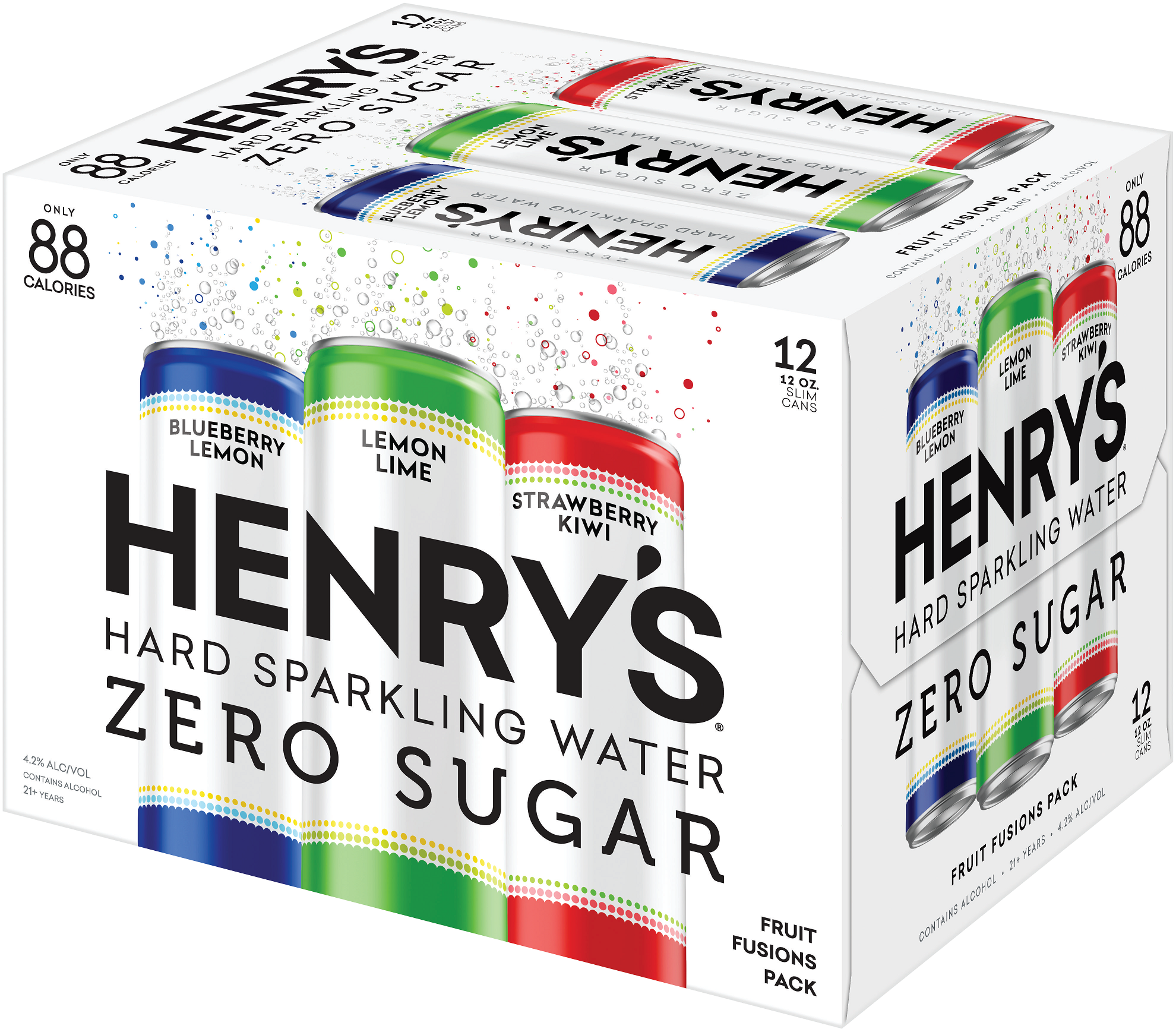 Walsh expects that to resonate with consumers, for whom sugar and calories are a continued concern. Indeed, a recent report from Nielsen concluded that 53 percent of them say the absence of undesirable ingredients (like sugar) is more important than the inclusion of beneficial ones.
"Decisions on health and wellness are a big driver, and something that's touching multiple categories," said Caitlyn Battaglia, Nielsen beverage alcohol practice manager, at a recent industry event. For that reason, products like hard sparkling waters figure to play a role of increasing importance in the foreseeable future.
"It's such a young category, and there's not a ton of brand loyalty yet," Walsh says. "So we want to make sure that when consumers see us, either on billboards or at the shelf, we're hitting them over the head with our better-than claims."