First Hop Valley Brewing Company won over drinkers in the Pacific Northwest. Now it's setting its sights on the rest of North America.
The Oregon brewer, part of the Molson Coors Beverage Company's Tenth & Blake craft division, is expanding its footprint across the United States and Canada in 2021.
Known for its lineup of differentiated India Pale Ales led by the flagship Bubble Stash IPA, Hop Valley's hop-forward portfolio includes a slate of beers made with Cryo Hops®, a concentrated hop powder that gives beer an aromatic payoff without assertive bitterness.
"Hop Valley has become a powerhouse in the Pacific Northwest, one of the birthplaces of craft beer. The strength of the business and the brand gives them an incredibly strong foundation to expand across North America," says Paul Verdu, Tenth & Blake's president.
Acquired by Molson Coors in 2016, Hop Valley has surged to become Oregon's second-largest brewer on the strength of its Stash Series, a collection of IPAs made in partnership with Yakima Chief and its Cryo Hops® — essentially pure lupulin separated from the hop cone, which provides the rich aromatics expected from an IPA with a smooth finish.
Bubble Stash, a smooth-drinking IPA with tropical flavors, is the series' workhorse. It's joined by a slate of co-conspirators inside its fast-selling Stash Pack, Hop Valley's variety pack of cryo-hopped beers that includes Stash Panda Hazy IPA, Mango & Stash Fruit IPA, and Cryo Stash Imperial IPA.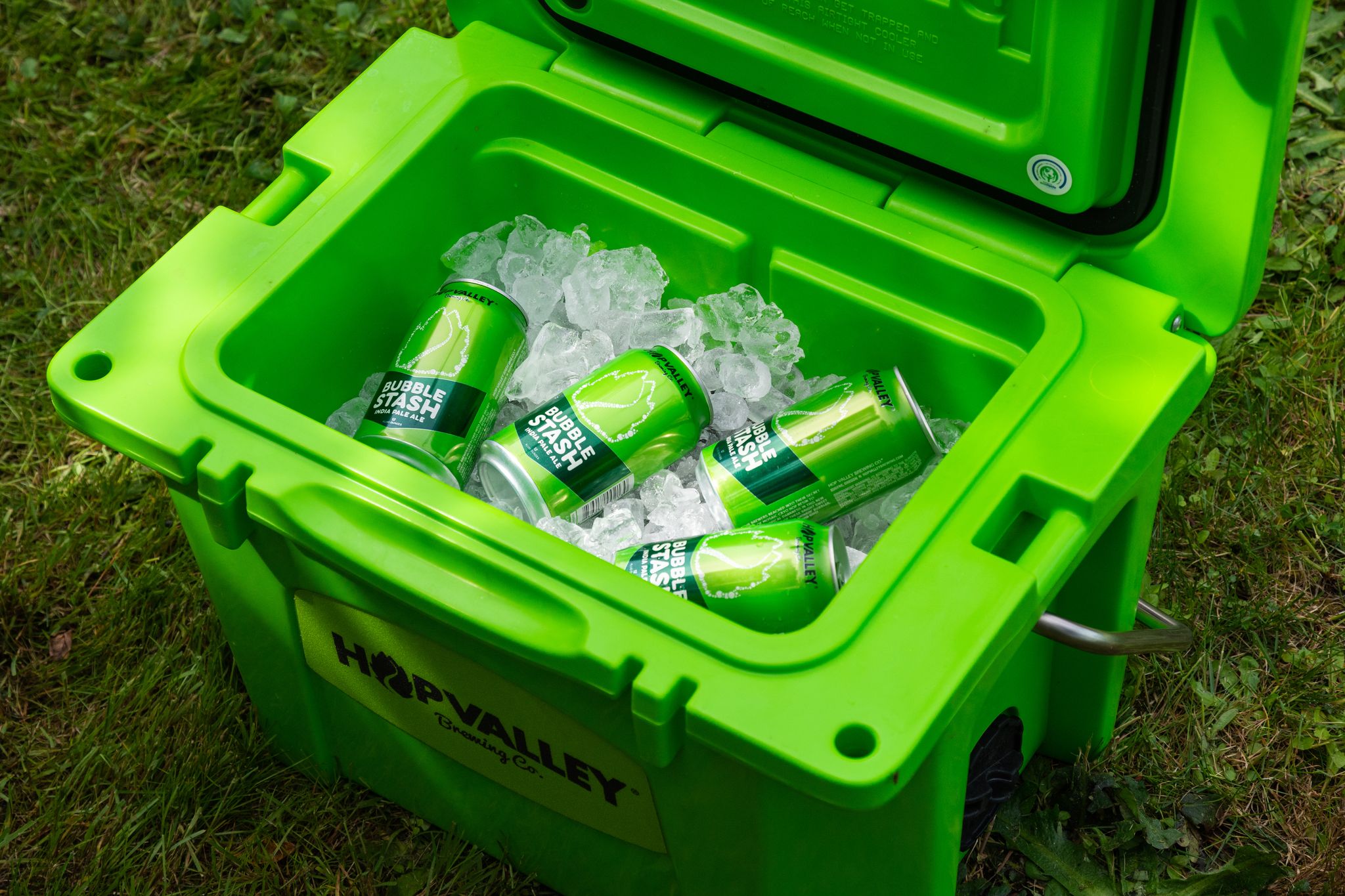 "We felt, based on the brand, our momentum, our point of difference, that the time was right to expand across the United States and Canada," says Adrian Benkovich, Hop Valley's president. "It's an opportunity to share our incredible beers with folks across North America who have never tried anything made with Cryo Hops®."
Indeed, Hop Valley's collection of IPAs has propelled it to the cusp of the nation's top 20 craft breweries, despite only being available in 10 states. Bubble Stash has grown nearly 40% in the Pacific Region this year, while the Stash Pack has exploded, with sales up of 102% in the Pacific Region this year, according to Nielsen Pacific region and all-outlet and convenience store data through Nov. 14.
Hop Valley overall has notched 21% growth this year, data show, and ranks as the United States' No. 2 velocity craft brewer behind only Wisconsin's New Glarus.
Tenth & Blake expects Bubble Stash to compete with other national IPAs, such as those from Lagunitas, New Belgium, Sierra Nevada and Anheuser-Busch owned Goose Island and Elysian.
'Grand slam' ambitions
Tenth & Blake plans for Hop Valley's expansion to take on a measured and methodical approach, Verdu says. 
"Rather than hit a solo home run, we want to load the bases, then hit a grand slam," Verdu says.
Even so, Hop Valley's Stash Series has proven to be one of the increasingly fragmented craft beer industry's elusive home runs. And it's mostly because of the brewery's ability to coax unique flavors and aromas out of Cryo Hops®, an ingredient no other regional brewery is deploying at scale, says Walter Macbeth, Hop Valley's vice president of sales and marketing.
"These beers are full of juiciness and aroma, and they're not going to rip your face off," he says. "Once people experience the power of Cryo, we've got 'em."
'Secret sauce' strategy
A key component of Hop Valley's expansion plans is a keen focus on chain distribution, which accounts for nearly 80% of its sales and has helped the brewery continue to grow, even amid the global pandemic. What's more, data show the brand has a 50% repeat purchase rate.
"Make no mistake, (chain distribution) is the secret sauce in how and why we're doing so well during this pandemic. Chain is where we're going to win," says Benkovich, whose thoughts are echoed by Macbeth.
"(COVID) has taught everyone that if you're not well positioned in grocery, C-store and club, the lights are going to flicker in your livelihood as a brewery," Macbeth says. "We've been extremely fortunate that we are very well positioned in those three channels. We have the right shelf placement position, the right price, and the right level of distribution on our key packages to drive feature and promotion."
Just as in the United States, IPA is the largest and fastest-growing craft segment in Canada, which is why Hop Valley is working with Six Pints Specialty Beer Company, Molson Coors' Canadian craft arm, to brew and distribute Bubble Stash across the country. Bubble Stash will first appear on draft in early 2021.
"It's no small feat to replicate the craft and artistry of a brewer like Hop Valley that uses unique ingredients like Cryo Hops®. It's an incredible opportunity for our team, our customers and consumers alike, who will soon be able to enjoy a fuller range of IPA styles and tastes from Six Pints," says Daniel Lundberg, Six Pints' commercial director.
To kick off its expansion, Hop Valley is looking to erase the bitterness of 2020 in a way that only the brewery could: with "Cryo Drops." It's inviting Americans to send it items that represent 2020 in such a way that they need to be destroyed – think the coffee mug you've been using since March, a clock representing all the time wasted binge-watching TV shows – by being frozen with Cryo Hops® technology and smashed into pieces on a livestream.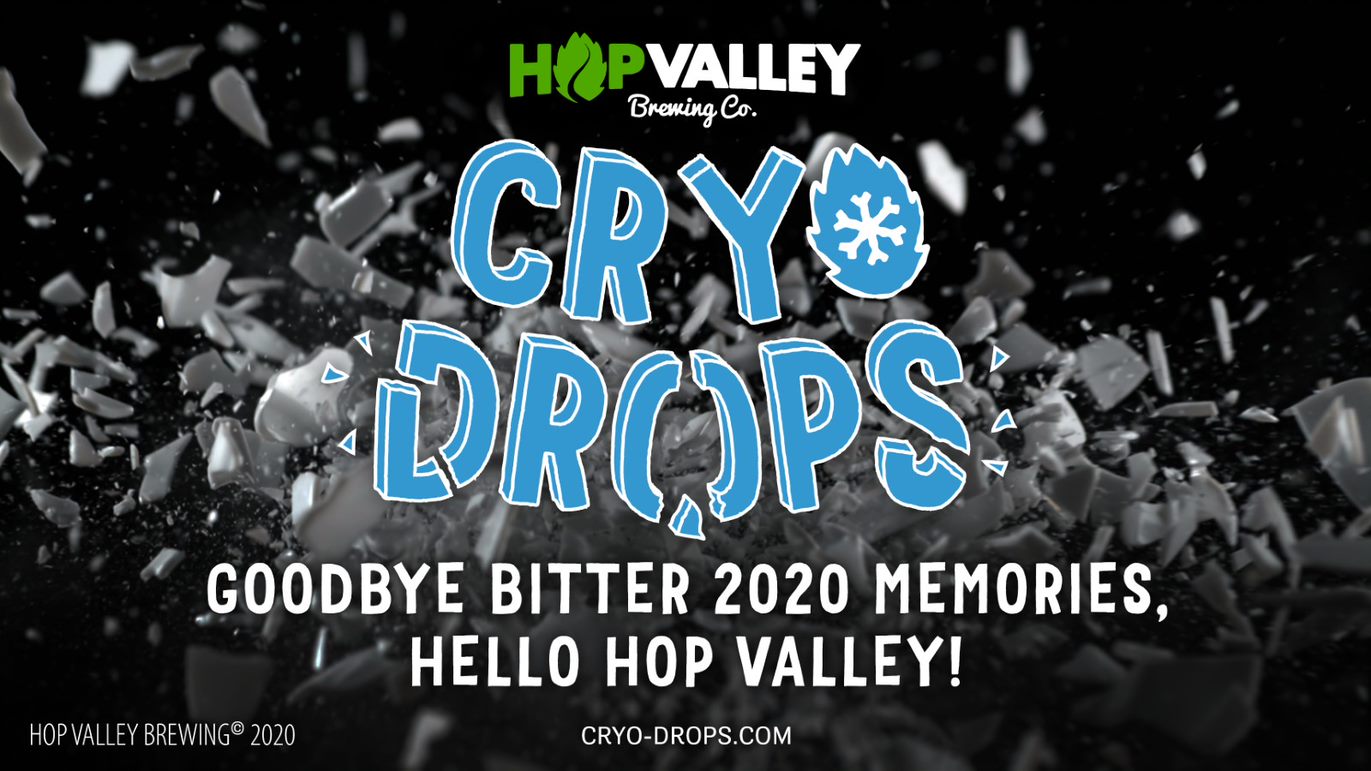 Legal-age American drinkers can participate by visiting cryo-drops.com, ordering a prepaid package and tuning into the livestream on Hop Valley's Instagram page on Dec. 31.
"We don't take ourselves too seriously, and it's going to be an absolute blast to bring the stash across North America," Macbeth says. "These beers are going to blow your mind."