Miller High Life, long a go-to for chefs, bartenders and others who work in the service industry, is working to connect with these key decision-makers as the industry swings into high gear for the summer.
The Champagne of Beers this year  is ensuring it has a presence around major food-and-beverage events, including awards ceremonies and festivals, and hosting a series of industry appreciation events in select cities around the country.
"This is another way to connect with some of our biggest fans and get them talking about us," says Nigel Jones, marketing manager on Miller High Life. "Just as they celebrate successes with Miller High Life, we're here to celebrate them with a toast from the Champagne of Beers."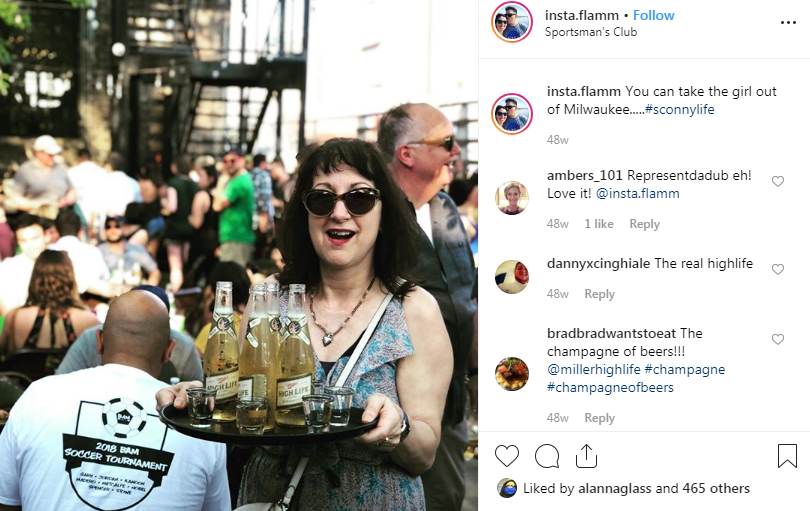 It also is teaming up with famed Chicago chef Joe Flamm, winner of the television competition "Top Chef" and avowed Miller High Life fan, to broaden its reach among service industry professionals.
The brand's 2019 campaign follows a broader strategy Miller High Life launched more than a year ago to connect with this group of service industry professionals, the on-premise experts whom patrons turn to for recommendations, and teach them about Miller High Life.
With seven in 10 legal-age millennial drinkers reporting they'll order what their bartender suggests, forging relationships with service industry professionals and educating them about Miller High Life "is an important way for us to become part of more conversations, especially in places where new legal-age drinkers can discover the brand," Jones says.
Miller High Life launched its first industry event this winter in Chicago, hosting an event called "Miller High Life Lanes" at a famed bowling alley in the city. The brand invited bartenders and service staff from around the city to a night of food, live music, bowling and experiencing the High Life. It plans similar events in Milwaukee and in other markets this year.
"This is about showing love to a group of people we know love us," Jones says. "Chefs, bartenders, mixologists — they're on social media talking about Miller High Life on their own and posting pictures on Instagram," Jones says. Very few national brands, particularly of the size of Miller High Life, are able to say the same, he notes.
Miller High Life also has cachet among craft brewers, another group of drinkers the brand is working to cultivate. After a successful collaboration with the Chicago craft brewery Off Color, Miller High Life teamed up this spring with Terrapin Beer Co. on a brut IPA called Hoppin' Bubbly.
"We're always trying to find ways to help new drinkers discover us," Jones says. "It's all about looking at our target of younger legal-age millennials and what they care about. And that's people, stories and brands that can come to life in an authentic way."