The MillerCoors Urban Entrepreneurs Series (MUES) Business Plan competition celebrated its final year by awarding five amazing businesses with $160,000 in business grants.
I was fortunate to attend the special reception on April 25, which was attended by program judges, community partners, local media and MillerCoors employees. Our CEO Tom Long kicked off the festivities with a rousing speech and it was wonderful to see so many people come to celebrate the award winners and support such a great program.
During the event, attendees had the opportunity to network with the business owners, learn about their products and find out how the MUES program has helped take their businesses to the next level. It was intriguing to hear the stories about how each entrepreneur launched their business and how far they've come. Each one has a great product that could make a positive impact on our world.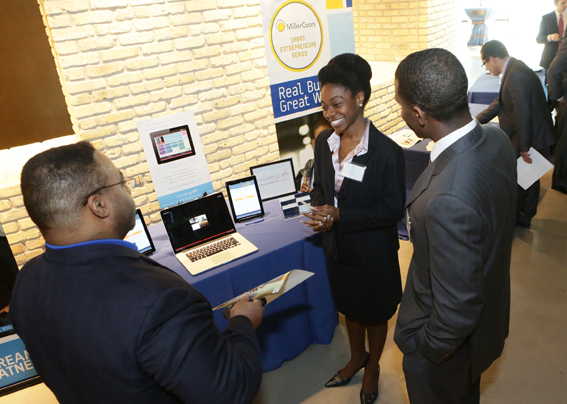 Here is a list of the grant winners and a description of each business:
Lauren Miller and Jason Brein – $50,000
Excelegrade – Atlanta, Ga.
www.excelegrade.com
Provides a state-of-the art web-based platform for K-12 standardized testing with assessments on tablets, smartphones and laptops.
Gabriel Munoz and Raul Duran – $35,000
Hispanic Employee Recruiting Online – Overland Park, Kan. www.hirebilinguals.com
A website to help unite diversity-friendly companies with quality, bilingual candidates in the Midwest through an innovative platform.
Tinia Pina – $25,000
Re-Nuble, Inc. – Lorton, Va.
www.re-nuble.com
A social enterprise providing local, organic recycling services for major food waste generators.
Ben Silbert and Mac Tichner – $25,000
Bar & Club Stats – New York, N.Y.
www.barandclubstats.com
An app that provides real-time demographics about bars, nightclubs, arenas and events using a custom iPod or iPhone ID scanner.
Santiago Halty – $25,000
Senda Athletics – Berkeley, Calif.
www.sendaathletics.com
Currently the only American company making fair-trade sports balls and equipment, its designs and styles are inspired by athletes from around the world.
After the business owners received their awards, Steve Canal of MillerCoors Community Commerce and Partnerships announced an exciting transition of the MUES program. After 13 years and more than $1.9 million in grants, the MUES program is evolving into "Miller Lite Tap the Future."
Miller Lite Tap the Future is raising the stakes by increasing the overall prize pool to $400,000, with a grand prize of $250,000. I'm excited for this program because it's a great fit for Miller Lite as it reinforces the bonds of friendship by helping to turn great friends into great business partners.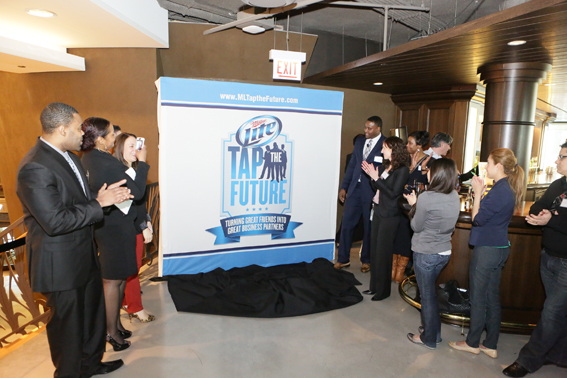 Miller Lite Tap the Future launches June 13, 2013, and in addition to prize money, business teams will have the opportunity to present their ideas at Live Pitch events in front of business moguls including Daymond John, president and CEO of FUBU, who appears on the ABC's show Shark Tank. The Live Pitch events will take place in October and early November in Atlanta, Chicago, Dallas, Philadelphia and Phoenix, and I'm excited to check out my local event in Chicago!
Make sure to follow Miller Lite on Facebook and Twitter to receive the latest news on the Miller Lite Tap the Future program.
Here's to the spirit of entrepreneurship!