Miller Lite is gearing up for pro football season this month, rolling out a series of new large packs emblazoned with custom illustrations in 18 markets in which it has team alliances.
Developed to forge stronger and more-authentic connections with fans, the illustrations feature images fans associate with their teams or their cities. Applying them to larger packs helps generate more advertising features and floor displays at retail during football season, which, along with summer and winter holidays, is one of three key selling seasons for the brand.
"It can be tough to stand out and make meaningful connections with fans in the sea of beer marketing during football season," says Justine Stauffer, marketing manager for Miller Lite. "Our custom illustrations are so great because they allow us to show up in a way that's unique and in the brand's voice — something that no other brand can replicate."
The illustrations contain wink-and-nod references aimed at connecting with fans of those teams, such as a hard-hatted steelworker in Pittsburgh, a purple-clad player aboard a mythical Viking ship in Minnesota and a player performing the Lambeau Leap in Green Bay.
They are slated to show up in several mediums, including in digital ads; in restaurants, bars and retail outlets; on merchandise and apparel earmarked for giveaways; and on outdoor media installations in and around stadiums. Two markets — Chicago and Houston — also have custom illustrations and campaigns targeted at Latino consumers called Animales Misticos.
MillerCoors data show the illustrations help brand favorability and quality perception metrics among fans in alliance markets, Stauffer says.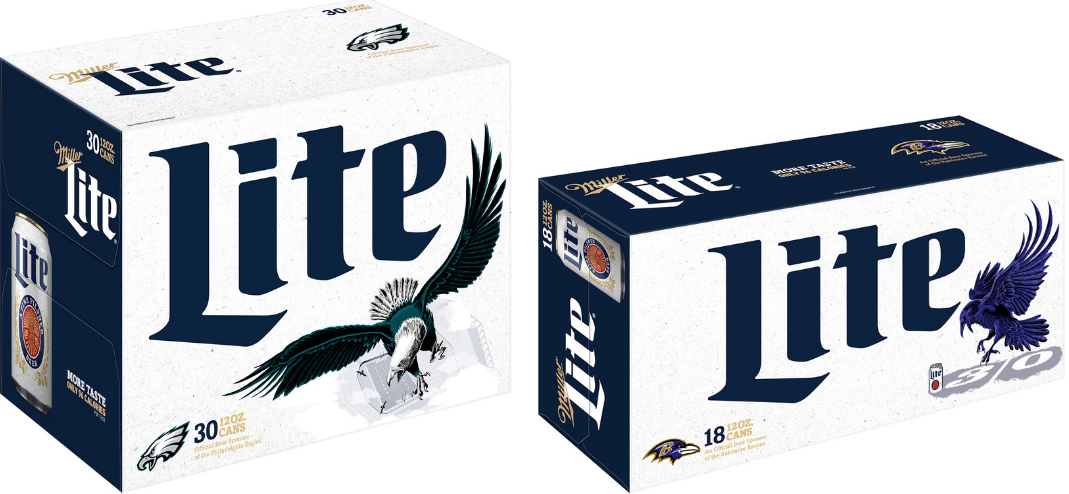 Miller Lite continues to buck trends among premium lights, picking up 1.1 points of share year-to-date in its segment and virtually holding share in the overall beer category, per Nielsen all-outlet and convenience data through Aug. 10. While overall sales volume is down half a percentage point year-to-date, Miller Lite sales were up 0.4% in the most-recent four-week period, per Nielsen.
The illustrations were launched in 2017 and expanded onto 12-packs in 2018. This year they're making the jump to larger packs, giving alliance markets an additional option — suitcases in most markets, but also in 18-packs, 30-packs and 36-packs — in an effort "to help our distributors and retailers build more retail theater and gain more floor displays," Stauffer says. "We know that when we're on feature or display, we move with higher velocity."
Miller Lite this year also released limited-edition 16-ounce cans featuring a roaring bear in Chicago in recognition of the Bears' 100th anniversary.
"Other brands might go into markets and simply slap a logo on their cans, but we've gone a step further to really carve out a unique space," Stauffer says. "Our fans and their teams love what these illustrations create: a unique visual identity that's exciting and dynamic. It's a big bet for us, and it helps us stand out during football season, an occasion when people already are drinking beer together."