Miller Lite is toasting the return of football season – and with it, the return of watching games with friends – with another offbeat promotion: A set of six championship-style rings adorned with precious gems that unlock free beer when they are close together.  
"A huge part of football season is getting together with your friends, to celebrate those Miller Time moments because we missed them so much last year," says Alyssa Bush, associate marketing manager for Miller Lite. "We have created something unexpected, but unmistakably Miller Lite, to commemorate the ideal Miller Time moment."
Dubbed the Miller Timeless Collection, the rings feature a glittering can of Miller Lite and are embedded with app-connected technology that unlocks free Miller Lite – for life – when the winner's gameday crew gathers.
The promotion, which launches today and runs through Oct. 25, will give one winner – and their gameday crew – the one-of-a-kind set of rings, which are made from 10-carat gold and valued at $13,000.
"We're not just commemorating this year," Bush says. "With the Miller Timeless Collection, any time this lucky group of friends gets together for Miller Time, they're guaranteed Miller Lite."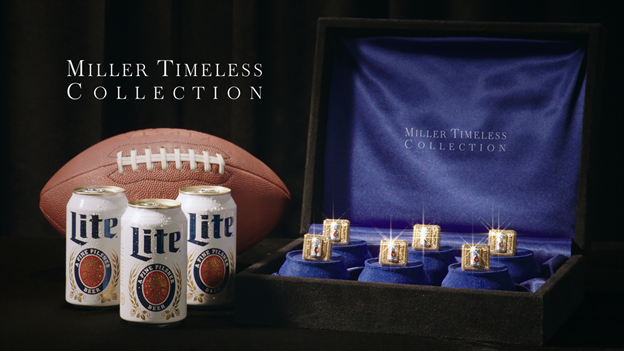 To enter for a chance to win, fans must snap a picture of their gameday crew, tag @millerlite on Twitter or Instagram with the hashtags #MillerTimelessCollection and #Contest, and write a brief post about why they and their friends deserve the rings and free Miller Lite for life.
Winners will be announced in February.
The campaign kicked off with a new ad featuring the little things that make Miller Time gamedays special, such as the generosity of friends bringing a nacho platter, sharing a chicken wing and, of course, having a beer with friends.
The Miller Timeless Collection is the latest – and flashiest – pillar of Miller Lite's campaign around pro football this year. The brand is uniting fans around their favorite teams with updated packaging that leans into teams' rally cries ("Skol!", "Fly Eagles Fly," etc.) and has a larger presence at retail with a new sweepstakes.  
The brand has increased its media spend in the fantasy football and betting spaces with partnerships with ESPN, Draft Kings and Barstool Sports. Parent company Molson Coors Beverage Company also was named as a sponsor of the Pro Football Hall of Fame this summer.
"We know fans are excited to root for their favorite teams alongside their favorite people this season," Bush says. "Miller Lite is going to have a presence wherever and however they watch."