Print media has been hemorrhaging readership for years. Streaming services like Netflix, Hulu and YouTube have supplanted a substantial share of television watchers. And subscription satellite radio and streaming services have lured over-the-air radio listeners away from their tuners. Over the past two decades, the digital revolution has turned traditional advertising on its head.
It's a well-documented phenomenon that's been underway for years: People are spending less time in front of traditional marketing mediums, presenting an evolving challenge for companies to make meaningful connections with customers.
At the same time, taglines, celebrity endorsements and tentpole television ads have lost some of their luster. The ability to block, and in some cases avoid altogether, traditional advertising is raising the stakes for brands to create experiences consumers are willing to opt into.
In response, companies like MillerCoors are shifting their marketing strategies, in ways subtle and overt, in an attempt to forge lasting connections with consumers. Today, that often means via digital advertising that's viewed on the ubiquitous mobile phone. But it's also increasingly focusing on delivering customer experiences that are local, personal and go beyond creating brand awareness. These interactions "attempt to create deeper emotional connections that get into their hearts, their minds and stay in their lives," says Brad Feinberg, vice president of media and consumer engagement for MillerCoors.
That's the story behind music-centered initiatives like Miller Lite Bar 75 and Miller Lite Conciertos Originales. It's also manifested in a growing number of permanent or semi-permanent branded pubs, taprooms and vending installations, including a new Blue Moon-branded bar that's slated to open June 26 in Las Vegas, and a new entertainment district called Texas Live! that's under construction in Arlington, Texas. When complete later this year, MillerCoors will have dedicated spaces for several brands.
"It's an emerging strategy for us to create what we call premium brand experiences with the intention of immersing consumers in the brand's identity," Feinberg says. "These destinations create a unique experience where we can make more meaningful and premium connections with consumers, and they become the cornerstone of representing the brand's point of view."
Blue Moon-branded bars
The new Blue Moon Bar inside Planet Hollywood Resort & Casino in Las Vegas is the latest example of a brand deploying a physical presence to connect with fans and make new ones. The sleek, modernist bar has design elements that echo Blue Moon's brewpub in Denver's River North district and will serve the brand's flagship Belgian White as well as limited-release beers from the Denver brewpub and beer-based cocktails.
The Vegas outpost joins another venue in Norfolk, Va., called the Blue Moon Taphouse and a Blue Moon-branded area inside Kaufmann Stadium in Kansas City. MillerCoors also has carved out physical spaces for its brands inside four other entertainment districts in Baltimore, Philadelphia, Kansas City and Atlanta. Dedicated bars include Leinenkugel's, Coors Banquet, and Coors Light Sports and Social Bar.
The new Blue Moon Bar on the Vegas Strip also joins a Budweiser-branded Beer Park and two bars dedicated to Goose Island beers at the Hard Rock Hotel and the T-Mobile Arena.
It's part of a trend happening inside and outside of beer; a growing number of brands are creating physical spaces to better connect with fans. The approach also is being adopted by retailers, some of which are turning high-profile storefronts into "showrooms" versus actual selling channels, again in an effort to make stronger connections with consumers. Samsung, for instance, opened a 40,000-square-foot store in New York City's Meatpacking District a couple of years ago that stocks no merchandise.
"People try the product and have an experience that brings it to life," Paul Martin, the managing director of consulting firm KPMG Boxwood, told Financial Times. "The conversion rates [the number of visitors who buy something] with this in-store experience are much higher, and shoppers' basket sizes are also a lot bigger."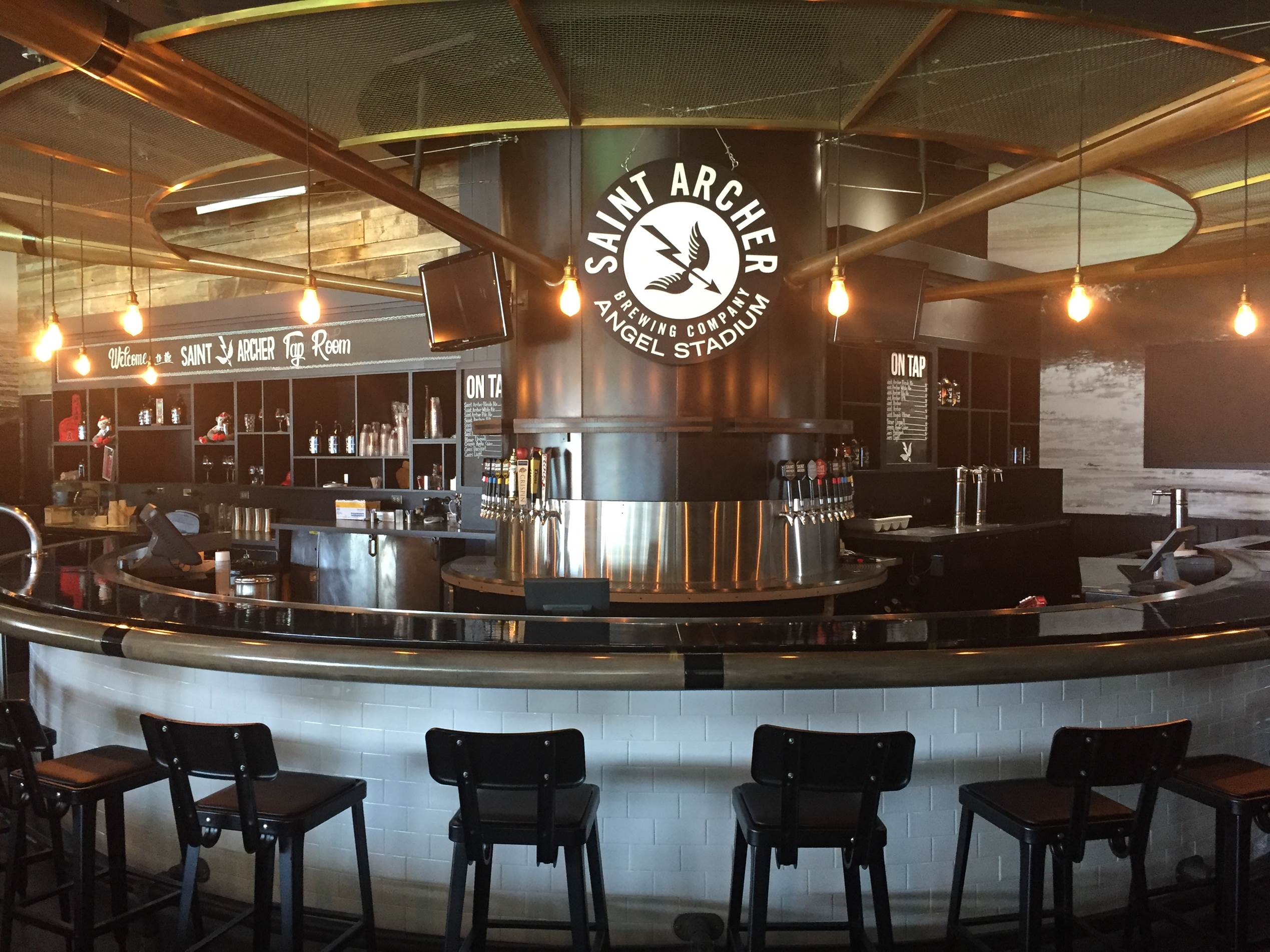 'Showrooms' and sales tools
The MillerCoors brand outposts also serve as "showrooms" for each brand, in a way, allowing customers to do the No. 1 thing they say they like to do in brick-and-mortar stores: try products, according to a report from PricewaterhouseCoopers. But these beer showrooms have the added benefit of actually selling beer.
And these venues sell a lot of beer. MillerCoors craft brand Saint Archer opened a taproom in 2017 in Angel Stadium in Anaheim, Calif. It was the brand's No. 1 account in the Los Angeles metro last year, Feinberg says.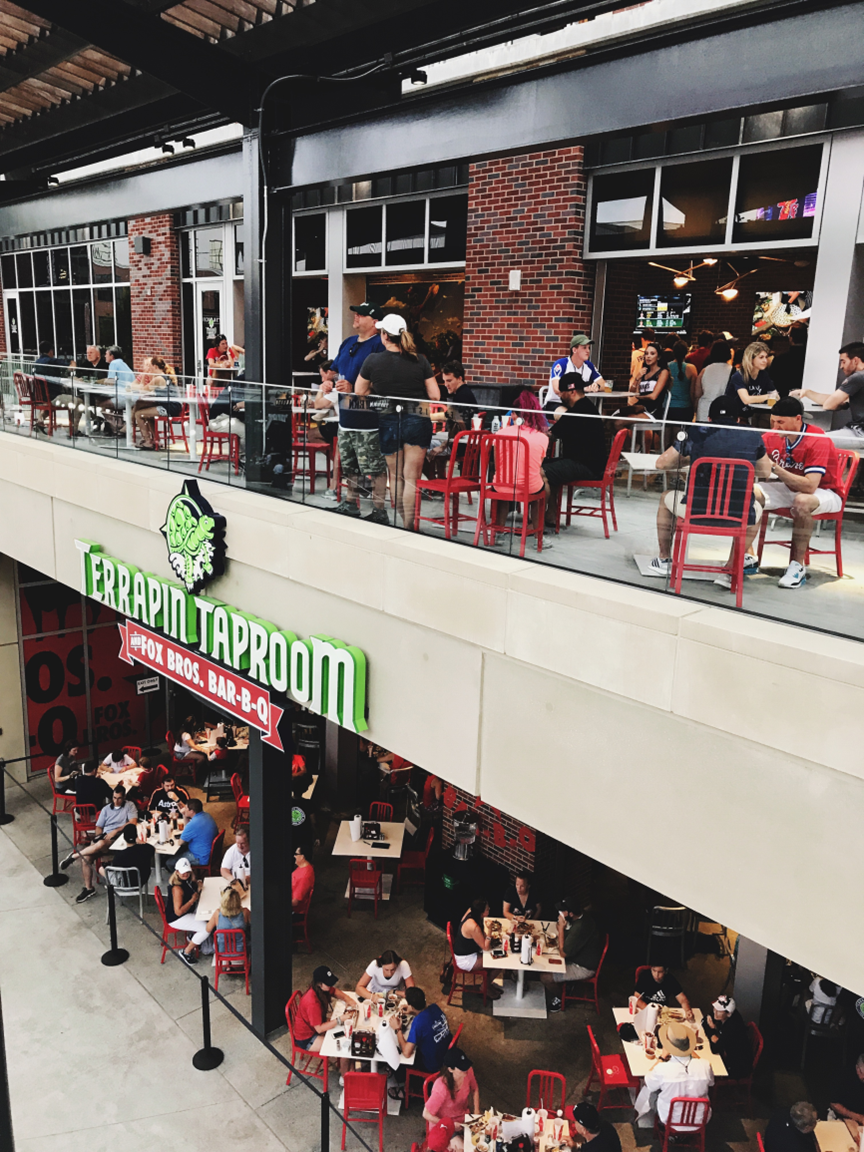 "We see this as a meaningful trend that isn't going away," Feinberg says. And as a result, the company is transforming the way it thinks about sponsorships and brand experiences, which may mean investments are focused "less on sponsoring sports teams or leagues and more about creating one-on-one experiences for consumers."
That's not to say the company is abandoning sports sponsorships altogether, he says. It's just approaching them in different ways. For instance, MillerCoors craft brand Terrapin recently opened a second brewery, its ATL Brew Lab, inside SunTrust Park, the new home of the Atlanta Braves. And Hop Valley continues to expand its Hop Box program, in which the brand transforms corrugated steel shipping containers into concession stands inside sports and event venues that pour Hop Valley beers. New Hop Boxes opened this year inside Angel Stadium, Coors Field in Denver and Chase Field in Phoenix, joining existing units in AT&T Park in San Francisco and Safeco Field in Seattle.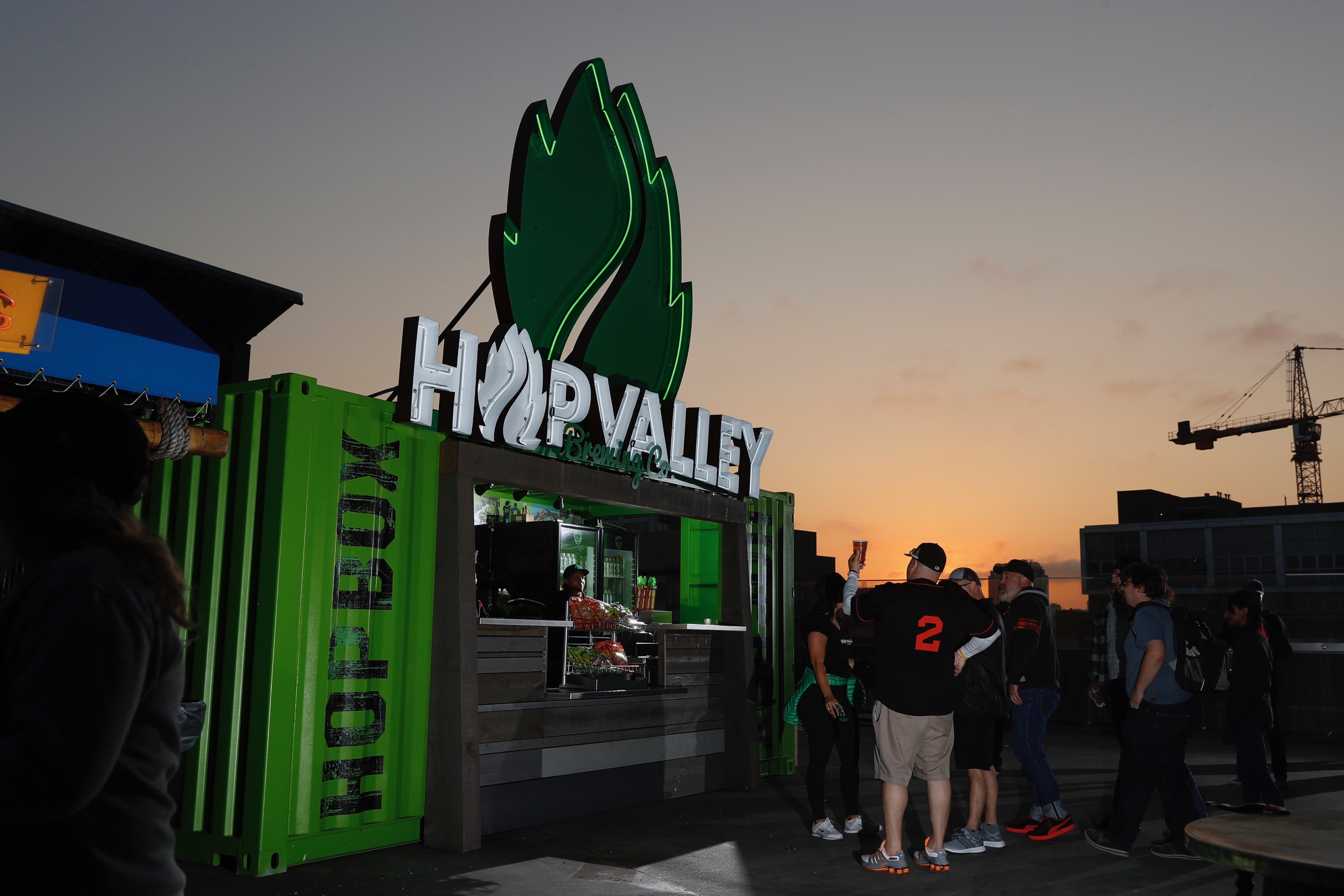 Considering that the original beer showrooms started at breweries with brewery tours and tastings, it should come as little surprise brewing companies like MillerCoors are redoubling efforts behind expanding physical presences. Especially at a time when craft brewers are capitalizing on their taprooms and brewpubs, siphoning traffic away from traditional bars and taverns.
While MillerCoors operates breweries throughout the country, "we know not everyone can make it to a brewery tour," Feinberg says. "So we're figuring out how we can bring that experience to you."