Budweiser may be amping up the red on its label for Halloween.
ABI has received label approval from the TTB for a red and white "Halloween Edition" Budweiser label. The red field at the top of the label seeps down in streaks over the Budweiser logo, resembling dripping paint or blood.
Assuming ABI goes to market with holiday-themed label, it will be coming on the heels of the "America" packages.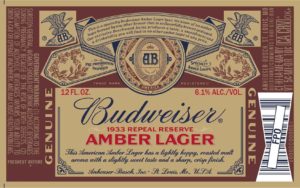 ABI also has received label approval for a "Budweiser 1933 Repeal Reserve Amber Lager."
The vintage-looking label says the 6.1 percent ABV beer has "a lightly hoppy, roasted malt aroma with a slightly sweet taste and a sharp, crisp finish."
Budweiser has been losing volume and share so far this year, according to Nielsen. Volume was down 9.2 percent during the four weeks ended June 17 as it lost 0.4 points of category case share.