Our Chicago Headquarters might not have a major brewery on-site, but a group of employees are sowing seeds to ensure we're connected to the brewing process. They're making an environmental impact and it's a super cool idea that I had to share.
David Keppen, Associate Insights Manager, is leading the charge and working with a group of passionate homebrewers at the company. He decided to start planting hops, one of the four main ingredients in beer, at our Chicago HQ.
"We have a great rooftop deck outside the pub, and this is a way to beautify the roof and make it green," Dave explained. "A lot of people visit our pub and this gives us one more thing to talk about as we educate visitors about our beers."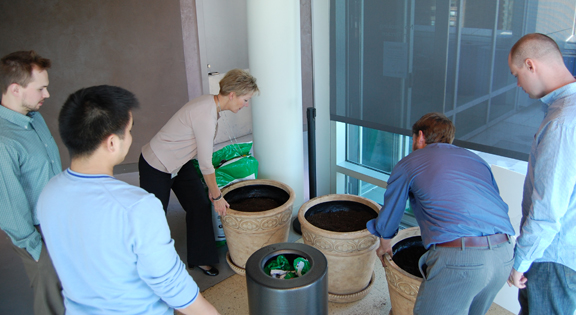 Once the project got deeper roots, Jackie Woodward, VP of Marketing Services, shared her excitement about the effort. "This is such a great idea and really demonstrates our passion for beer since we don't have a brewery nearby," she told me. "Growing hops here will give our pub some real beer credentials."
This month, the group planted rhizomes of Cascade, Chinook and Perle, and they're growing fast. These varieties are included in several of our brands, such as Blue Moon, Leinenkugel's, Henry Weinhard's, AC Golden, Worthington's and the Coors Family of Brands. David even chatted with one of our chemists to learn how to grow a suitable crop.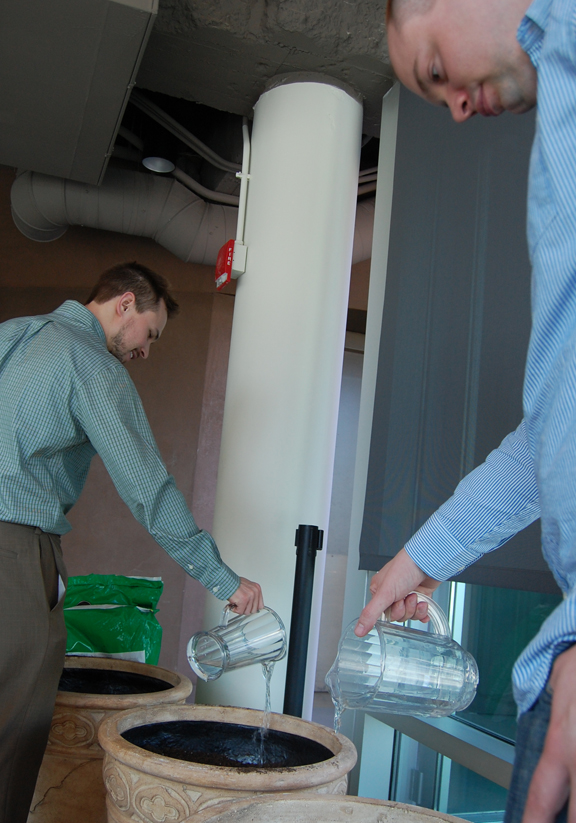 David told me that watching and growing hops will be a great way to get that much more involved in the beer process and help people appreciate the hard work behind each tasty glass of beer. And given its aromatic nature, he's excited to stop and smell the hops.
The planters will remain inside until the last hard freeze, but considering Chicago's unstable weather these days (hello, it's late April!), it could be some time before the crop is moved to the outdoor patio. But once it's full grown, the fruits of this labor could appear in a future brew.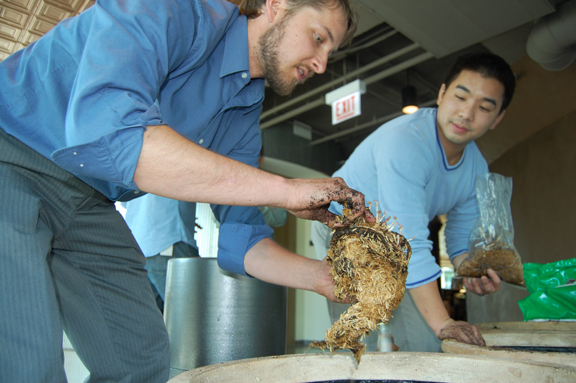 "There could be a small harvest in the fall (depending on how many are picked as people try to smell the fresh hops), but surely next year," David told me. "Then, the hops will be used for homebrewing … and perhaps one of our very talented brewers will use them as ingredients in a featured batch for Brewers Unleashed."
Each month, Brewers Unleashed events at the Chicago HQ allow people to sample new products and test brews with unique ingredients from a range of brewers. The hope is to move the hops plants from a great idea to a great brew.