Following a strong year in the convenience-store channel, Redd's Wicked aims to build on that success with the launch of a new flavor, Watermelon, and the return of a fan favorite, Strawberry Kiwi.
Redd's Wicked Watermelon is slated to hit retail Feb. 1. Its debut doubles as the unveiling of redesigned packaging across the Redd's Wicked brand, a change made to strengthen its visibility on shelves and in cooler doors.
The 8 percent alcohol-by-volume beer, which has a dark golden copper hue and distinct watermelon aroma, will be sold in 16-ounce and 24-ounce single-serve cans as well as 12-packs of 10-ounce cans. Watermelon is one of the most-popular flavors in the category.
A month later, Redd's plans to re-release Wicked Strawberry Kiwi as part of its Limited Pick series. That beer, also clocking in at 8 percent ABV, was originally released in March 2017, gaining a stable of "loyal fans who love the flavor" and helped the brand surpass internal sales goals, says Frank Cirone, senior marketing manager for Redd's, Redd's Wicked and Crispin Hard Ciders.
The packaging redesign does away with the primarily black cans and apple imagery in favor of bigger splashes of color that better correspond with each Redd's Wicked flavor, helping each stand distinctly on its own. The overhaul, Cirone says, "will strengthen visibility" and help drinkers "find us more accurately and easily."
Redd's Wicked finished 2017 up in the key convenience store channel, with singles posting a 9.3 percent jump in volume.
Across the segment, higher-ABV FMB singles were among the fastest-growing categories in convenience stores in the fourth quarter with 12.4 percent volume growth. Redd's Wicked Apple singles were the second-best seller in the segment, up 11.5 percent, per Nielsen.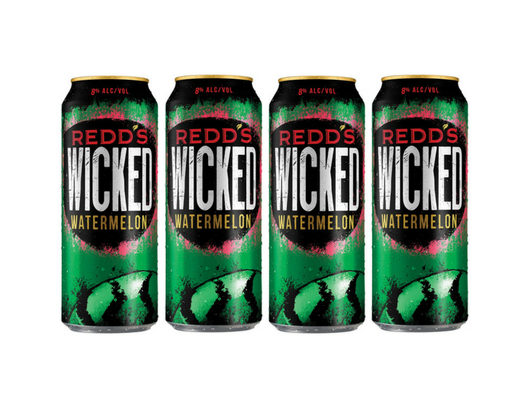 Redd's Wicked Watermelon release comes amid a successful run for fellow MillerCoors brand, Steel Reserve Alloy Series Watermelon, which was the fastest-growing higher-ABV flavored malt beverage in convenience stores in 2017's fourth quarter, according to Nielsen data.
"The gains we've seen from Redd's Wicked Apple show us that our drinkers like what we're offering and trust the Wicked brand," Cirone says. "Now we're bringing even more to the table with the launch of Wicked Watermelon and the return of Strawberry Kiwi, both of which we expect our consumers will embrace."
Along with Apple, Wicked Watermelon and Strawberry Kiwi join Redd's Wicked Black Cherry in the brand's flavor line-up.
Offering variety is key to driving sales in the segment because many customers in the space are willing to experiment and consistently seek new flavors, consumer research shows.
"We know people like choice, and that's especially important in the premium higher-ABV singles category," he says. "When they see the entire Wicked lineup, we know they are inclined to grab more."