Hockey is back. After 142 days off the ice, the NHL skates again with an expanded playoff format kicking off tomorrow in Edmonton and Toronto.
To celebrate hockey's return, Molson Canadian is declaring August 1 "Happy Hockey Day," and rolling out limited-edition NHL Stanley Cup Playoffs-themed packaging in the NHL's two host cities.
Commemorative 473-mililiter cans celebrating host cities Edmonton and Toronto, and featuring the logos of each team in the playoffs, can be purchased at select stores in Edmonton and Toronto.
"As one of the official beer sponsors of the NHL, we feel it's our responsibility to create and celebrate this as a holiday in a way that's uniquely Canadian," says Brittany Harris, manager of consumer experience for Molson. "There is something extremely exciting about hockey being back, like Christmas Day. Anticipation has been building these last few weeks, and we want to celebrate by wishing Canadians 'Happy Hockey Day.'"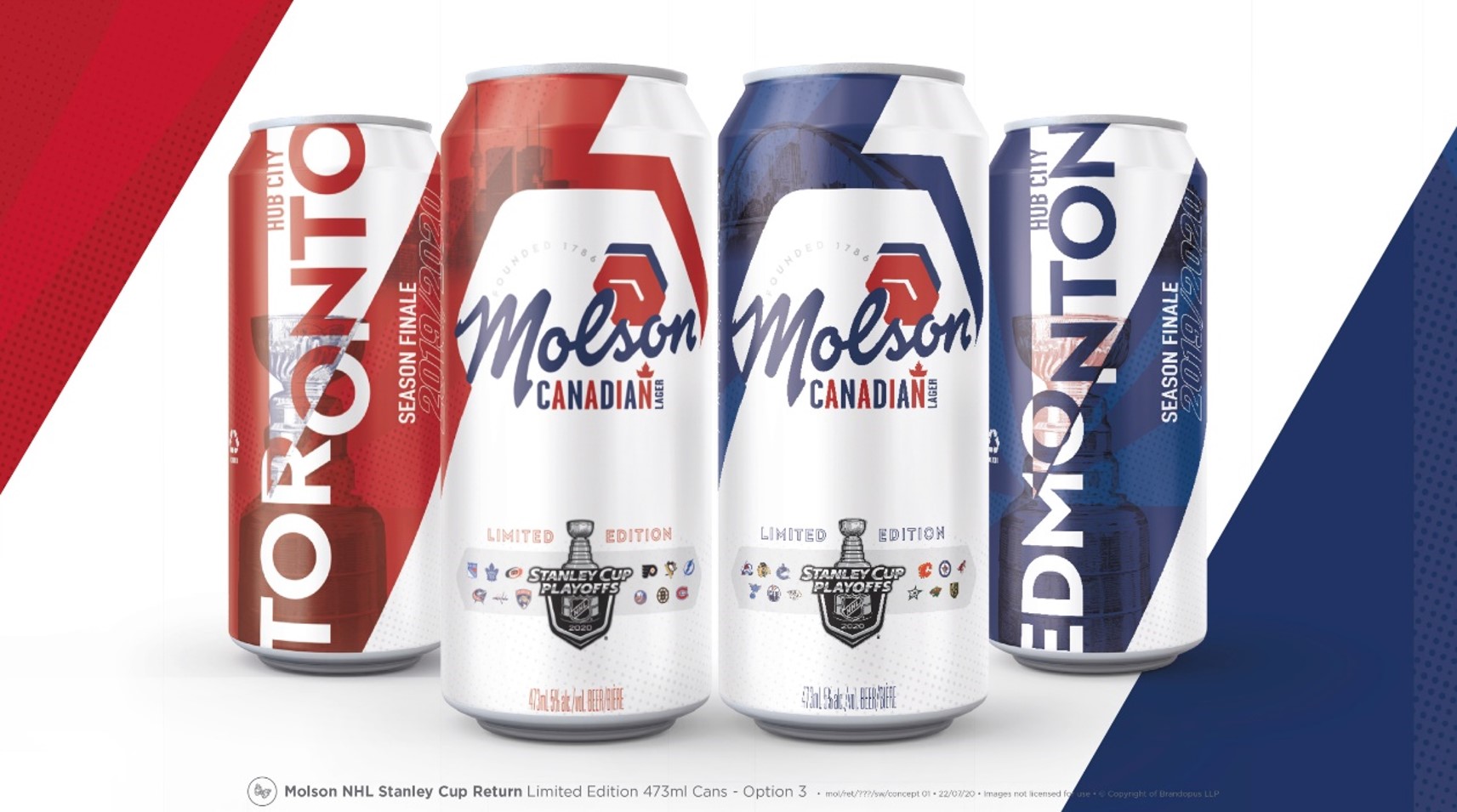 Fans in Toronto can also celebrate by sharing a 12-pack of Molson Canadian Happy Hockey Day-themed cases with friends, now available for a limited time at ShipandSip.ca. Each case comes with a Happy Hockey Day greeting card, which is also available digitally for those outside of Toronto at molsonhockey.ca and on Molson Canadian's Instagram account.
In Toronto, Molson Canadian is enlisting the help of former Maple Leafs players Shayne Corson and Darcy Tucker to help surprise and delight hockey fans with the themed cases. Both will be fully protected and observing safety protocols, Harris says.
"We've been waiting so long for hockey to come back, and this is a way for fans to celebrate together, whether or not they can do it in person," Harris says. "We need some cheer in 2020, so no matter who wins the Stanley Cup, hockey's return is something we can all be happy about."
Molson is the official beer partner of four of the six Canadian teams vying for a shot at Lord Stanley's Cup, the NHL championship trophy that hasn't called Canada home since the Montreal Canadiens beat the Los Angeles Kings in 1993. The playoff tournament kicks off Saturday at noon Eastern time when the New York Rangers take on the Carolina Hurricanes in Toronto. Later that afternoon, the Chicago Blackhawks are scheduled to go head-to-head with the Edmonton Oilers in Edmonton.