The Great American Beer Festival® (GABF for short) is a holiday for hop-heads, a menagerie of malt lovers and a celebration of saisons. Close to 50,000 beer lovers descended on Denver last week for the annual GABF, to taste brews from 624 breweries. That's a lot of people, a lot of breweries and a lot of beer. It might just be the happiest place on earth.
But it's also hectic. This was my first GABF and I'll admit I was overwhelmed when I first set foot on the show floor. I spent the next three days talking to brewmasters, beer geeks and festival veterans to compile a list of tips for first-time festival goers.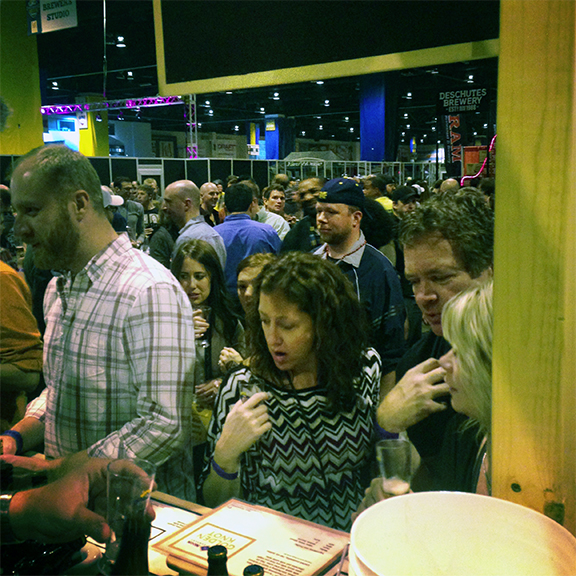 So, if you're planning your first trip to the GABF, here's my list of 10 things to know before you go:
Be On Time: You know that crazy peanut butter and jelly beer you heard would be at GABF? The one you read about on Reddit? It won't last long. Buzz about creative beers spreads throughout the show floor, quickly causing them to run out after a couple hours. Need another reason to be on time? Brewmasters are encouraged to pour beer at their booth the first two hours after the doors open. Going early means you can meet the masters while tasting their masterpieces.
Ask The Masters: You're there early. Now make it count. It's always interesting to hear an expert talk about a peer they admire. Ask the brewmaster what beers and breweries he/she will be drinking this weekend.
Have A Hit List: Love Leinenkugel's, but your local beer cave is always sold out of the Big Eddy series? The GABF floor can be a bit overwhelming. Make sure you plan a few must-hit beers and breweries ahead of time.
Know Where To Go: The show floor at the GABF is organized alphabetically and by region. So if you love Colorado's AC Golden and want to try their 2013 bronze medal-winning IPL, you'll find them in the Mountain Region under "A." Treat your trip through the show floor like a road trip. Plot out a few milestones, but let yourself …
… Get Lost: Your Hit List is important, but trying beers from breweries you've never heard of can be just as fun. After you've tried a few of your bucket list beers, let yourself wander between booths of brewers that are new to you.
Don't Drop Your Glass: There's a tradition at GABF, when someone drops their sample glass, everyone hoots and hollers at their expense. It's all in good fun, but you still don't want to be "that guy."
Go Back For Seconds: Each pour at the GABF is 1 ounce. When you try a mind-blowing barrel-aged stout, don't be shy about going back a bit later to give it a second go.
Protect Your Palate: It's easy to get palate fatigue after trying a couple Imperial IPAs. Drink water to help refresh your palate. You'll have a lot more fun if you can actually taste that award-winning beer at the end of the evening.
Hit Up Your Hometown Brewer: As I walked the show floor, my immediate instinct was to try new beers from breweries I don't have access to in my hometown of Chicago. There's nothing wrong with this approach, but don't let it keep you away from your hometown brewer. Your local brewer is probably pouring something special for the show, so don't miss the chance to sip a limited release from a brewery you know and love.
Note Your Favorites: The first thing your friends and family will ask you when you get back is, "So, what beers did you try?" The GABF has a handy beer lists designed with a special spot to star the beers you tried and loved.