For the first time in more than 40 years, the retail prices of spirits sold in grocery stores, liquor stores and other off-premise businesses has fallen for 12 straight months, according to government data.
Retail prices for vodka, rum, whiskey and other distilled spirits posted year-over-year declines in each month between February 2017 and January of this year, the latest month for which data is available, according to Bureau of Labor Statistics data collected and analyzed by the Beer Institute.
The string of price cuts continue a trend that extends back more than a decade, says Michael Uhrich, chief economist of the trade group. Between 2006 and 2016, the inflation-adjusted off-premise prices of spirits decreased 8 percent. Inflation-adjusted wine prices also dipped, falling 9.9 percent during the same period.
Beer inflation-adjusted prices, meanwhile, rose about 5 percent.
The results have been predictable; off-premise volume for spirits and wine rose 33.3 percent and 27 percent, respectively, over that decade. Beer has trended the opposite direction, losing more than 10 share points combined to wine and spirits, with about three-quarters of the losses tied to liquor, Uhrich says.
"To me, it looks like a consistent strategy, and it looks like it's working," Uhrich says. The intent, he says, may be "to gain promotional support from off-premise retailers," such as more in-store marketing material and merchandising displays, which can draw retailers' and consumers' attention away from beer.
To be sure, the rise of spirits coincided with shifting consumer trends. It also was helped along by strategic actions taken by spirit marketers, including innovation, updates to packaging and increased marketing support – including television ads. But pricing has proved an important lever.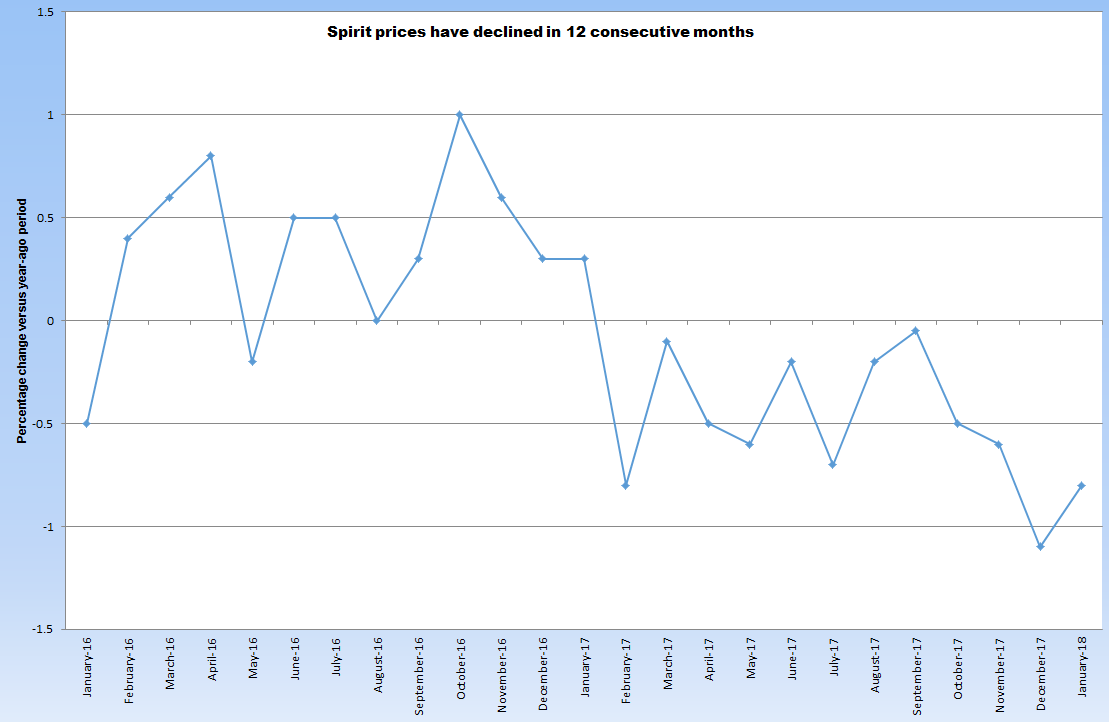 Spirits retail prices increased every month between January 1978 and March 2010, according to the data. Since that first cut, in April 2010, they've dropped in 39 of the last 93 months. Over the current 12-month string, the year-over-year price cuts in spirits range from just short of flat to 1.1 percent. And the cuts appear to be accelerating: In November, December and January, prices fell between 0.6 percent and 1.1 percent in each month, compared with the same period a year earlier, according to the data.
Beer industry leaders for years have pointed to a growing chasm between prices of beer and spirits, which has caused a migration of share. One brand in particular, Tito's Handmade Vodka, has played a key role leading the charge.
The Austin, Texas-based brand finished 2017 up nearly 40 percent in sales dollars, according to Nielsen all-outlet and convenience data for 2017. Pricing played a major role. Tito's is sold for an average price of around $16 per 750 milliliters, undercutting many of its competitors, particularly premium brands like Ciroc and Ketel One, per Nielsen. With the brand eating up so much of the market with its runaway growth, other spirits companies have responded to try to protect share.
The beer industry has responded as well, which can be seen in everything from the growth of economy brands, to the rise of the value-added 15-pack, to the migration of more craft brewers into lower-priced multi-packs.
In addition to beefing up investment behind stabilizing its portfolio of economy beers, MillerCoors this year also released its first new economy beer in years, Two Hats, which is aimed squarely at keeping younger legal-age drinkers in the beer category.
Still, spirits continue to outperform beer; sales dollars were up 2.3 percent in the four weeks ending Feb. 24, outpacing the 12-week growth trend of 1.9 percent, according to Nielsen. Beer, meanwhile, slipped 0.9 percent during the same period.