When Hop Valley Brewing Co. announced on April Fool's Day it would produce a beer inspired by Joe Exotic, the colorful keeper of exotic animals featured in the "Tiger King" docu-series, the brewery didn't plan on actually making the beer.
But a viral response to the social media post set things in motion, and last month the brewery debuted Stash Exotic, a hazy blonde ale brewed with Cryo Hops®, an innovation that, along with creative marketing and a sales strategy focusing on the off-premise, has catapulted Hop Valley to the cusp of the top 20 craft brands nationally.
For Molson Coors Brewing Company, which acquired the Oregon brewery in 2016 and housed it under its Tenth & Blake craft portfolio, the brewery's rise – it's within spitting distance of Deschutes as the No. 1 craft seller in Oregon – is a signal that its strategy of developing strong brands in core markets like the Pacific Northwest is working.
"Hop Valley is the perfect manifestation of that strategy, as the brewery has been able to carve out a strong leadership position in a market that's a hotbed for craft," says Frank Cirone, senior director of marketing for Tenth & Blake.
It was a eureka moment when Hop Valley brewers discovered in 2011 that the detritus harvested from the inside of hop-pellet hammer contained more than dust. Dubbed Cryo Hops® by Yakima Chief Hops, the concentrated hop powder was used to create a Bubble Stash, an IPA with tropical flavors and just 45 IBU, a smooth-drinking beer that combines the aromatic payoff of an IPA without the bitterness.
"We've totally struck it rich" with Cryo Hops®, says Walter Macbeth, the brewery's vice president of sales and marketing. "Stash equals cash."
Bubble Stash is flagship of Hop Valley's Stash Series, which has quickly become its bread and butter. With a roster than includes mango-flavored IPA Mango & Stash, Cryo Stash Imperial IPA, Stash Panda Hazy IPA and Stash Exotic Hazy Blonde Ale, the brewery's variety Stash Packs have been a hit with consumers across its western distribution area.
RELATED:  Hop Valley's Bubble Stash: the 'hop dust' pioneer
"All of these beers are full of flavor and aroma, absolutely juicy. But there's no bitter beer face on the back end," Macbeth says. "It's literally what the IPA consumer is looking for. It's the portion of the category that is growing the most, and we are growing with it."
IPA is also the style that has experienced the most upheaval in recent years, maturing from your dad's mildly hopped bitter to beers that exceeded the human capacity for taste before beersmiths came back down to earth with session IPA, fruited IPA, rye IPA and so on. These days, a craft brewery that doesn't make a hazy juice bomb is rare. So what comes next?
"(IPA) is the biggest style in craft by far, and I expect it to remain the biggest," says beverage-alcohol economist Michael Uhrich, founder of data consultancy Seventh Point Analytic and former chief economist of the Beer Institute. "What's tremendous about the style is its ability to evolve.
"IPA is the new IPA," he says.
Macbeth thinks Cryo Hops® — and the silky-smooth finish they provide  — are the next major evolution of IPA, and beyond. Sales of the cryo-hopped Stash Series – even in uncertain times – show it's resonating with consumers.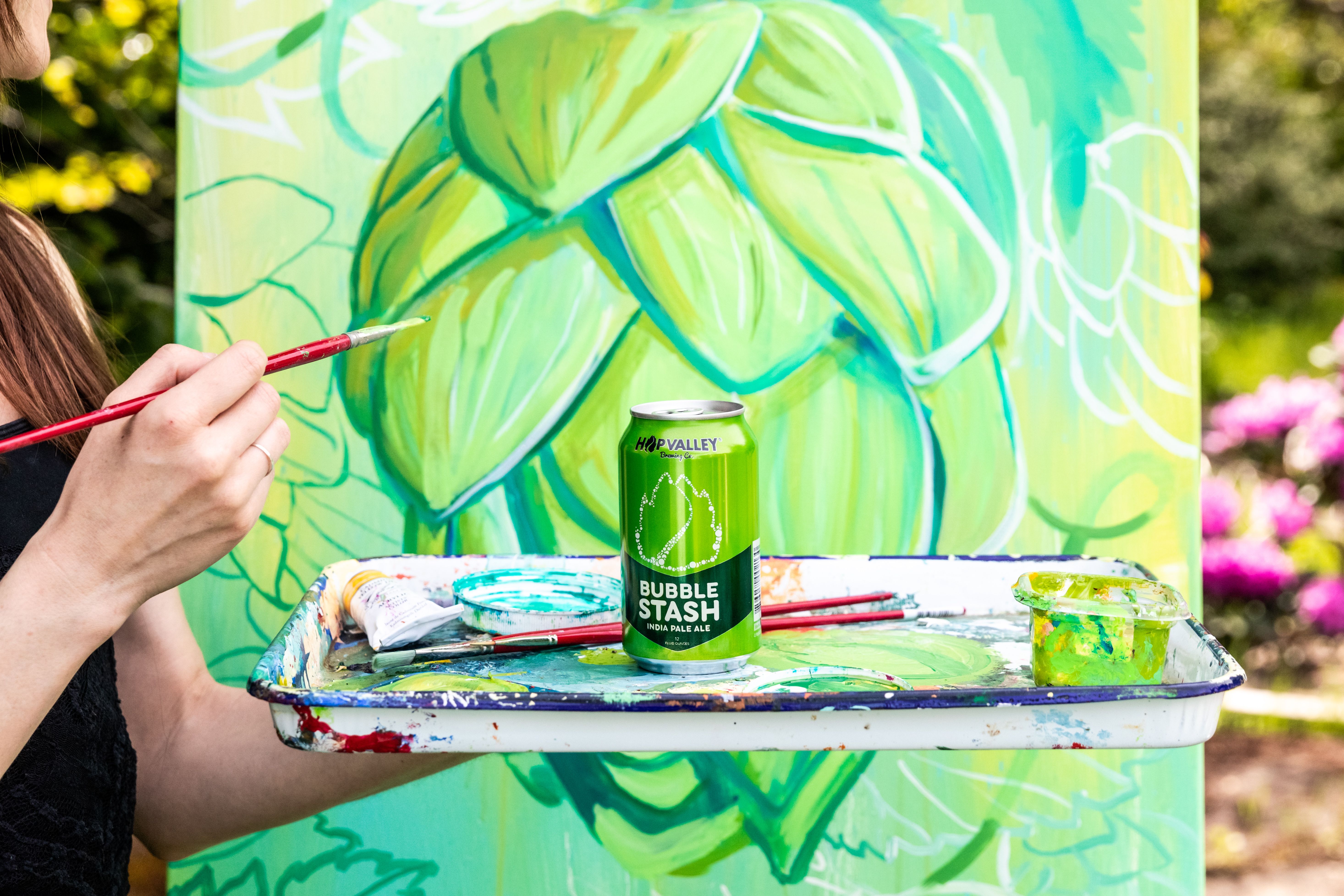 The Stash family has helped make Hop Valley, a top-10 craft brewer in the Pacific Region, with Bubble Stash and Cryo Stash each a top-20 growth craft brand in the region, Nielsen data show. Since its introduction in May, Stash Panda — a 6.5% ABV, 50-IBU hazy IPA brewed with grapefruit peel, envisioned as a mild gateway IPA— has sold more than 20,000 cases, making it a top-10 new craft brand in Oregon, according to Nielsen. Overall production is up, despite the disruptions created by the pandemic, with Hop Valley on pace to well outproduce last year's 91,000 barrels, Macbeth says.
Off-premise focus pays off
Now the No. 2 craft brewer in Oregon, Hop Valley, which was founded in 2009, has put its primary sales focus on the off-premise, which positioned it well to weather the coronavirus pandemic, Macbeth says.
"We have definitely felt the impact of Covid," he says, pointing to the near total evaporation of sales in the on-premise, including its two brewpubs, and in sports venues. "But we have been extremely well insulated and very well positioned in the grocery, club and C-store channels, and we have absolutely crushed it."
With about 70 percent of its distribution headed to the off-premise, sales are up 9 points this year, in large part due to the popularity of the Stash Pack and Hop Valley's IPA variety pack, Hop Mixer, he says.
As consumers turned towards large packs of trusted brands, Hop Valley leaned on its sales team to push its variety packs to grow already strong sales, Macbeth says.
The brewery is bullish on Hop Valley's newly released summer variety pack, called the Patty-O Pack. It features Stash Panda Hazy IPA, which is poised to become one of the largest brands in the brewery's portfolio.  
The brewery is also keen on its new Red Can Light Lager, released this summer, as well as the introduction of the Stash series in 19.2-ounce cans. "We believe that this new single-serve will provide a tactical sampling weapon for the grocery and C-store channels as well as a unique 'Stash 'n' Dash' package for on-premise venues that serve takeout," Macbeth says.
From Macbeth's perspective, there's a lot to boast about, and he's not afraid to do it.
"We have a fantastic team between Hop Valley and Tenth and Blake that delivers incredible innovation, planning and marketing," he says. "If you have those things, and the relentless sales execution between our team and our distributor partners, you can make it happen in the world of beer right now."