UPDATE: On June 15, 2021, Molson Coors announced the Tenth & Blake Brewing Education Scholarship Fund would include scholarships at the University of Wisconsin-Madison and Texas A&M University, partnering with Jacob Leinenkugel Brewing Co. and Revolver Brewing, respectively.
As he consumed news coverage of civic unrest this spring, Dustin Watts and his colleagues at Terrapin Beer Co. confronted the difficult topics involving race across the nation – and in craft beer. What, they wondered, could they do to make craft beer more inclusive?
"The biggest thing that came up repeatedly, when we look at ourselves in the mirror, we need to have more diversity," Watts, Terrapin's president, says. "When does that start and happen? Education is key."
Watts and the team at Terrapin reached out to Middle Tennessee State University to explore establishing a scholarship for underrepresented students in its Fermentation Science program. The university jumped at the idea, Watts says, and now is one of three schools that are part the Tenth & Blake Brewing Education Scholarship Fund announced today by Tenth & Blake, Molson Coors Beverage Company's craft beer arm.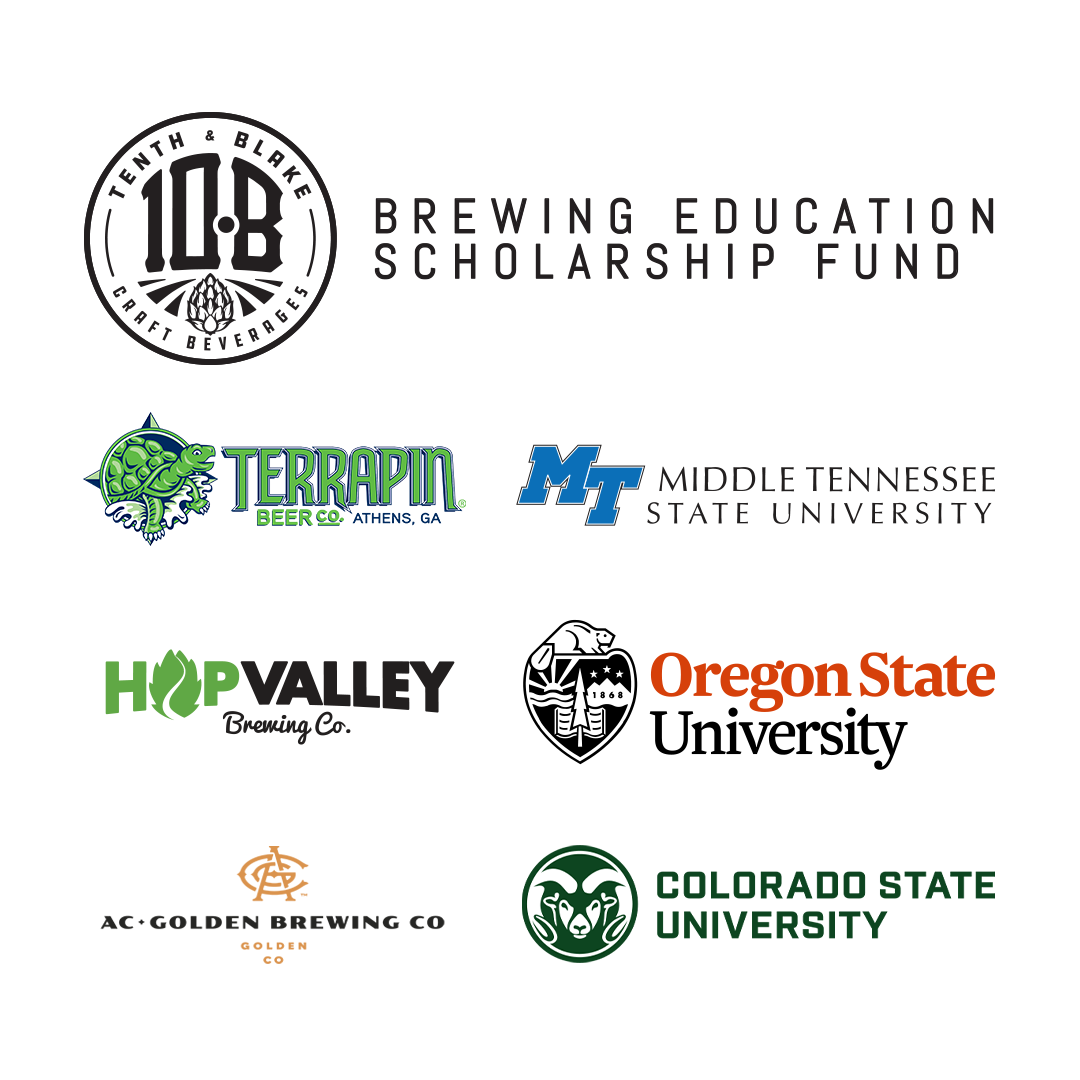 "It's an exciting unique way to try and drive change inside of our industry," Watts says. "Diversity is extremely important in the workplace. In craft beer, we've always joked that if you go to a craft beer conference, you see a lot of beards and tattoos on white people. We hope to change that by making education and a career path more viable for underrepresented students."
The Tenth & Blake Brewing Education Scholarship Fund supports people of color and LGBTQ+ students seeking degrees in brewing or fermentation sciences at three universities near Tenth & Blake breweries: Terrapin in Athens, Ga., Hop Valley Brewing Co. in Eugene, Ore., and A.C. Golden Brewing Company in Golden, Colo.
The annual program matches students at Middle Tennessee State University, Oregon State University and Colorado State University with scholarships worth $10,000. Each recipient will also earn a full-time, paid internship between their junior and senior years at the Tenth & Blake brewery near their universities.
"Diversity is a big issue in many industries, but it's especially big in craft brewing," says Paul Verdu, head of Tenth & Blake. "We believe that education is the key to unlocking opportunity, but there needs to be awareness of that opportunity. Long term, this program will help people who might not be aware that brewing is a career option."
The craft industry has steadily been growing, with more than 7,500 craft breweries across the nation, employing more than 161,000 people. However, Black people make up just 1% of craft brewery owners and less than 1% of brewers, according to the Brewers' Association. That compares to 13% of the U.S. population.
The industry has long grappled with a perception that it is overwhelmingly white, brewing beer for white consumers. But it's had a reckoning in recent years that has it looking for ways to create more diversity.
Brooklyn Brewery's brewmaster, Garrett Oliver, masterminded the Michael Jackson Foundation for Brewing & Distilling, which aims to support Black, indigenous and people of color in the industry. In June, Constellation Brands, which markets in the U.S. brands such as Corona and Modelo, said it would pledge $100 million to improve minority representation in brewing through a series of investments over 10 years. Additionally, this week, Anheuser-Busch said it would fund 30 annual scholarships over the next five years to grow Black representation in the brewing industry.
The Brewers' Association also recently released a code of conduct to help member breweries identify and eliminate workplace discrimination and harassment.
"We know we can do better in craft and in the beer industry as a whole, and we're glad to see more brewers responding with programs to promote diversity," Verdu says "Most breweries are connected to their communities. There's an inherent social aspect. It's where barriers can be broken down, and the common thread is the love of beer."
Funding for the scholarships comes from a Molson Coors social justice initiative, in which it is donating $1.5 million to support 24 organizations focused on social justice, equity and empowerment. Internally, the company has made diversity and inclusion a key focus, designing an action plan to build a more inclusive culture and increase diversity, improving leadership development programs to attract highly skilled diverse talent into their employee ranks, and conducting a culture assessment to help create better practices and policies.
It has also hired a top consulting firm to identify opportunities for improvement across the company.
Scholarships are open to students who identify as Latino, Black/African American, American Indian, Asian, Pacific Islander, and/or LGBTQ+. They must want to pursue a career in fermentation science or a related field at Colorado State, Middle Tennessee State, or Oregon State. Interested students can apply for the scholarship through their universities beginning in 2021. 
Verdu says the scholarship is just the first step in Tenth & Blake's efforts to create a more inclusive and diverse work force.
"We don't need to start and stop with just this program. We can be a lot more aware of our hiring practices and increasing diversity in our breweries, as well," he says. "It's the same as why D&I is important in any organization: It makes you better. Better ideas, more creative, more innovation."