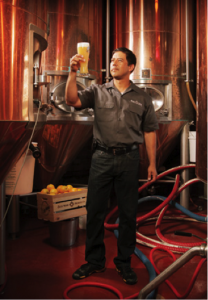 "Paging, Dr. Villa! You're needed in the brew room STAT! There are urgent matters of malt and hops and yeast to attend to!"
Blue Moon Brewing Company doesn't just have an award-winning collection of beers. It has a Belgian-trained brew doctor for a founder.
Keith Villa: Blue Moon brewing doctor
Over two decades ago, Keith Villa earned his Ph.D. in brewing from the University of Brussels, an honor only a handful of brewers have achieved. Being a beer doctor is pretty impressive, but it becomes all the more amazing when you hear Keith took classes, and taught undergraduates in both Flemish and French. Two languages he picked up within weeks of stepping off the plane in Brussels.
But Belgium wasn't just the setting for Keith's education. It was the source of his inspiration. After four years at the University of Brussels, Keith returned to Colorado with an idea to brew Belgian-style beers with an inviting twist. In 1995 that idea became a reality when he founded Blue Moon Brewing Company.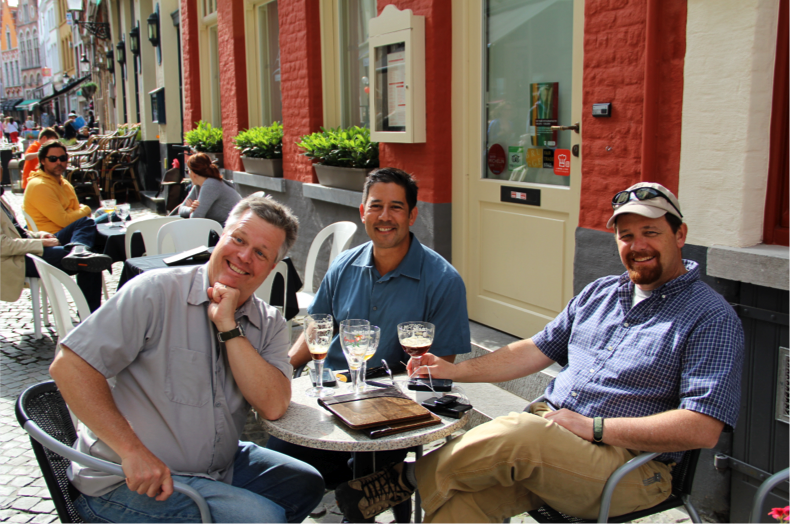 Fast forward 19 years. I'm sitting in an ancient, windowless bar in Brussels with Keith and two of his fellow Blue Moon brewers, John Legnard and Tom Hail. Their eyes brighten and their smiles widen as a tray of Belgian beers arrive at the table. A Belgian quad, a Belgian dubbel, and a couple tripels. Yum.
You'd be surprised how entertaining it is to watch three of America's most award-winning brewers drink these beers. They enthusiastically use terms like caramel, pear and horse saddle to describe their experience. (Identifying hints of horse saddle is an occupational expertise for a brewer. Who knew?!?) Next they start spit-balling ideas about how they might reimagine these classic Belgian styles as Blue Moon Brewing Company beers.
Keith, John and Tom aren't just having happy hour. They're working. They traveled nearly 5,000 miles to the place where Keith dreamt up Blue Moon Belgian White to get inspiration for future Blue Moon beers.
The next round of Blue Moon beers
Over the course of about a week, the brewers (and a few lucky folks from Blue Moon's marketing team) toured Belgium with Keith as our guide. We visited Keith's old campus. We toured beer bars and restaurants in Brussels, Bruges and Ghent. And we talked shop with Brouwerij Van Steenberge's master brewer, Jef Versele while touring his brewery. The whole time Keith, John and Tom couldn't stop talking about how they can't wait to get back to Denver to start brewing up some of the ideas they had on the trip.
I, for one can't wait to taste what they brew up with next.