As the site services engineer at one of the eight MillerCoors breweries, I am responsible for the site maintenance of a 1,000-plus acre facility in the farmlands north of Cincinnati, Ohio. I could drone on for hours about the intricacies of restroom maintenance, roof leak repairs, pothole complaints and the seasonal joys of snow removal, but nobody has time for all that....
Instead, let's talk about my favorite part of the day, TASTING THE BEER.
Obviously it goes without saying, the brewery brews the beer. And we brew a great beer. To ensure the consistency, great taste and quality of the beer, it requires a panel of well-trained and highly skilled tasters. Not to brag (OK, maybe a little), but I've been a qualified brewery taste tester since I started working at MillerCoors.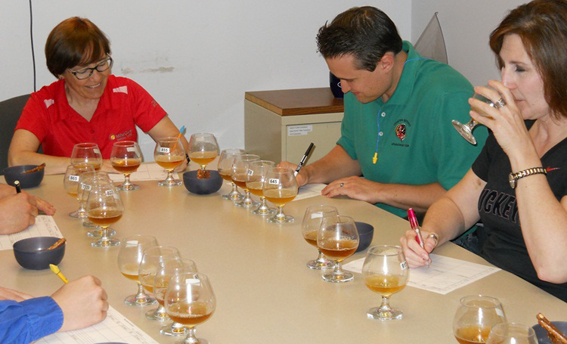 To become qualified as a beer taster, you have to demonstrate the ability to identify the many different characteristics of beer, such as bitterness, body, aroma and flavor. Beer is tasted by a number of panelists because everyone has different taste abilities and preferences. All panelists are even "tested" periodically to remain qualified. There are different levels of tasters on the taste test panel and we have a number of qualified testers available around the clock. They are available at any time of day, because every batch of beer must be sampled and tasted before it can be released for packaging into a bottle, can or keg.
Then there is a panel comprised of advanced tasters from various areas of the brewery. We taste the beer daily, early enough in the process to verify that the product meets the high standards set by MillerCoors. It's a great time to meet with colleagues from other departments and catch up on what's happening around the brewery. In addition to daily tasting, we improve our sensory skills with monthly blind sample quality tests. These tests are ranked, and the testers with the highest scores compete annually for the corporate Taster of the Year award. We also sample products from other MillerCoors breweries to ensure the product is consistent across the country.
Taste testing is without a doubt the highlight of my day. But if you want to know more about roofs, plumbing, paving or janitors—hit me up.