Some of the work perks at a beer company seem obvious.
Like free beer.
But here's one benefit that's extra special — a brewing lab to use at your leisure.
On the third floor of MillerCoors headquarters in Chicago is one of the sweetest homebrew setups around. It's equipped with a commercial double boiler, a big dump sink, a lagering cooler, copper wort chiller, 10-gallon insulated mash tun with a false bottom and a glass washer. There's another room just like it at the MillerCoors office in Milwaukee.
And if you don't know how to homebrew, Lisa Zimmer will teach you.
Because it's her job.
Lisa is the company's beer culture and community specialist. It's her responsibility to get people excited about beer.
If that sounds "made up," that's not exactly wrong.
The brewing explosion of late has created thousands of new voices — and Lisa knew she wanted to get in on those conversations. So she created a role that, among other things, has her traveling the country to share the company's combined 450 years of brewing history.
We asked her what it takes to get a job like that ... not that she's showing any signs of giving it up.
See a need and fill it
Lisa has poured a lot of beers at a lot of beer festivals.
Especially in the early days of Tenth and Blake, the craft and import division formed within MillerCoors in 2010. She spent many weekends getting to know beer fans at fests around the country.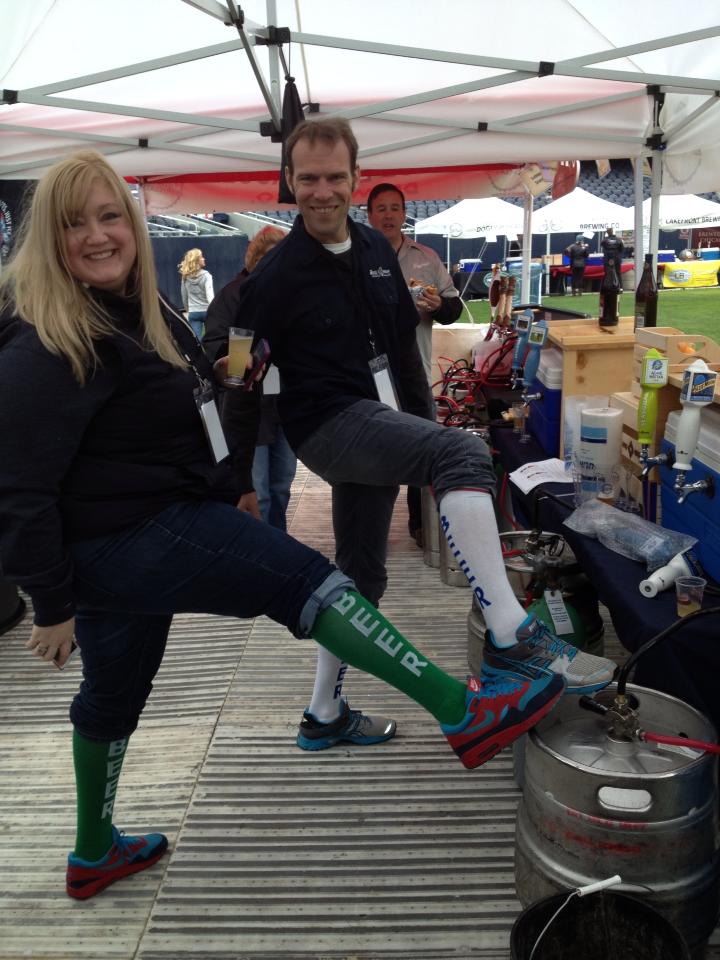 She saw those events as opportunities to put a face on Tenth and Blake — which today includes brands like Blue Moon, Leinenkugel's, Peroni, Pilsner Urquell and Saint Archer.
"As we started talking about our beers in terms of craft beer, we wanted to immerse ourselves in that world," Lisa says. "Tenth and Blake is not just a name on the door — it's a group of employees who take deep dives into the process of making beer, the intrinsics of beer, and have been educated specifically around styles and food pairing."
Cue Lisa's outgoing personality ("I'm very much an extrovert") and background in event planning.
Social skills
She came to MillerCoors in 2009 as a senior assistant in the strategy and planning department. There, she worked for a craft beer veteran who was setting up Tenth and Blake.
Lisa stayed close as the project unfolded. She offered up the mad event planning skills she gained at a previous job, along with her social media savvy (she's @Zimmerino on Twitter).
https://twitter.com/Zimmerino/status/684864959247990784
Her boss came to rely on her relationships and her understanding of the beer world. That's how the position of "beer culture and community specialist" was born.
"I've connected with a lot of people in the beer industry through social media, at events like the Craft Brewers Conference, and by being super-friendly so it's hard for them to think mean things about MillerCoors," she says with a laugh. "It's harder to say impolite things if you associate a friend or a face with a company."
Lisa says most folks appreciate MillerCoors' long history and breakthrough work in beer (like our role in the production of the Citra® hop).
"We have the advantage of size, and that's OK because we're doing good things with it," she says.
Works well with others
Another reason to be nice to Lisa (who's ridiculously likable, by the way) — Brewers Unleashed.
It's a monthly beer tasting she puts on in Chicago and Milwaukee, and occasionally at other MillerCoors campuses. It's not just for employees — guests are welcome.
Sometimes Brewers Unleashed features specialty beers from our smaller brewing companies, like Saint Archer, AC Golden Brewing Co.  and Blue Moon Brewing at the SandLot.
Sometimes it's an evening of special festival releases or barrel-aged side projects. Sometimes Brewers Unleashed is all beer from breweries not owned by MillerCoors.
One thing is constant, though — the guest list is tight. (See below for tips.)
Be curious
Lisa also teaches classes at MillerCoors University (an award-winning corporate university) and helps run beer education efforts companywide.
That's where the homebrew lessons come in — it was Lisa's idea to offer them to employees.
"It's a good learning tool to brew beer and to touch, taste and feel the ingredients," she says.
Employees are welcome to the use the brew room on their own as well. Some brew together in groups, others use the room because they don't have space at home.
And some employees use it to make beer for our homebrewing contests, which Lisa founded too.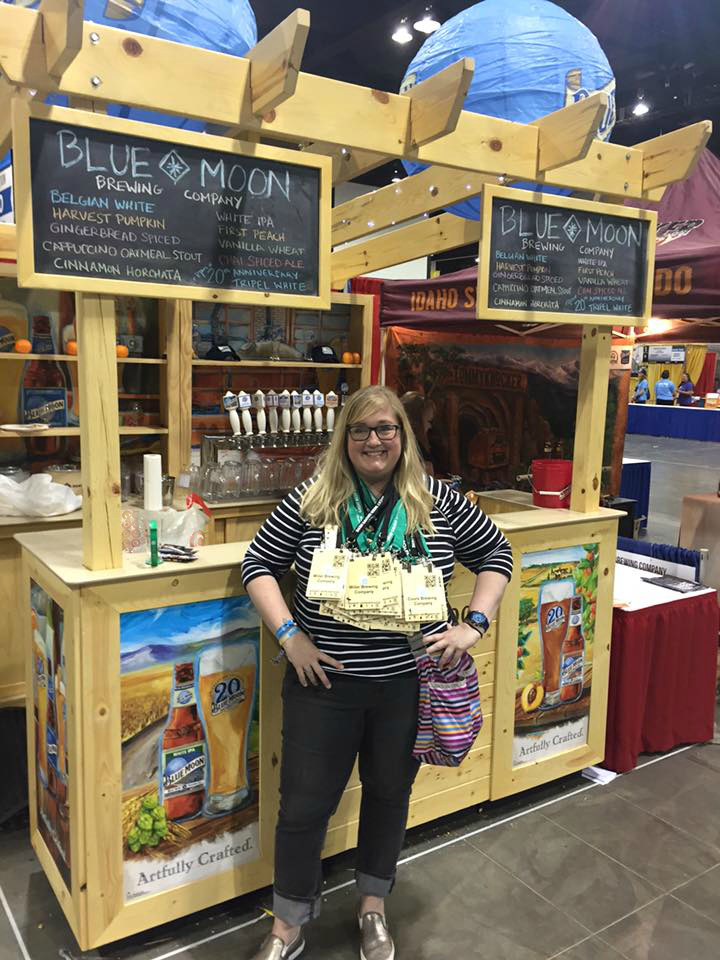 Know your stuff
A recent competition at Chicago HQ included entries as diverse as spiced milk stout, grapefruit IPA and ginger saison. All employees were invited to sample the beers at a party in the company pub (which Lisa organized, of course).
The entries were judged by a panel of pro brewers, beer bloggers and members of the media.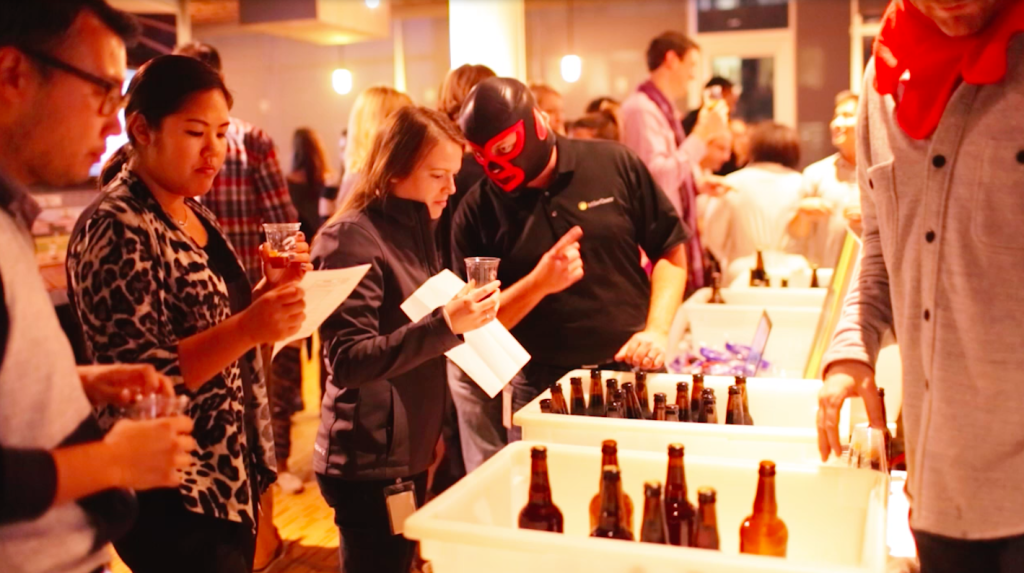 The winning beer was a black ale brewed with raspberry tea. It belonged to Lisa's team.
"I had nothing to do with the judging!" she says.
She's just pretty good at homebrewing. Because it's her job.
30% travel
All the festivals and events make for a lot of travel and crazy hours, but Lisa hardly notices.
"It's hard to remember that my role is work because I'm usually having so much fun," she says.
"I spend a lot of time on airplanes, though, so maybe that's my sacrifice."
Still not enough to make her give it up.
[divider]How to try rare (free) beer[/divider]
[alert type=blue] Brewers Unleashed is a monthly tasting that features beers you've never had and typically can't experience anywhere else. It's held primarily in MillerCoors' Chicago and Milwaukee offices.
The guest list fills up fast — sometimes in minutes. To get a chance to register for the next Brewers Unleashed, sign up here (must be 21+):
Chicago mailing list
Milwaukee mailing list
Another tip: Know anyone who works here? 'Cause MillerCoors employees can bring two guests.
Hope to see you soon. [/alert]