Peroni's a fuoco.
Following a year in which the Italian import posted growth of more than 19.4% in the off-premise, Peroni sales continue to rise, outpacing European import sales in the U.S. with 10.1% volume growth year-to-date, according to IRI multi-outlet and convenience store data through Aug. 15.
The easy-drinking birra is far outpacing the overall import segment, which is up 1.7% year-to-date, and larger competitors including Heineken and U.S.-brewed Stella Artois, which are down .5% and 4.7%, respectively, according to IRI data.
Peroni's success is due in part to customer loyalty, says Cara Lauritzen, senior marketing manager for the brand. When bars and restaurants were closed during the pandemic, consumers accustomed to drinking Peroni in the on-premise found it on store shelves and took it home.
That trend has continued into 2021, Lauritzen says.
"It's a nod to the quality and heritage of Peroni," she says. "When people drink it, the taste immediately transports them abroad and reminds them of some stylish moment they had in Italy. That experience resonates with consumers and keeps them coming back for more, both on- and off-premise."
Seeking to further strengthen Peroni's ties to the world of fashion and design, the brand this week kicked off a partnership with luxury Italian shoe and accessories brand M.Gemi to release a limited-edition line of Peroni-inspired sneakers.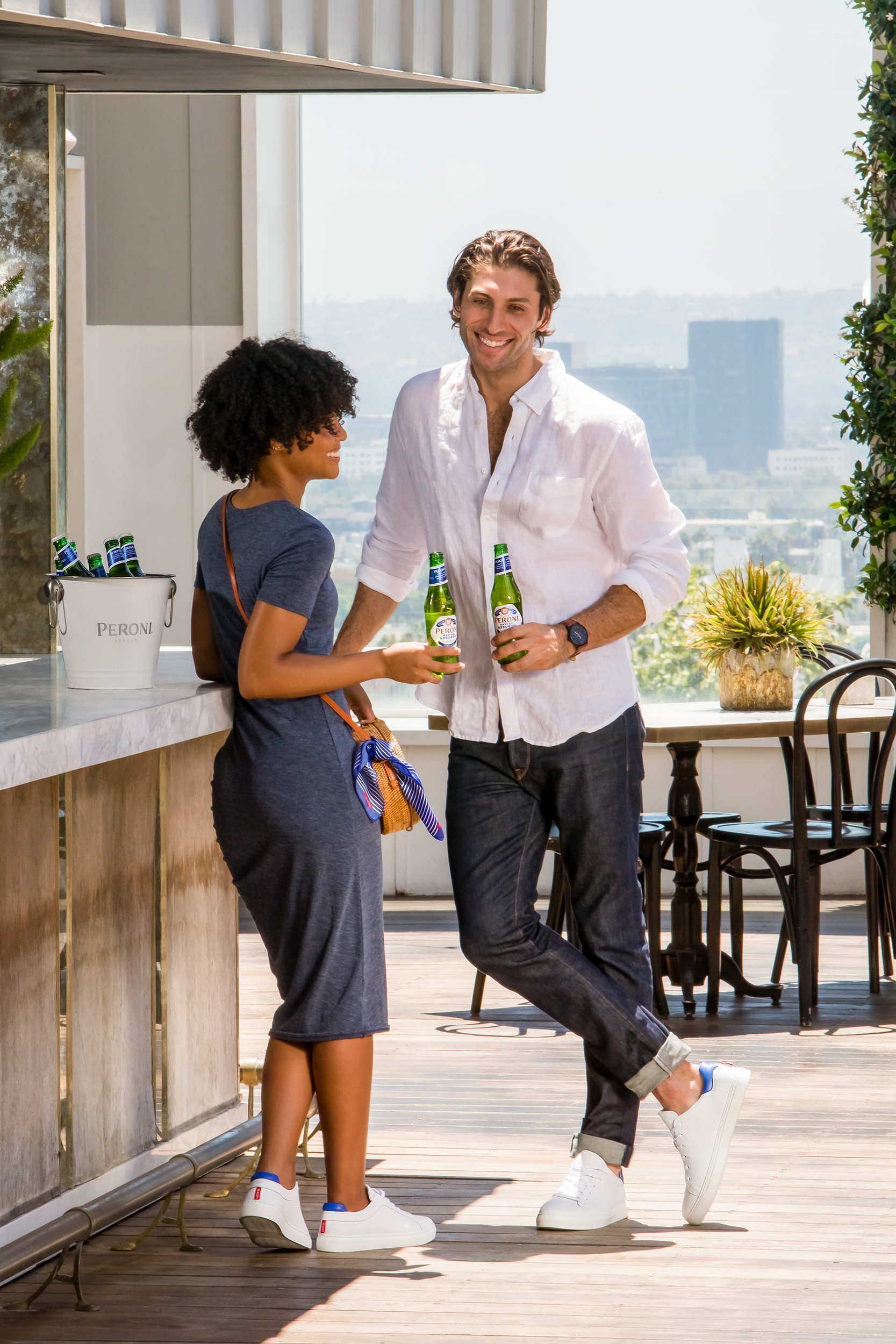 The Peroni x M.Gemi collection, a line of handcrafted sneakers for men and women, are created to "bring everyday Italian style to Americans this fall as they head back into the office and in-person happy hours," Lauritzen says.
The partnership with M.Gemi is the latest tie-up for the brand, which has also partnered with style and design icons including Jonathan Adler and Lorenzo Martone on co-branded products.
It's newest partnership with M.Gemi riffs off two classics, the men's Lucente sneaker and women's Palestra Due sneaker. The shoes pay homage to Peroni with a Nastro Azzuro-inspired blue heel stitched with Peroni's signature red tag, a blue-and-white pinstriped shoe sock, and a "Made in Italy" stamp emblazoned on the side of the sole.
The limited-edition sneakers are available on M. Gemi's website for $228.
As part of the campaign, Peroni has hidden 10 golden bottle openers in select shoeboxes, which can be used not only to open a Peroni, but also could unlock a fall style upgrade. Winners of the golden bottle opener (valued at $500) can visit PeroniStyle.com after Aug. 31 to claim their style upgrade.
"Our collaboration sneakers with M. Gemi embody everything we love about Peroni – they are effortlessly stylish and they go just as well with night out as they do a casual gathering with friends," Lauritzen says. "We're proud of our Italian heritage and thrilled to partner with a fashion brand that puts the same level of craftsmanship into their shoes as we do our birra."