Cape Line Sparkling Cocktails, one of the top innovations in the beer industry for 2019, plans early next year to release its fourth flavor, White Peach Sangria.
Like the brand's other flavors, White Peach Sangria is made with six ingredients, nothing artificial and alcohol derived from pure cane sugar. It pours a light, natural peach color with a slight haze and carries the aroma of stone fruit. It checks in 100 calories and 4.5% alcohol-by-volume.
"White Peach Sangria is the perfect drink to round out our existing flavors," says Sofia Colucci, vice president of innovation for MillerCoors. "From a product perspective, we're going to continue embracing the cocktail, and you'll really see us leaning into that."
Cape Line's Margarita flavor, in particular, has resonated well with consumers, in part because it's grounded in a widely recognized cocktail with which they're familiar, Colucci says. In response, the brand this fall is reconfiguring its 12-pack variety packs to include six cans of Margarita. And in January, Cape Line Margarita will launch in stand-alone six-packs.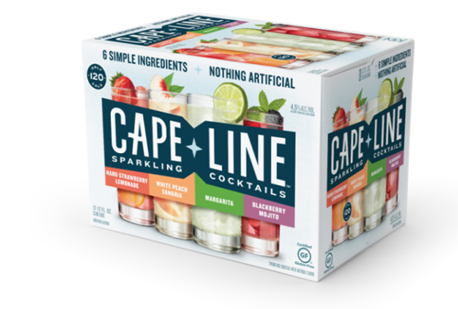 White Peach Sangria will make its debut in Cape Line's 12-pack variety packs in early 2020, joining Margarita, Blackberry Mojito and Hard Strawberry Lemonade.
Cape Line made its debut this year, and it's outperformed expectations, buoyed by a broader movement toward so-called "better-for-you" drinks championed by consumers seeking more healthy lifestyles.
The brand, riding a streak of 14 straight weeks on Nielsen's Top 10 Growth Brands list, is the No. 1 new flavored malt beverage released in 2019 by volume, and its 12-pack variety pack is the No. 2 new item in the overall U.S. beer market, having sold more than 1 million cases so far this year.
What's more, Cape Line is sourcing some 60% of its volume from category expansion or from categories outside of beer, per Nielsen Homescan data through June 22. On top of that, more than 70% of Cape Line's volume is coming from consumers who are not buying hard seltzers, the data show. 
While hard seltzers have been white-hot this year, Cape Line has thrived by "carving out its own section in this better-for-you movement," Colucci says.
For MillerCoors, the brand's success underscores the importance of charging headlong into big consumer movements, including the growing trends of above-premium products, drinks in the beyond beer segment, and health and wellness, Colucci says. In addition to Cape Line, MillerCoors has unveiled a flurry of new products in the space in 2019, including the light lager Saint Archer Gold, a line of 100-calorie wine spritzers called Movo, Sol Chelada and a limited market test for La Colombe Hard Cold Brew Coffee.
"Cape Line has really helped prove that we can move with dramatic speed and still launch a great product that resonates with drinkers," she says. "As we think about 2020 and beyond, you should expect us to continue to lean into consumer trends and bring differentiated and relevant propositions to white spaces we identify in the market.
"We will be moving faster and producing more innovative products than you've ever seen from MillerCoors."