Two Mexican icons are teaming up again, as Banda MS, the award-winning musical group from the country's west coast, continues its North American tour, sponsored by Sol.
The tour brings the band to many of Sol's key markets in the Pacific and Central regions, and the Southwest.
"Sol and Banda MS are perfect partners because of what Sol stands for as a brand and what Banda MS has done as a group," says Kacy Raffe, associate marketing manager for Sol. "We both celebrate people who unapologetically rep their heritage but bring it to the world in new and different ways."
For Banda MS, that means bringing a modern flair to the traditional banda style, partnering with some of hip-hop's biggest stars and playing at some of North America's biggest festivals. Sol, meanwhile, is using the renewed partnership to mark the beginning of a new marketing campaign called "Mi Banda Shines."
Supported by online video , social media and streaming audio ads, influencer marketing and more, Raffe says the new campaign celebrates sharing culture in new ways.
"When we're together, celebrating authenticity, individuality and embracing culture in new ways, we're bringing brightness to the world," she says.
The Sol franchise, imported, distributed and marketed in the U.S. by Molson Coors Beverage Company, is one of Mexico's most beloved brands. Its chelada is the top-selling brand in Mexico, while its lager can trace its legacy back to 1899. In the U.S., Sol targets so-called fusionistas, who blend their Latino cultural heritage with modern American culture.
That's reflected in Sol's work with Mexican artists to adorn its packaging with colorful artwork that bring a taste of Mexico to America. This year, Sol partnered with street artist Farid Rueda, who is known for his use of vibrant colors to celebrate Mexican legends and heritage.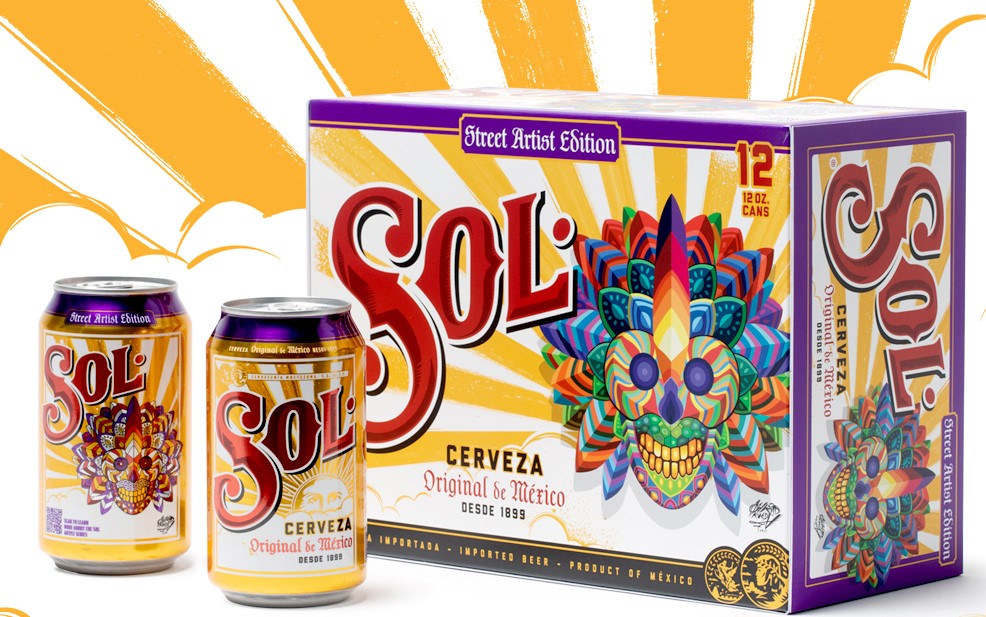 "As a brand, Sol celebrates how people can shine their own way and live fluidly between both cultural worlds. The work with Banda MS and Farid is just another representation of that," Raffe says.
The beer brand is looking to connect with Banda MS fans online, as well, with a sweepstakes offering a chance to see the band perform live. Staring today through Oct. 1, legal-age drinkers can visit solbandams.com and enter the sweepstakes, where two fans will enter for a chance to win a VIP experience that includes tickets for them and three friends age 21+ to see Banda MS live in Oakland, Calif., on Nov. 4. The package includes airfare and lodging, a meet-and-greet with the band and more. Other prizes include signed merchandise and vouchers for Sol product.
Meanwhile, Sol continues to book growth with its chelada portfolio, which includes Sol Chelada and Sol Limon y Sal. In the U.S., dollar sales of Sol Chealda year to date are up 10.1%, according to IRI multi-outlet and convenience store data.
That's driven in large part by a 12-pack introduced in the Pacific region last year, Raffe says. That pack has expanded into the Central region and parts of the Great Lakes region this year, growing dollar sales by 263%, according to IRI.
And Sol's chelada portfolio is set to grow with the introduction of Sol Chelada Mango y Chamoy in the fall.
"Whether it's with cheladas or cerveza, Sol is a celebration of Mexico. That's why it's been so popular with our fusionista crowd, and that's why we're seeing it break through, especially with cheladas," Raffe says.