When the Atlanta Braves beat Washington on June 2, 2021, the game's heroes didn't hit a home run or throw a wicked curveball. Instead, they were a family of beekeepers who collected a swarm of bees that hovered around left field.
Now the honey from those Braves bees is being used in a ballpark beer, courtesy of Terrapin Beer Co. The brewery released Tripel Buzz at its Truist Park taproom Saturday. The 9.3% alcohol-by-volume Belgian tripel will be served at its taprooms at the ballpark and in Athens, Ga., until supplies run out.
The collaboration between Terrapin, beekeeper Brian Grant and Braves broadcaster and beekeeping hobbyist Peter Moylan "has been a blast," says Mark Crouch, operations director for the Brew Lab. "We're very excited for Braves fans to get a taste of this."
The brewery held a tasting session with Grant and Moylan to determine the type of beer they'd make. While Terrapin has collaborated with other former Braves players, including a Kolsch with Chipper Jones and a Berliner weisse with Jeff Francouer, Moylan wanted to do something different, says brewer Seb Winkler.
"He was insistent on the ABV being higher," Winkler laughs. "The idea of doing a Belgian tripel with honey was great. Everyone's going to be happy with this beer."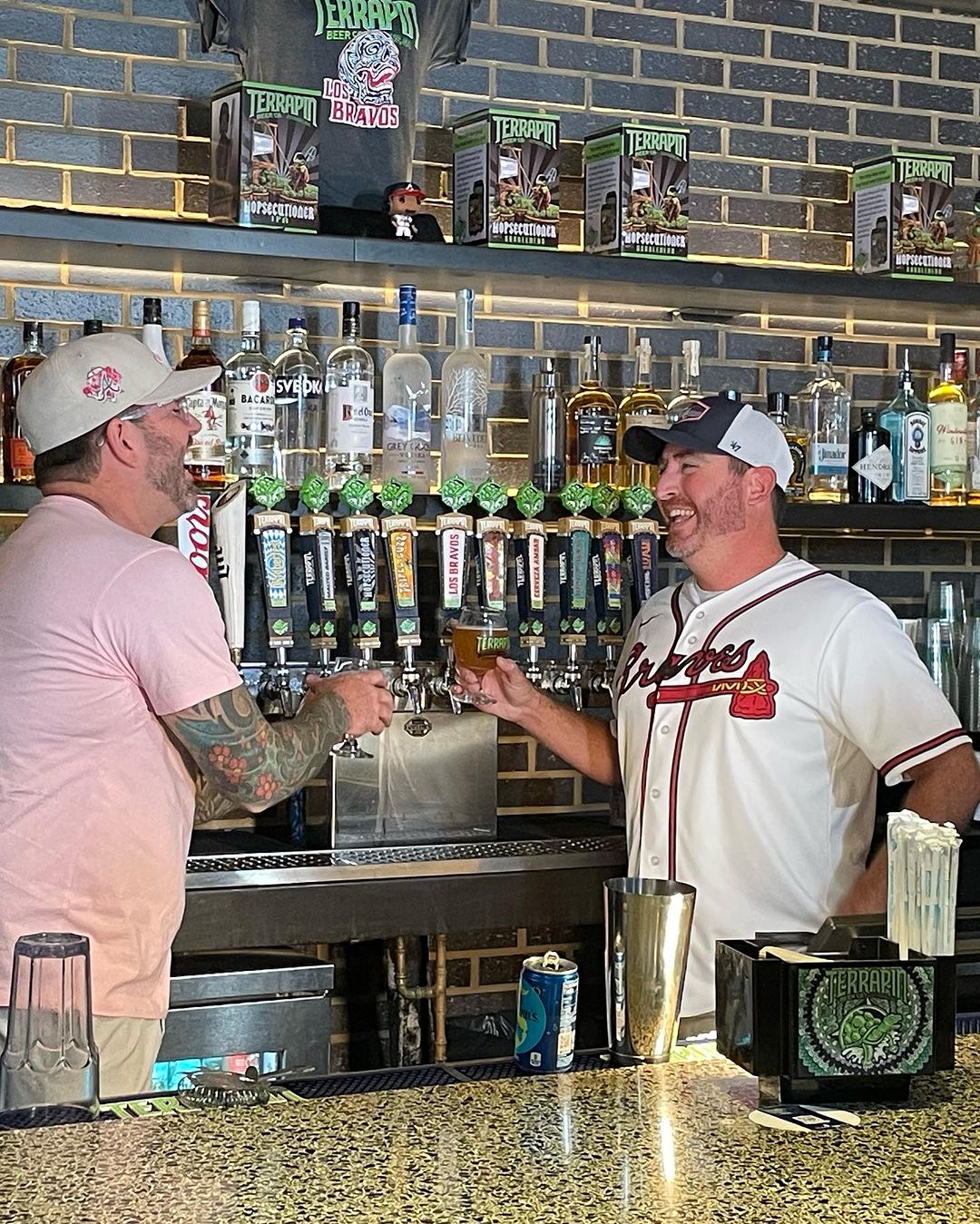 While Terrapin is known for its hop-forward beers and suite of IPAs, its brewers experiment more at the ballpark location, which has 22 beers on draft.
"It's our opportunity to play outside the IPA space," Crouch says. "It's going to fit in perfectly with what we do."
Tripel Buzz is a deep, gold-colored Belgian ale that's light bodied and effervescent, Crouch says. Its honey sweetness – from honey malt and 20 pounds of Grant's honey – is balanced by the flavors imparted by Belgian yeast, including banana, clove and a bubblegum.
For Grant, it's a perfect intersection between beers he picks up.
"I drink mostly Coors Light and Miller Lite. I like Terrapin's Los Bravos and Blue Moon, as well," he says. "I'm looking at Tripel Buzz and it looks similar."
The fact that it's brewed with honey made from bees captured during the season the Braves last won the league championship makes it even sweeter, he says.
And, Grant says, Tripel Buzz will help bring visibility towards the Grant Boys Honeybee Foundation, which educates people about the important role bees play in our ecosystem. Honeybees help produce a third of our food supply, and they play an integral role in creating fibers, oils and medicine. Their population is declining at an alarming rate, due in part to urbanization, pesticide use and climate change, experts say.
That, in turn, meshes well with Terrapin's sustainability program, Terraprint, which seeks to make a positive impact on the environment and community.
Grant's excited to try the Tripel Buzz, and is grateful the Braves staff allowed him to trap the bees rather than spraying and killing them, which is how many groundskeeping staffs might deal with a honeybee swarm.
"We want to encourage bees to go away from the stadium by putting feeders a few hundred yards away so they can relocate in a natural way," he says. "Spraying them just makes them mad."
Terrapin also makes a Mexican lager, Los Bravos, honoring the Braves, which were known for a short time before World War II as the Bees.