Topo Chico Hard Seltzer is doing things diferente this summer.
The brand is kicking off summer with updated retails tools and plans for Cinco de Mayo, in an effort to inspire more consumers to pick up a Topo Chico Hard Seltzer as the weather turns warmer.
Starting with Cinco de Mayo, the brand is partnering with well-known chef and best-selling author Rick Martinez to develop a pair of recipes to pair with Topo Chico Hard Seltzer.
Martinez, known for his modern takes on Mexican culture and cuisine, worked with the brand to create authentic recipes to spice up Cinco celebrations, like pollo al pastor and fried esquites to pair with Topo Chico Margarita Hard Seltzer and Topo Chico Strawberry Guava Hard Seltzer, respectively.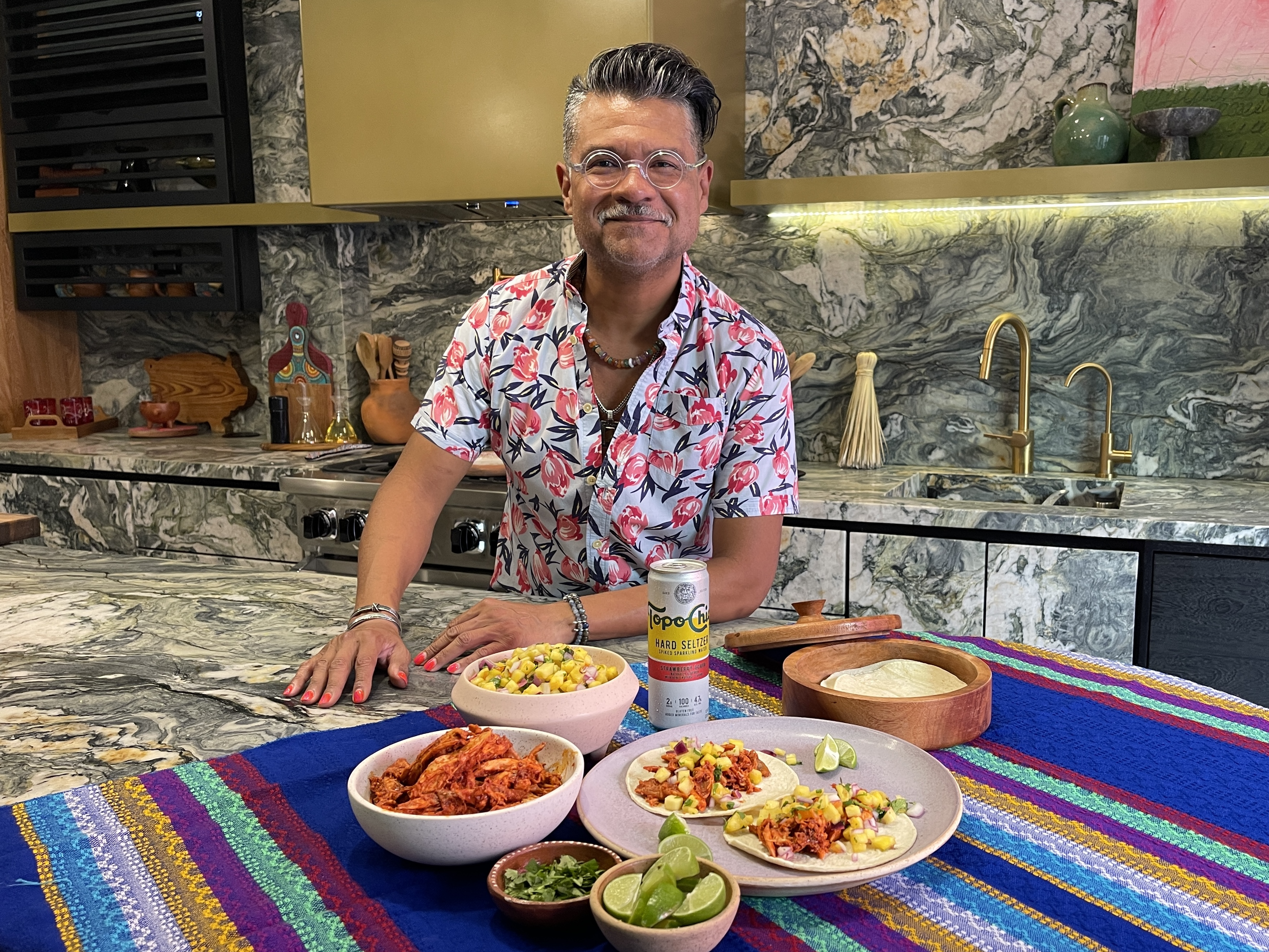 "Pairing my pollo al pastor and fried esquites recipes with Topo Chico Hard Seltzer helps keep things fresh while entertaining for Cinco de Mayo," he says. "The tropical flavors complimented with the crisp, refreshing taste of Topo Chico Hard Seltzer is a crowd pleaser at every get-together I have."
While legal-age consumers enjoy the pairings, they can also enter a sweepstakes for a chance to win an all-expenses-paid trip to Mexico – including a visit to Puebla, the site of the famous battle that inspired Cinco de Mayo. Topo Chico Hard Seltzer is working with Mexico-based tourism company Journey Mexico to create a six-day itinerary full of authentic experiences, from the cuisine to sightseeing in Mexico City and Puebla. The sweepstakes is open from May 2 to May 9.
"When we think about Cinco celebrations, it's always a simplistic take on a holiday that is supposed to have a deeper cultural meaning," says Rachel Malseed, associate marketing manager for Topo Chico Hard Seltzer. "With our Mexican heritage and roots, we're bringing authenticity back to Cinco celebrations."
Cinco de Mayo ushers in Topo Chico Hard Seltzer's summer programming and the season when sales of hard seltzers traditionally spike. The brand's summer campaign, "Summer Diferente," aims to separate Topo Chico Hard Seltzer in the seltzer aisle through thematic on- and off- premise tools, a partnership with Tajin, custom recipe content, and consumer promotions that can be accessed via QR code.
"We know that Topo Chico Hard Seltzer gets a significant boost when it's on display," Malseed says. "It's all about celebrating those occasions that are perfect for a Topo Chico Hard Seltzer. When shoppers see our displays, they choose our product."
The brand also is hoping to score with soccer fans during this summer's Leagues Cup, a tournament featuring every team from the top two North American soccer leagues, Major League Soccer and Liga MX. Viewers watching games on Univision will see advertisements, and Topo Chico Hard Seltzer – the tournament's official hard seltzer – will send one fan and a guest to see the Leagues Cup final; fans can enter for a chance to win by scanning a QR code on packaging.  
With multiple balls in the air, Topo Chico Hard Seltzer isn't resting after a busy 2022, when it launched nationally and rolled out two new products: Topo Chico Ranch Water Hard Seltzer and Topo Chico Margarita Hard Seltzer Variety Pack. In the last four weeks that ended April 23, Topo Chico Hard Seltzer moved up the U.S. hard seltzer rankings to No. 3
"We've got a ton of momentum. Topo Chico Hard Seltzer was one of just two top hard seltzer brands to grow in dollar share last year," Malseed says, referencing Circana/IRI data. "It speaks to the power and potential of this brand. We're just getting started."