Topo Chico Hard Seltzer is launching a series of new ads across national media in the U.S. this week, showing the authentic simplicity and refreshment of Topo Chico Margarita Hard Seltzer when compared to other drinks.
The new video spot depicts a familiar setup — three people walk into a bar. While the first two order margaritas decked out in cocktail umbrellas and garnishes, the last one cracks open a can of Topo Chico Margarita Hard Seltzer. The ads' conclusion? The sleek can of Topo Chico Margarita Hard Seltzer beats out a mediocre margarita every time.
"The margarita is a beloved drink, but it comes with some baggage, in the way of cheesy margarita culture," says Matt Escalante, vice president of hard seltzers at Molson Coors Beverage Company. "So our new spots show how Topo Chico Margarita Hard Seltzer is making the margarita 'nueva' again with a new take on the classic cocktail."
The ads hit just as the brand gears up for Cinco de Mayo with its new "Topo Chico de Mayo Swap Shop." The pop-up shop allows people to swap their old Cinco tchotchkes – the shot glass necklace, the fake mustache, the Cinco de Drinko T-shirt – in exchange for a rebate of Topo Chico Margarita Hard Seltzer.
"The only thing that should be cheesy about Cinco de Mayo is the queso, so Topo Chico Hard Seltzer is stepping in to do something about all those cheap, stereotypical party accessories," Escalante says.
Beginning today, consumers aged 21 and older can visit the Swap Shop's website for full details on how to submit photos of their unwanted trinkets for a Topo Chico Margarita Hard Seltzer rebate. New Yorkers can even visit the pop-up Swap Shop in-person on May 4 and 5 at 1st Avenue and East 7th Street.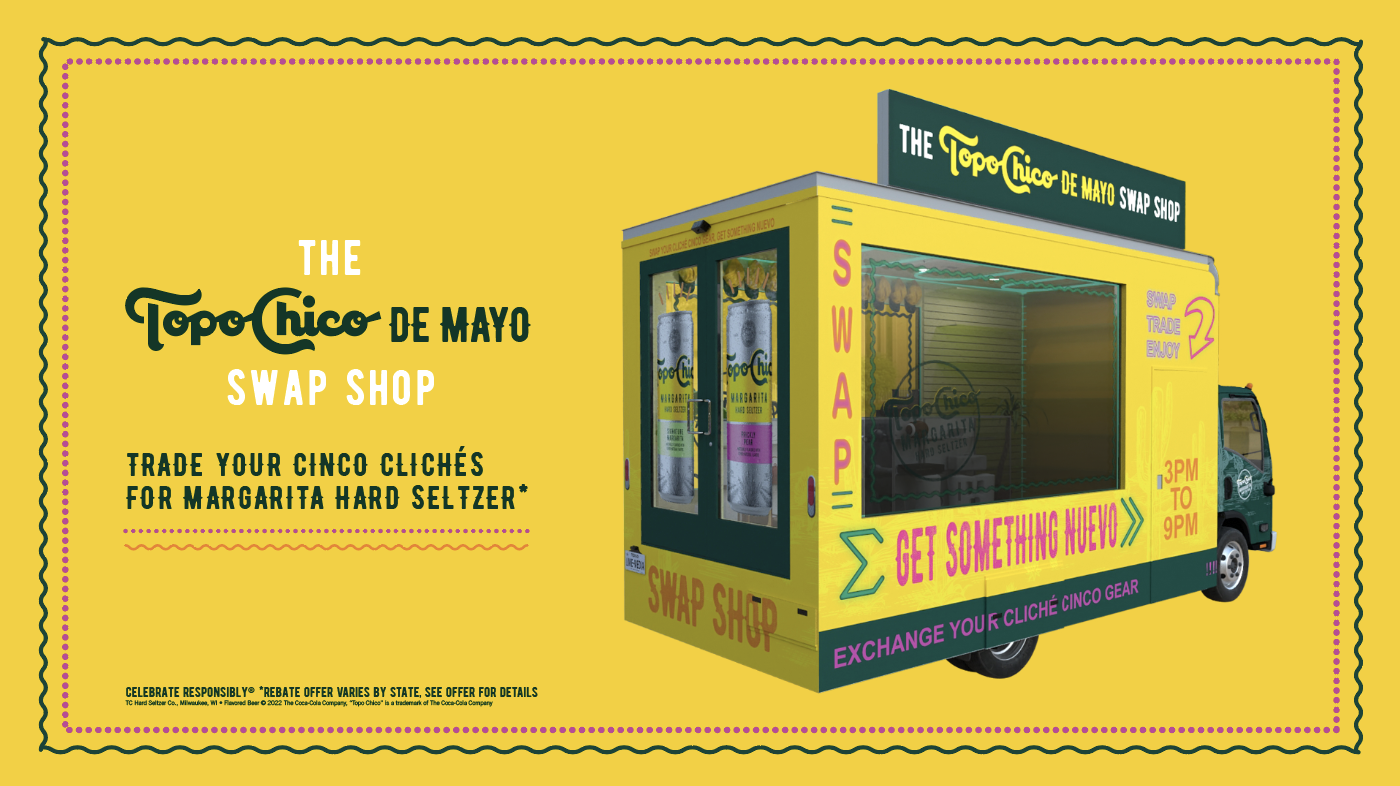 At 100 calories and 4.5% alcohol by volume, Topo Chico Margarita Hard Seltzer boasts the flavors of margaritas without the high sugar content and calories of the spirit-based version. It's available in a variety 12-pack containing four flavors — Signature Margarita, Tropical Pineapple, Strawberry Hibiscus and Prickly Pear — and in standalone 24-ounce cans of Signature Margarita.
The new product hit shelves earlier this month — just four months after Topo Chico Hard Seltzer went national. The brand is now the No. 4-selling hard seltzer in the U.S., owning over 5 share of the segment, according to IRI data.
Alongside Topo Chico Hard Seltzer and Topo Chico Ranch Water Hard Seltzer, the brand has won over consumers with its variety of flavors, effervescence and minerals for added taste. It has the highest repeat rates of any hard seltzer launched in the last two years.
Its original variety pack is a top-10 seller, despite being available nationally for just four months. And Ranch Water is the fastest-turning and No. 2-selling ranch water in the U.S., despite launching in just nine states, IRI data show.
"The level of excitement around Topo Chico Hard Seltzer, including Topo Chico Margarita Hard Seltzer, is incredible," Escalante says. "It shows how drinkers are looking for something distinct and refreshing from the other hard seltzers on the market. And we're glad they're choosing us."
Molson Coors produces, distributes and markets Topo Chico Hard Seltzer as part of a brand authorization agreement with The Coca-Cola Company, which acquired the Topo Chico brand in 2017.