"Light" sounds easy. Like there's less.
But in terms of brewing, light means more. More balance, more nuance, more finesse.
Take Miller Lite. It has 3,000 flavors — though it's tough to pick them out.
"And that's on purpose because everything has got to be in harmony together," says MillerCoors head brewmaster Dr. David Ryder.
There's no room for flaws in Miller Lite and Coors Light — our light beers, aka American light lagers. They have to be absolutely bright and refreshing as well as low-calorie and low-carb.
"I truly believe that American light lagers are the hardest beers to brew," says Dr. Ryder, who's been with Miller Brewing Co. (now part of MillerCoors) for 23 years. "The reason we can do these kinds of beers is that we know so much more about how to brew them than anybody else."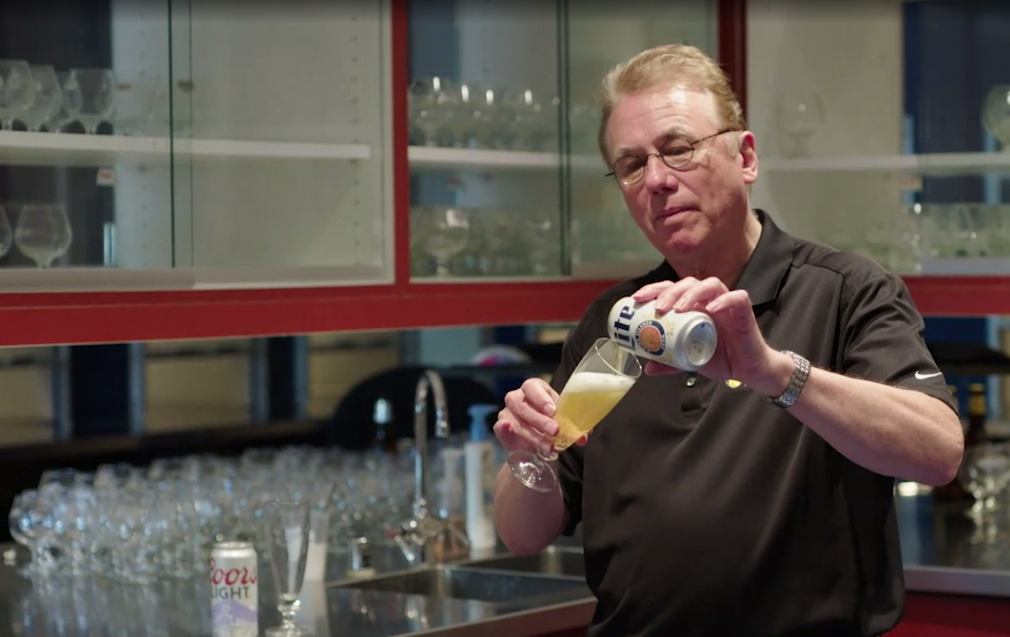 And that knowledge has paid off in the form of some pretty prestigious awards. Recently, Miller Lite took home the gold medal at the 2015 World Beer Cup in the light lager category, and gold at the 2014 Great American Beer Festival. Silver went to Coors Light.
We asked Dr. Ryder to walk us through the challenges of making these beers. Which he did … while sipping a Miller Lite.
"It's my favorite beer," he says. "Because I appreciate how it's brewed and I appreciate what's in it."
It takes three to four weeks to make Miller Lite and Coors Light. Here's what else it takes:
A deft hand with hops
Miller Lite is made with Galena hops from the Pacific Northwest. Coors Light uses three different hop varieties from the Pacific Northwest, Germany and New Zealand.
Hops provide flavor, aroma and desirable bitterness. In American light lagers, the bitterness must be subtle — and the same every time.
"We understand more about hops than anybody else on planet Earth," Dr. Ryder says. "We also understand the mouthfeel that comes from the hops. Whether it's Miller Lite or Coors Light, the way the beer feels in the mouth is incredibly important. We understand that. We can do that consistently."
A feel for the yeast
We use the classic Coors and Miller yeasts to make Coors Light and Miller Lite. (The Miller yeast is descended from one Frederick Miller carried in his pocket from Germany in the 1850s.)
And no one understands yeast like Dr. Ryder. Like, really understands it.
"We understand when our yeast strains are happy and when they're sad — and they have to be happy to have a consistent American light lager," he says. "We understand their metabolism. That's where the science comes in. The art is making sure that the yeast, once it's happy, maintains its happiness so we can brew consistently because there's a lot of different flavors that come from different yeast strains."
Coors Light has a slight banana flavor, and that's from the yeast being "slightly stressed, slightly on the edge," Dr. Ryder explains. It's not an overwhelming flavor, but definitely part of the Coors Light taste. The Miller yeast produces a kind of melon flavor, a slight fruitiness, which is essential to Miller Lite.
An eye for color
Beer gets most of its color from malt. Malt is barley that's been sprouted to make enzymes and convert the cereal starch to sugars (to feed the yeast in fermentation). Then it's toasted to produce color. Coors Light uses two-row Moravian barley; Miller Lite uses two- and six-row barley. All of it is grown just for us.
The color of American light lagers has to be, well, light. (Around 2-3 SRM units in brewing terms.) Coors Light and Miller Lite each use a combination of pale and crystal barley malts. Crystal malt has a slight roasted and toasted toffee note, and there's more of it in Miller Lite, which gives the beer a richer color.
Also really important for both brands: brilliance. That gold color should be bright and inviting. We even have filter experts on staff to make sure Coors Light and Miller Lite are absolutely brilliant (it's that serious).

Our appreciation
So next time you reach for a light beer, we hope you'll try to taste all 3,000 flavors. Kidding. But we do hope you'll enjoy the art, science and bit of obsession behind Coors Light and Miller Lite.
As Dr. Ryder puts it: "It's one thing to brew an American light lager and to do it well once, but we have to do it well every single time, batch after batch, brew after brew, brewery after brewery."