NASHVILLE – With a growing suite of successful beers, Blue Moon wants consumers to know it's more than a beer – even if Blue Moon Belgian White Belgian-Style Wheat Ale is already the country's most popular craft beer.
"Innovations like LightSky and Moon Haze have shifted us from a single hero brand to a family of well-crafted approachable beers," said Mara Schaefer, senior director of brand marketing for Molson Coors' above-premium products.
Speaking this week at the Molson Coors Distributor Convention in Nashville, Schaefer said the brewery is "embracing our heritage of one unified Blue Moon Brewing Company."
Schaefer laid out plans to widen Blue Moon's appeal, recruiting new customers and celebrating the brewing company's decades-old craft heritage. That includes bringing new drinkers into craft with Belgian White, a new focus on LightSky's flavor credentials, and appealing to modern craft drinkers with brands like Blue Moon's award-winning hazy, Moon Haze.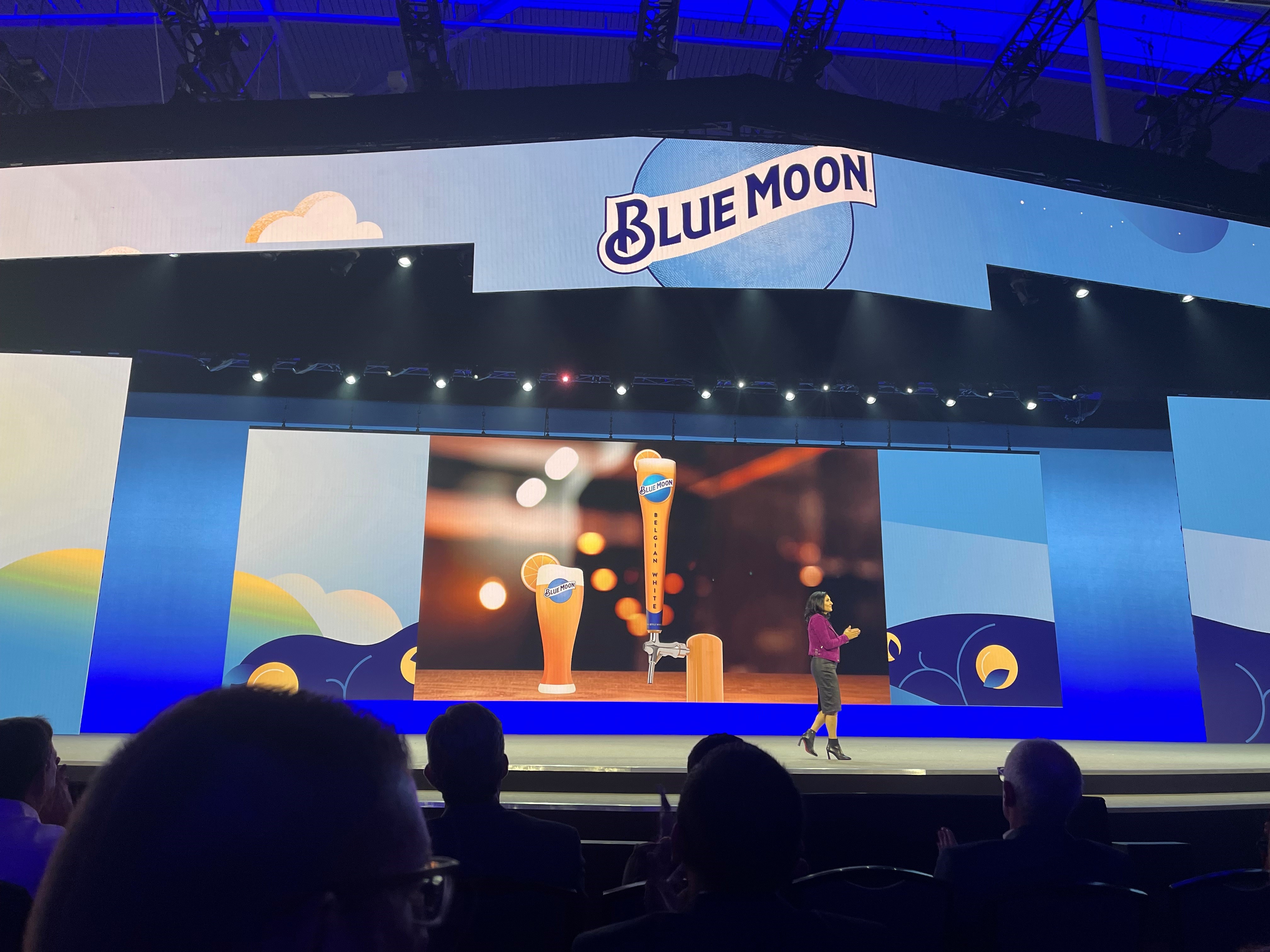 One of the country's largest above-premium beers on draft, Blue Moon is also set to introduce a new tap handle in an effort to become the No. 1 draft. The new tap handle, debuting next spring, mirrors Blue Moon's iconic curved glass and Valencia orange peel garnish that Schaefer said will become "an iconic beacon in every crowded bar across America."
"As the Blue Moon Brewing Company, we'll unite our beers so consumers can clearly find them and buy them, whether they're looking for their old faithful, a lighter take on craft or something more experimental," she said.
Distributors learned of the brand's ambitions as Blue Moon Belgian White continues to grow its dollar share of the craft market, increasing its foothold for the last 43 weeks versus the prior year, Schaefer said, noting Blue Moon has gained share every month this year.
The flagship
Blue Moon plans to ride the success of Belgian White's "Made Brighter" ad campaign next year, building on the beer's positioning as a one-of-a-kind experience akin to a work of art. Schaefer said the TV spot showed the brand's "swagger," increasing consideration among younger drinkers, spurring consumers to buy more packs and helping it grow share.
In 2023, Blue Moon plans to up its media investment with a new TV spot that showcases the Blue Moon on-premise experience, the cornerstone of the brand's efforts, growing sales by double digits this year.
The brand aims to attract drinkers through programs revolving around baseball and food. Born in a ballpark brewhouse, Blue Moon will bring back its successful thematic packaging, while celebrating the game all season long. Schaefer said the beer will introduce programs designed to pair Belgian White with key eating occasions throughout the year.
"With our bright citrus flavors, it's so easy to see how food is a clear occasion to play in," she said.
LightSky
Blue Moon LightSky, the 4% alcohol-by-volume citrus ale brewed with real tangerine peel, has been a hit since it landed on shelves during the height of the pandemic. Today it's bigger in sales dollars and volume than competitors like Samuel Adams Boston Lager, New Belgium Fat Tire Amber Ale and the entire Shock Top franchise, according to year-to-date IRI multi-outlet and convenience store data.
Molson Coors' biggest-ever craft launch continues to sail, and Schaefer said the brand will continue to show off how LightSky is heavy on flavor, but light on calories and carbs.
"Craft drinkers and light beer drinkers alike are taking notice of LightSky, and when they try it, they can't help but come back for more," Schaefer said.
Moon Haze
When Moon Haze took home gold at the Great American Beer Festival in 2020, it was a Blue Moon's first GABF medal since 2016.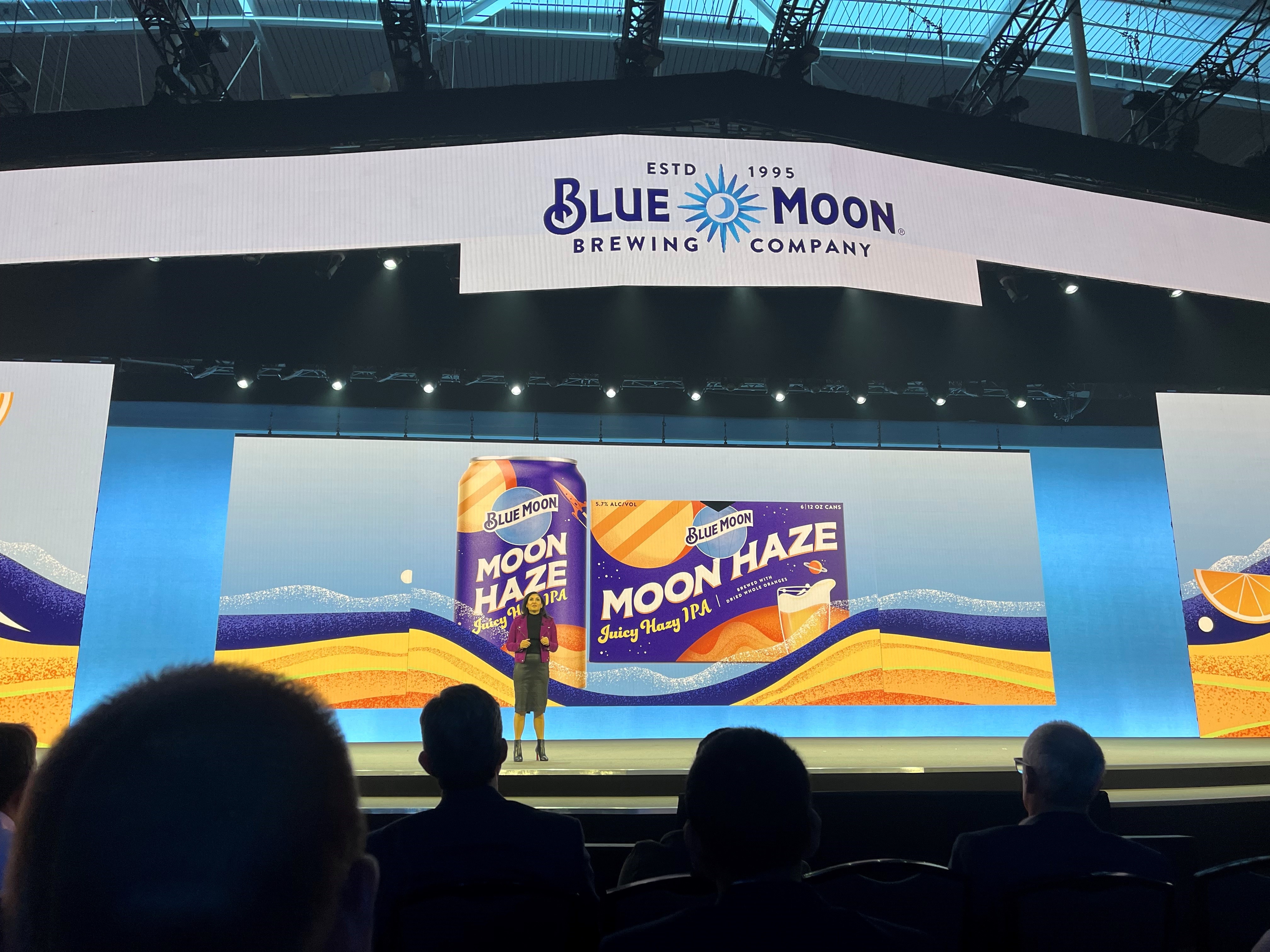 And its national launch gave the brewery an approachable option in the fast-growing hazy segment. Now Moon Haze is the segment's No. 3 beer – and it's getting a new look and a new name: Moon Haze Hazy IPA.
"We've learned that when drinkers reach for a can of Moon Haze, their flavor expectations must match the full-bodied, hoppy taste of this still very approachable hazy," Schaefer said. "We're giving drinkers exactly what they want."