There's been nothing traditional about 2020, so Coors Light is looking bring some cheer this winter by starting a new holiday tradition.
Enter Beerman.
In a new campaign launching today, Coors Light introduces Beerman, an amorphous snowman whose beauty lies in his ability to keep Coors Light cold while making spirits bright.
"Beerman is the holiday hero we need this year," says Chris Steele, Coors Light's North American director of activation. "He is perfectly imperfect. He's hastily put together. He's slightly worse for wear from 2020, but you can see there's a tremendous amount of joy lurking just below his snow-clad surface, and he's sharing that with his neighbors."
Coors Light's Beerman campaign kicks off with a new spot airing across TV and digital platforms.
In the ad, entitled "Build Your #Beerman," a woman grabs a Coors Light from the torso of a lumpy snowman built in a front yard. As she goes inside her home, the snowman – Beerman – slides over to a piano, where he cracks open a Coors Light and begins playing a soft rendition of Boston's "More Than a Feeling."
The song swells as Beerman's backing band – including a guitar-slinging Yeti and plastic Victorian carolers – rocks the chorus. The spot ends telling viewers "your Chill is out there" and inviting them to build their own Beerman.
It's not the first time Coors Light has used its "Made to Chill" campaign in an attempt to connect with Americans dealing with the coronavirus pandemic. In April, it pledged $1 million of beer to Americans who could use a beer, with its #CouldUseABeer campaign. In August it made light of Americans stuck behind endless video calls.
Then last month it ushered in the return of its Coors Light holiday onesies, which is part of an enhanced  holiday marketing investment for Molson Coors that also includes a larger spend behind Miller Lite.
Now it's introducing Beerman to bring some levity to an usual holiday season.
"Beerman embraces what chill really means," Steele says. "It's that moment to refresh your spirit. Beerman reminds us that no matter what, there's joy out there to be had, and you can spread that joy to those who need it."
The beer brand also enlisted the help of actor and comedian Adam Devine, known for his work in films like "Pitch Perfect" and TV shows including "Workaholics" and HBO's "Righteous Gemstones," delivering 300 pounds of snow to his home in Los Angeles to build a winter wonderland – and his own Beerman.
And now through Dec. 31, Coors Light and Devine will encourage legal-age drinkers to build their own Beerman – with whatever's available. Coors Light will select one winner and transform their yard into a glistening snow-covered landscape, even if it doesn't snow where they live. To enter, consumers can snap a photo of their Beerman and share on social media using #Beerman and #Contest as a comment on Coors Light's Twitter or Facebook posts about the contest.
To design Beerman, Coors Light worked with Hollywood special-effects firm, Legacy Effects, known for its work creating the "baby Yoda" character in "The Mandalorian," the monster in the Oscar-winning "The Shape of Water" and dinosaurs in "Jurassic World." As part of the campaign, Coors Light also will also introduce limited-edition Beerman cans in New York City later in December, and will be available via Minibar and participating local retailers.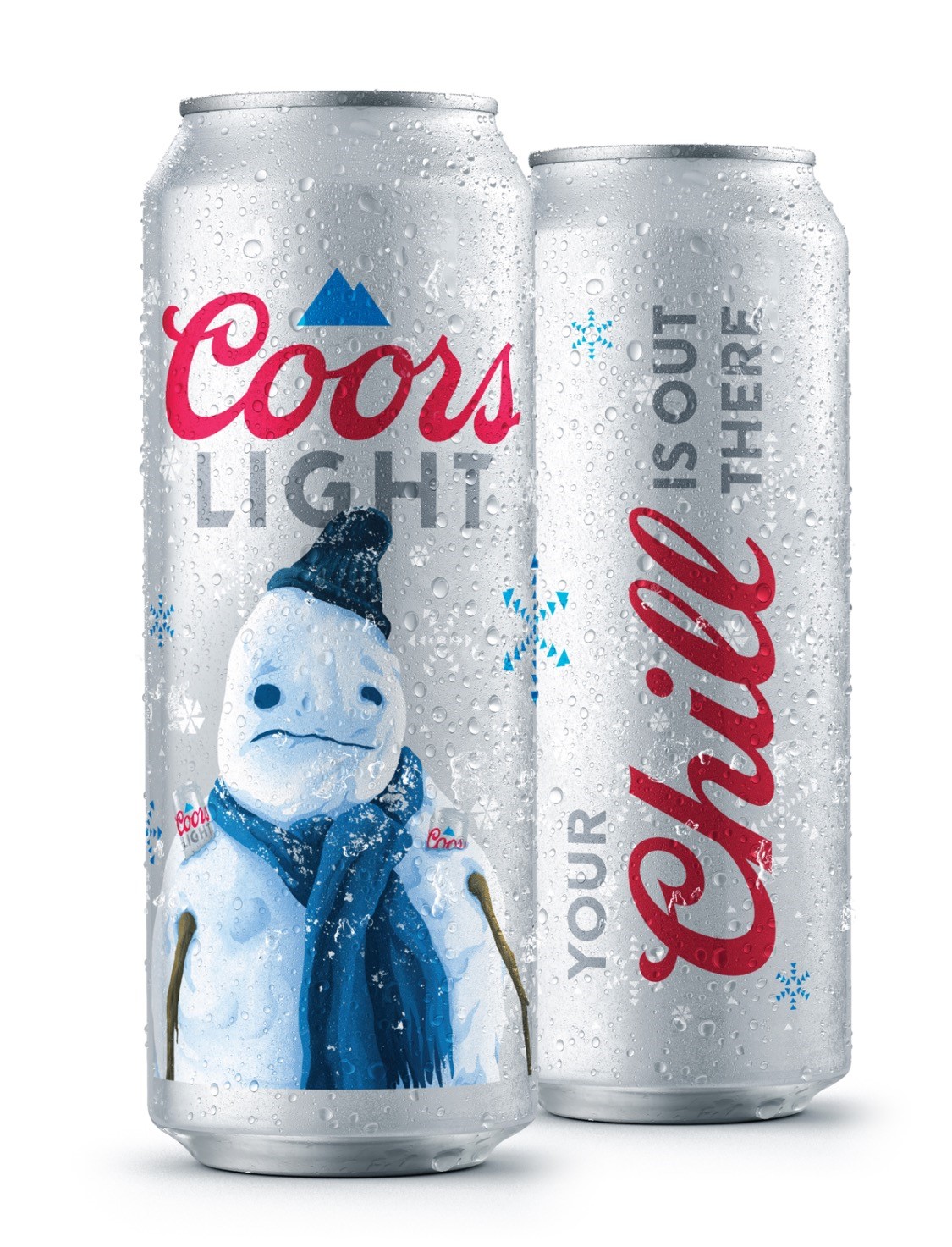 The new campaign comes as Coors Light has continued to post solid growth in the off-premise in 2020, with sales up 6%, through Nov. 28, according to Nielsen all-outlet and convenience data.
Now Coors Light is looking to continue its momentum with the introduction of a new holiday icon.
"Beerman is something we can look forward to every year, bringing some joy, some humor and most importantly, keeping your Coors Light cold," Steele says.