Coors Light feels you, America.
Amid continuing stay-at-home orders and uncertainty, the beer brand is building on its "Made to Chill" campaign with a new program that invites Americans to share a beer — virtually, of course. Launching today on primetime TV and Twitter, Coors Light is giving away up to $1 million worth of beer – which equates to up to 500,000 cold ones – through its #CouldUseABeer campaign, which allows people to send a beer to someone "who could use a bit of refreshment," says Chris Steele, marketing director for Coors Light.
"A lot of times, when you see someone working hard, doing something really good, you want to recognize them and you take them out for a beer," Steele says. "That's not really possible right now, but we want to help people get that brief moment of pause and enjoyment that Coors Light provides."
The campaign coincides with several other initiatives led by the brand, whose ongoing "Made to Chill" campaign has positioned Coors Light as a beer that serves to refresh the spirits of its drinkers. It also comes in the wake of enormous response that came with making a special delivery of Coors Light to Olive Veronesi, a 93-year-old Pennsylvanian who was running out of beer while under lockdown orders.
"As we saw when we delivered a stack of Coors Light to Olive, whose pleas for more beer went viral, an unexpected beer can light up someone's day," Steele says. "What inspired us most was how drinkers around the world saw Olive's photo and started posting online about how they, too, could really go for a beer. We just think America deserves a moment to pause and enjoy a cold one, and we're going to give it to them."
The brand's new 15- and 45-second ads, airing on prime time TV, remind Americans that we've gotten through tough times before – sometimes with the help of beer. Actor Paul Giamatti provided his voice, examining how tough points in history – from the depths of the American Revolution to the Great Depression – were made a little better with water, hops and barley. Today's "suckiness of historical proportions" can't be fixed with beer, the ad concedes, but it could help people get through it.
To send a beer to someone who could use one, legal-age drinkers can tweet at a friend, who will then be able to receive a rebate equivalent to the price of a six-pack of Coors Light (in states where legal; offer value varies by state.) Instructions on how to virtually send a round to a friend are available on Coors Light's Twitter page and at a campaign website.
The #CouldUseABeer spot will be running in combination with Coors Light's regular "Made to Chill" creative work over the coming weeks. Since launching last year, "Made to Chill" has yielded positive trends for Coors Light, which saw significant trend improvement in the back half of 2019 behind the campaign.
In another appeal to homebound Americans, Coors Light has unveiled a number of other social and digital initiatives under their #TakeTimeToChill platform, including a new line of soft clothes: branded sweatpants and sweatshirts for a time when pants seem optional. The clothes – brandished with "chill" slogans – are available online. All proceeds will benefit economic relief efforts related to the coronavirus pandemic.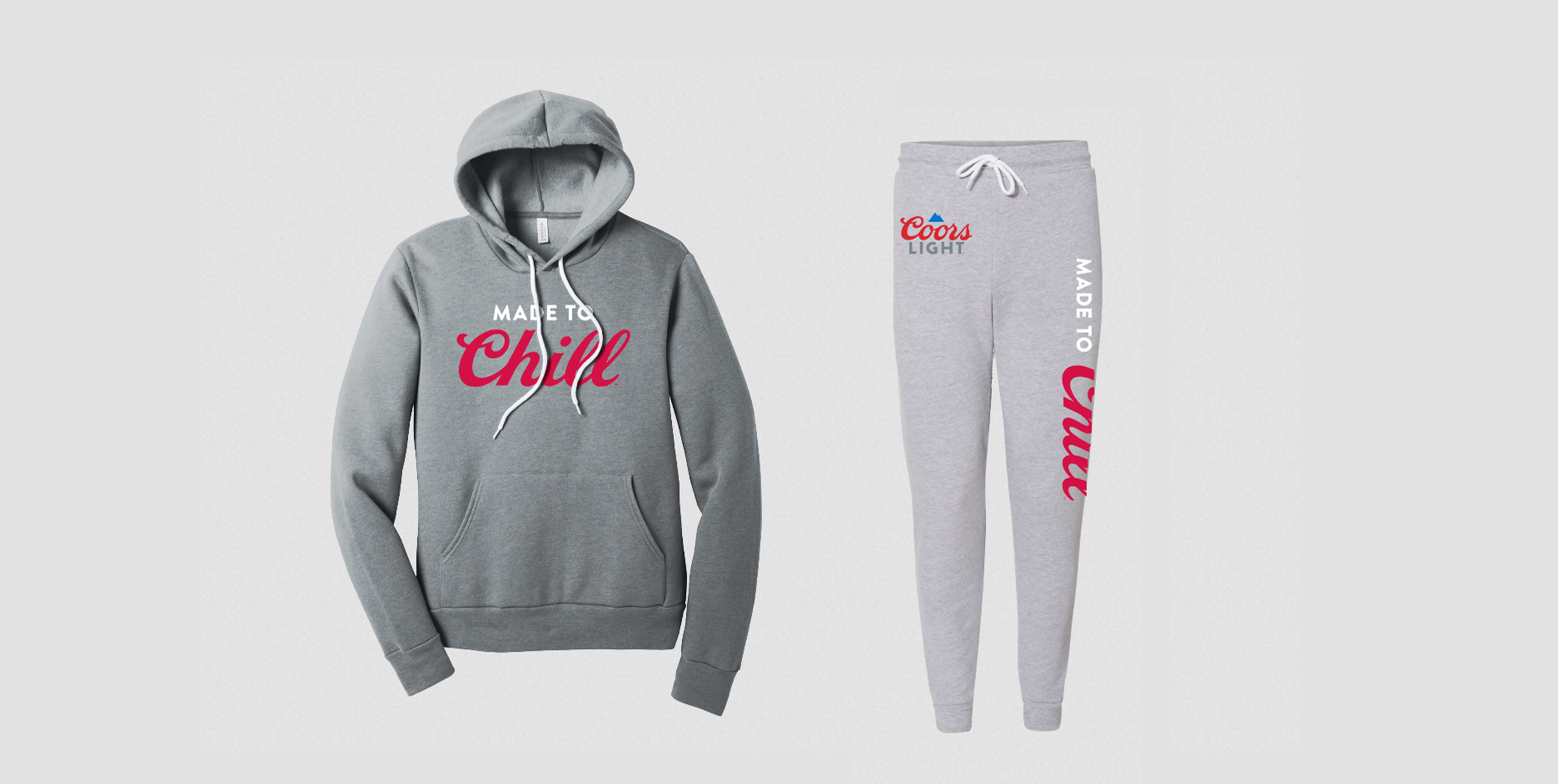 "Just because your co-workers only see you from the neck up doesn't mean your sweatpants can't be fun and functional," Steele jokes. 
During the quarantine, Coors Light also has offered up recipes for home chefs to try their hand at Coors Light beer bread and beer-battered waffles. The brand also has brought sports back to the conversation, with college football analyst Kirk Herbstreit hosting a pre-draft virtual happy hour with pro football MVP Patrick Mahomes. As a thank you for their participation in the happy hour, Coors Light made donations to the charities of choice for both men.
As Americans continue to find ways to adjust to life at home, Steele says, "it's important for us to help support our drinkers as they find these moments to sit back and chill."