Coors Seltzer is tapping into drinkers' thirst for nostalgia with its newest flavor, Orange Cream Pop.
With a smooth vanilla-citrus flavor reminiscent of an ice-cream truck favorite, Coors Seltzer Orange Cream Pop is hitting store shelves across the country, riding a wave of curiosity-fueled pre-launch buzz.
"We wanted make a bold flavor choice instead of leaning into an iteration of something on the market already," says Matt Lafferty, marketing manager for Coors Seltzer. "The frozen treat flavor of Coors Seltzer Orange Cream Pop is poised to be the must-try seltzer of the summer, when refreshment is most on the minds of drinkers."
The limited-edition flavor is available in 12-packs of 12-ounce slim cans. At 90 calories and 4.5% alcohol by volume, it's lighter than most hard seltzers on the market. Its rollout is supported by a robust marketing plan that includes paid media, influencers and more.
Orange Cream Pop has already proven a hit on social media, where fans are posting photos of its packaging, which features – what else? – a dripping orange cream pop. Its secondary packaging blends Coors' iconic mountains with the sticky, melting goodness of the classic summer treat.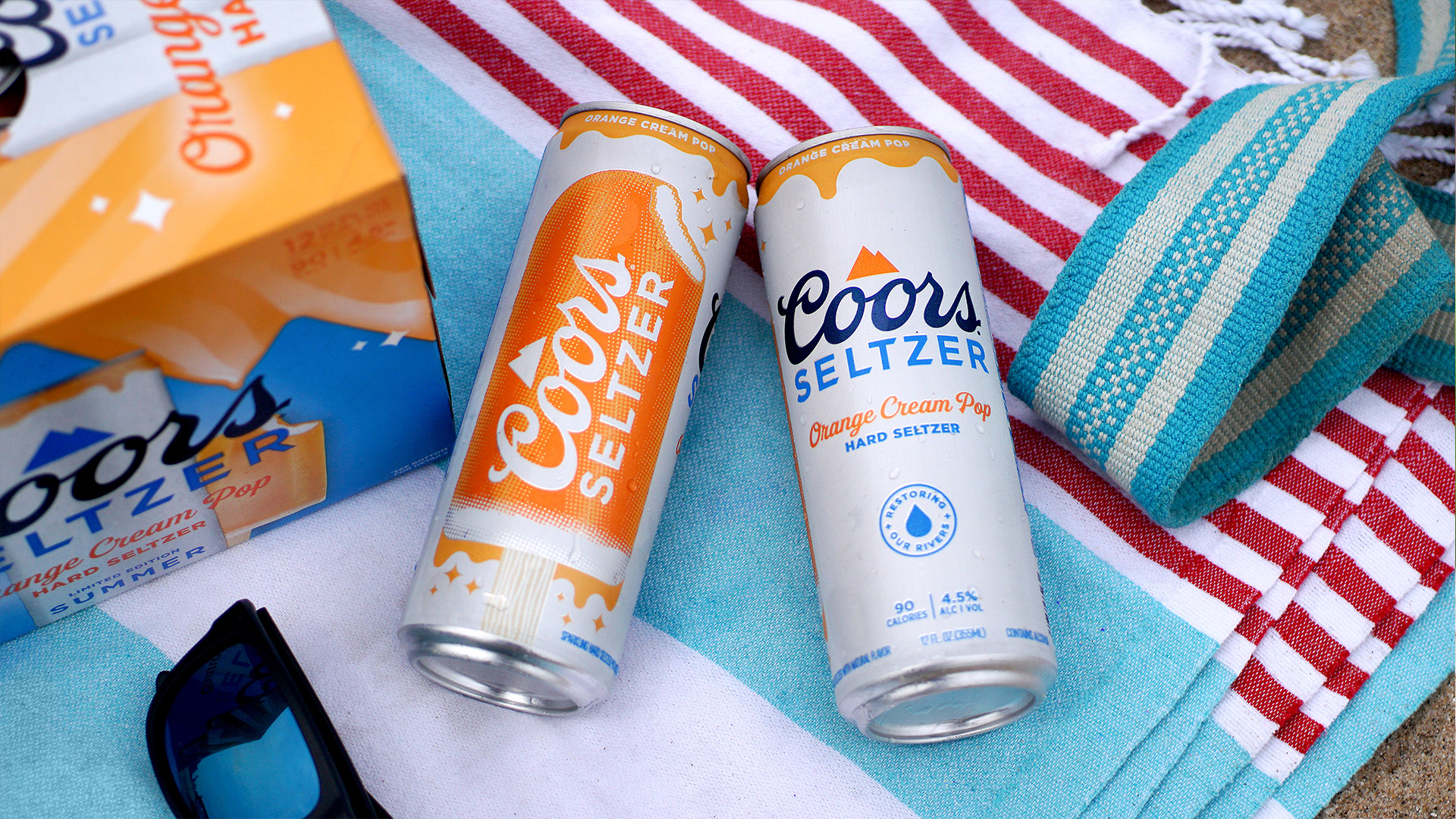 As hard seltzer continues to chew into the overall beer market, accounting for more than 10% of sales, Molson Coors is banking on its hard seltzer portfolio in winning a 10 share of the market by the end of 2021.
Meanwhile, hard seltzer makers have continued to introduce consumers to new flavors to stand out against growing competition.
"Consumers are constantly on the lookout for new and exciting flavors, and we know that flavor is a top driver of sales," Lafferty says.
The trend represents the maturation of the market for hard seltzers and echoes a similar trend with other flavored malt beverages and craft beer. 
Experimental flavors, often with a hefty ABV, have previously been the purview of craft beer – where pastry stouts, cereal beers and even, yes, orange cream pop IPAs have been the topics of passionate debate.
Now hard seltzers are marching toward experimentation, with new introductions veering from – or augmenting – the fruit-forward flavors that heretofore have defined the category.
The evolution began with lemonade hard seltzers in 2020 and has since morphed into more disruptive flavors and styles.
New Holland Brewing Co., for instance, was among the first to market with a hard seltzer aged in bourbon barrels. Canned hard seltzer smoothies are a thing now. Proof Point, a new hard seltzer brand from Molson Coors Beverage Company, is made with real spirits, including rum, tequila and whiskey. And Topo Chico Hard Seltzer is inspired by bubbly mineral water that made its namesake famous.
Still, Lafferty says Coors Seltzer Orange Cream Pop is poised to resonate with drinkers who are eager for a new hard seltzer flavor that they've never seen before.
"We know this is a flavor people are going to love, and we're seeing it already," Lafferty says. "We think Coors Seltzer Orange Cream Pop is going to do more than stand out against the competition. People are going to see it and say, 'I want to try that.'"