Fresh off a historic quarter, Molson Coors Beverage Company's two biggest brands aren't punting as they aim to continue momentum into the fall and beyond.
Both Coors Light and Miller Lite posted gains last quarter – the first time the pair both grew together since Miller and Coors struck up a deal in 2008 – as consumers flocked to the on-premise and were impressed by brand promotions that struck a chord.
"The world needs more Miller Time, and we were there for (consumers) when they returned to the on-premise," says Brian Feiro, Molson Coors' chief customer officer.
While Miller Lite benefited from consumers' desire to be among friends in bars and restaurants, Coors Light leaned on its popular "Made to Chill" campaign, which localized the campaign in select geographies.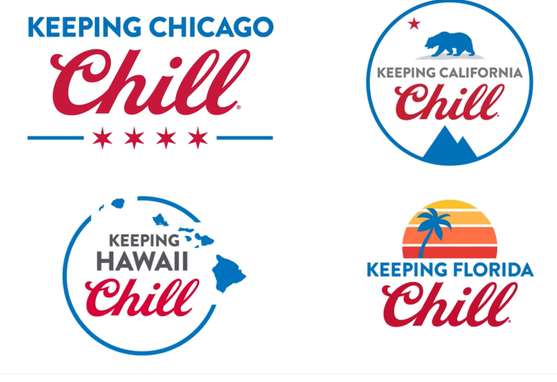 "What we've seen coming out of COVID is that people came back to Coors Light and are continuing to choose to chill with us," says Chris Steele, director of activation for Coors Light.
And they're continuing to stick with it. For the last four weeks ending Aug. 8, Coors Light and Miller Lite have cumulatively picked up a 0.2 volume share of the premium lights segment, according to IRI multi-outlet and convenience store data. That's mostly from chief competitor Bud Light, which has shed 1.1 segment share in that same period.
Now as the summer months wane, Miller Lite and Coors Light are looking forward to fall and making connections with legal-age drinkers during the season's favorite pastime, football.
Coors Light is continuing its relationship with renowned football commentator Kirk Herbstreit, but is also taking aim at the important 21-34 demographic with a new relationship with Barstool Sports' popular podcast, "Pardon My Take." This week, Coors Light kicked off its football programming by sponsoring the podcast's "Grit Week" road trip, and its two hosts tweeted images of custom cans to their more than 2 million followers.
On the Bus. Giddy Up @CoorsLight pic.twitter.com/GbfS5zSpRD

— Big Cat (@BarstoolBigCat) August 16, 2021
"'Pardon My Take' is really helping us recruit younger legal-age drinkers into Coors Light," Steele says.
Coors Light is also unveiling new promotional materials for its 34 college football partnerships, which will be seen in retail and out-of-home advertising, further amplifying the Made to Chill campaign.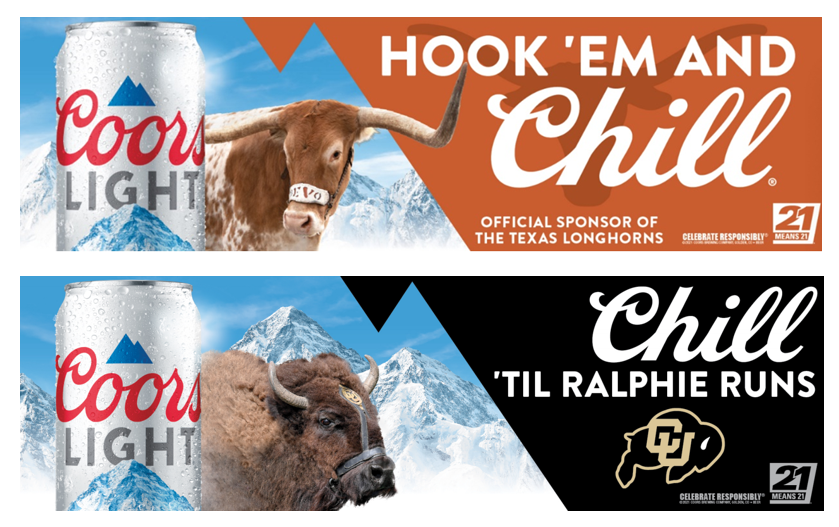 "We're incredibly excited for college football this year," Steele says. "We have solid programming for our core consumer and are finding a new way to connect with younger legal-age drinkers, too."
For its part, Miller Lite is looking to pro football to help continue the momentum from a strong summer, says Anne Pando, director of activation for Miller Lite. In addition to partnerships with 17 pro teams,  Miller Lite is doubling its ad spend in the fantasy football and sports betting arenas, inking deals with ESPN and Draft Kings (Molson Coors also has a new partnership with the Pro Football Hall of Fame).
"With ESPN and Draft Kings, we're tapping into the behaviors that consumers have during football season and making sure Miller Lite is part of those Miller Time moments with fans, when you are with your friends, sharing raw intimate moments, watching the game you love," says Pando.
While the brand plans a series of eye-catching promotions during the season and into winter, football is just one field where Miller Lite is playing.
Last week it revealed a major partnership with global superstar musician J Balvin, "the biggest and boldest Latino plan we've ever had," says Pando, noting the brand has doubled its Latino media spend.
"We have a lot of pieces in place to make sure Miller Lite builds on the success of this summer," she says.
Meanwhile, the brand continues to take aim at Michelob Ultra. It fired its first salvo shortly before pro football's championship game, when it featured Michelob Ultra in an ad, noting that Miller Lite has just one more calorie than the beer that's marketed toward the active set.
With more tentpole promotions planned for winter – Coors Light's Beerman is set to return, while Miller Lite will re-up its cheeky "Beer Me" campaign and will finish the year with its holiday program, called "Give the Gift of Miller Time" – both brands are looking to do more than just gain share.
"With these two big brands, we have a great opportunity to dominate the premium light space," Pando says.