Megastar musical artist J Balvin is about to share his love for Miller Lite with his "gente."
The best-selling reggaeton artist, whose real name is Jose Alvaro Osorio Balvin, is partnering with Miller Lite to showcase his off-stage persona, a take on Miller Time they're calling "Es Jose Time."
The partnership, slated to kick off today with the release of limited-edition promotional cans featuring J Balvin's signature flair, as well as a steady presence across digital, social and out-of-home media and retail, aims to build upon Miller Lite's broader campaign encouraging personal connection among family and friends over a cold beer. It also seeks to broaden the brand's connection with Latino drinkers, a critical demographic for the brand amid continued population shifts in the United States.
"Miller Lite and Miller Time are all about authenticity and coming as you are in a real way. J Balvin is known for being very down to earth, even though he's a global superstar," says Allison Wallin, marketing manager for Miller Lite. "Together with Miller Lite, he's going to share those off-stage moments with fans, when he's just being himself, hanging with his friends, at a cookout, at a pool party and more."
The singer – whose partnership with Miller Lite will also be broadcast in English and Spanish on TV and via online video – is known for giving his 100 million-plus social media followers around the globe a peek at his life out of the limelight, where he sheds his on-stage persona and becomes Jose.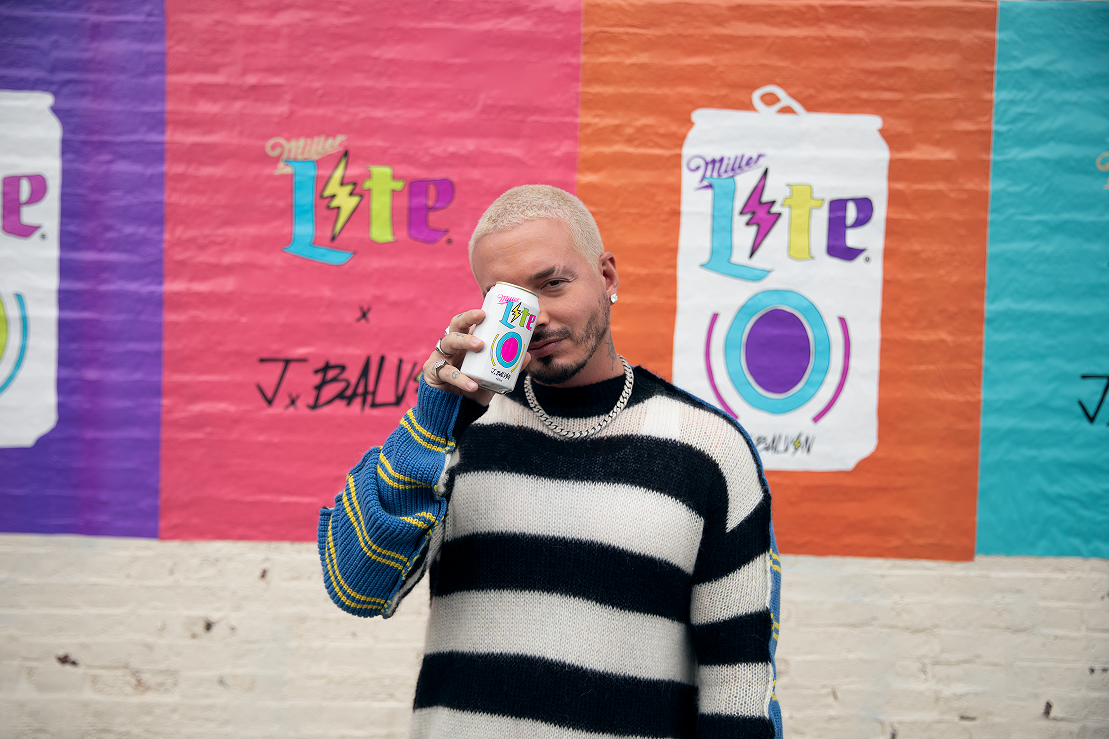 "What I love about my partnership with Miller Lite is how we are showing my human side," says J Balvin. "At the end of the day, I'm Jose, a guy who loves spending time with his close friends, and 'Es Jose Time' shows just that. I'm proud to be working with a legendary beer like Miller Lite, and I appreciate that they embrace me for who I am. Plus, I think it's beautiful to see my name on the can."
As Miller Lite marks the occasion, it's giving fans the chance to win a limited-edition promotional can featuring the Colombian musician's signature colorful aesthetic and lightning bolt logo. Fans in select states can enter to win the can and Jose Time merch at www.EsJoseTime.com, (or www.EsJoseTime.com/es for Spanish speakers).
The partnership between Miller Lite and J Balvin is about more than social media or limited-edition cans, however. It's meant to make a difference in the Latino community: Miller Lite is donating $50,000 to Accion Opportunity Fund, to support bodegas, corner stores and other similar Latino-owned businesses.
The brand's work with J Balvin is its latest overture to the Latino community. For the 17th year, Miller Lite is partnering with the Hispanic Association of Colleges and Universities (HACU) to offer scholarships to deserving students. Last year, it paired a $50,000 donation to UnidosUS with a promotion around Nochebuena, a traditional Christmas Eve celebration.
Now one of the world's brightest stars is hoisting one of the most recognizable beer brands around.
"J Balvin is a huge celebrity, but he celebrates the values that make Miller Time special," Wallin says. "And we can't wait to show that off to his millions of fans."