The final countdown is on.
More than 30 years in the making, Molson Coors' highly anticipated Super Bowl ad is set to air Sunday when the Kansas City Chiefs meet the Philadelphia Eagles in Arizona.
Just what will the ad entail? What brand (or brands) will it feature? Well, that's been the mystery, hasn't it?
For weeks, Molson Coors has touted The High Stakes Beer Ad as a showdown between heavy hitters Coors Light and Miller Lite, asking fans to make their picks as to which brand will star in the spot that has remained shrouded in mystery.
While the two brands are encouraging fans to pick how the ad will shake out for a chance to win a share of $500,000, little else is known about the premise of the spot. And that, experts say, has paid off for Molson Coors, building buzz and adding intrigue ever since the campaign launched last month.
"During the game, it is very hard to break through the clutter," Tim Calkins, a marketing professor at Northwestern University, told the Chicago Tribune. "But ahead of time, if you've got something interesting, you can generate a lot of interest before the game even starts."
With Anheuser-Busch InBev relinquishing its exclusive alcohol advertising rights after more than 30 years, companies like Molson Coors jumped at the chance to return to the national airwaves in what's been dubbed "The Beer Bowl." And many advertisers, as has become common practice, have released their commercials weeks before the game.
But Molson Coors, which the Wall Street Journal called "the biggest beneficiary" of A-B's abandonment of its exclusivity rights, opted for a hybrid approach, keeping the premise under wraps until the ad airs, while simultaneously giving legal-age drinkers a chance to participate in the concept. That strategy has kept a buzz humming, netting more than 1,300 media stories and 5 billion consumer impressions, according to data compiled for Molson Coors.
What's more, 73% of fans who plan on tuning in say advertisers shouldn't release their spots ahead of the game, a Harris Poll survey found.
"(The game) is not only attracting an audience that wants to watch the game, but the commercials, as well," says Greg Gerfen, an advertising instructor at Western Michigan University. "They might be paying more attention to the advertising that's coming up. It could benefit the advertiser because (viewers) are getting that big surprise, and people like that."
Plus, he says, "If brands release their spots ahead of time, you almost get a wear-out effect for those spots" as they lose their novelty.
Molson Coors' big-game plans have also extended to retail, where it's promoted its involvement in displays featuring Coors Light, Miller Lite, Blue Moon Belgian White, Coors Banquet and Vizzy Hard Seltzer. The numbers show momentum: all those brands grew their displays during football's playoffs, according to IRI data.
No matter what happens in Molson Coors' ad, the company has built intrigue – and buy in – among consumers.
"I am convinced it will be one of the most effective (ads) for engaging audiences. They're placing themselves on a different playing field during what is traditionally one of the year's fiercest brand battles – and that deserves credit," advertising executive Graeme Anthony wrote in PR Week.
Keeping the ad under wraps also means people have a stake in tuning in when it finally airs, says Sofia Colucci, vice president of marketing for Miller brands: "So many brands have already shown their hand and put their ads out there. What's unique about Molson Coors' ad is that there's this anticipation that's built up over time. There's $500,000 at stake! That's creating a lot of excitement."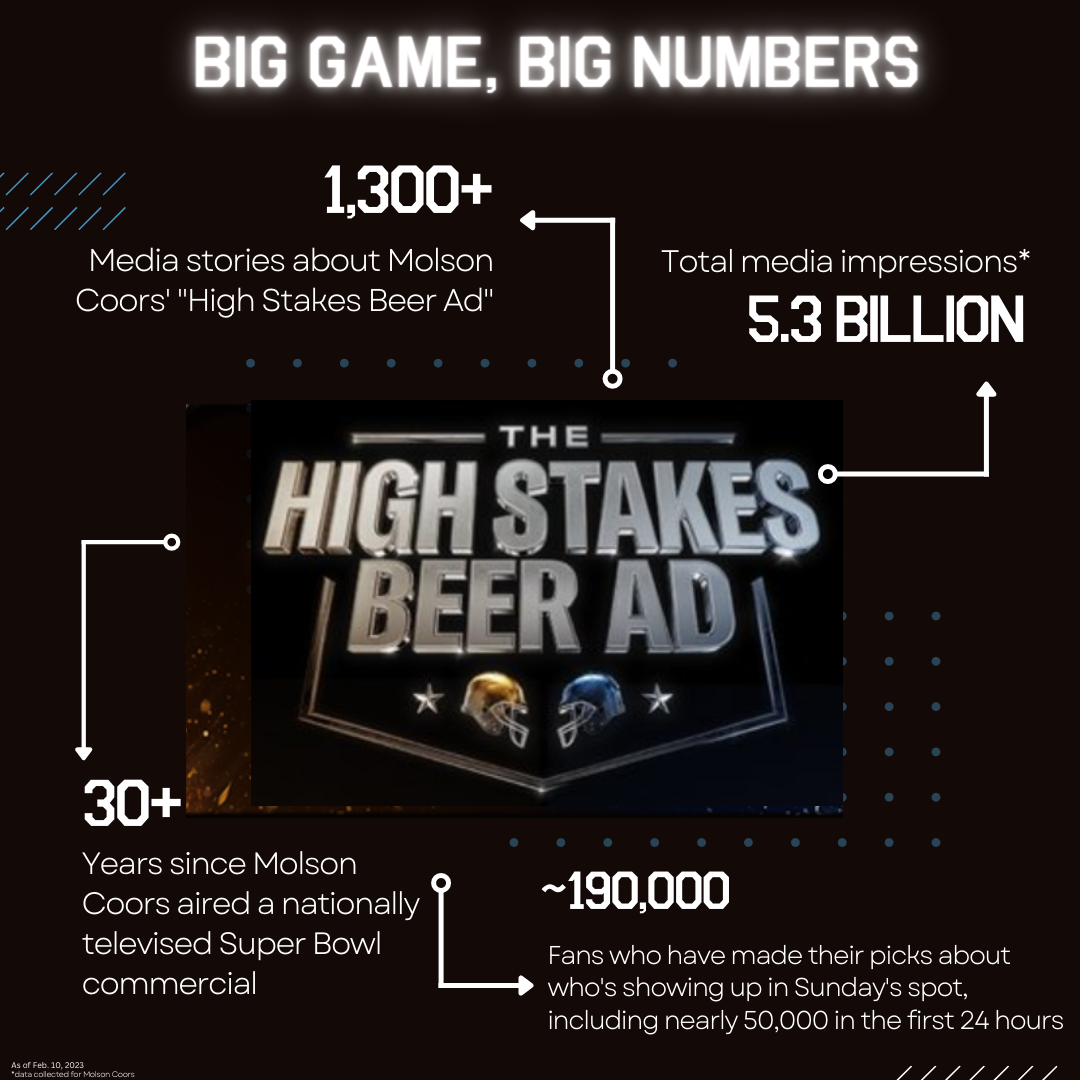 MORE BIG GAME COVERAGE:
It's a boom time for online beer sales
Big game, big gains: Miller Lite heads into the Super Bowl with on-premise momentum
How 'cart-stopper' displays help sell beer ahead of Super Bowl stock-up