Sometimes the internet delivers.
Ninety-three-year-old Olive Veronesi won over the web last week when a photo of her holding a Coors Light and a sign that read "I NEED MORE BEER!!" went viral.
On Monday, Veronesi's dry-erase board had a new message: "GOT MORE BEER!"
After a family member posted Veronesi's plea – she was running low on Coors Light while on lockdown – local media shared Veronesi's story with its viewers. And, as the internet does, the story spread to millions in a matter of hours. Learning of Veronesi's predicament, Molson Coors Beverage Co. immediately contacted her daughter, Anna, who helped coordinate a special delivery to Seminole, Pa., population 91.
"When we saw Olive's message, we knew we had to jump at the chance to not only connect with someone who brought a smile to our faces during this pandemic, but also gave us a special opportunity to say thanks for being a Coors Light fan," said Michelle St. Jacques, Molson Coors Beverage Co.'s chief marketing officer. "Even in the pre-COVID era, we would've been thrilled to fulfill Olive's request. But in this moment, during these unusual times, bringing a little bit of joy to someone's day is the least we can do."
Coors Light's special delivery brought another wave of publicity for Veronesi and the brand, with stories appearing in outlets across the country, including in NPR, USA Today, the Washington Post and People magazine.
"Olive's story resonated with many Americans who are homebound during these unpredictable times," continued St. Jacques. To make it easier for legal-age drinkers to enjoy Coors Light and its other brands, Molson Coors has been increasing its presence on e-commerce channels and exploring ways to improve availability of its products to drinkers during a time when more consumers are staying home and opting for delivery.
For those like Veronesi who find themselves short on beer, Coors Light is working with the online retailer Drizly, which is offering $5 off for first-time customers through the end of the year. To access the promo code, consumers can enter COORSLIGHTCHILL at checkout.
On Monday, two Molson Coors representatives, Mark Lindner, general manager for Pennsylvania, and Jimmy Wilson, distribution sales executive for western Pennsylvania, with the help of field marketing manager Melissa Blanton, brought a stack of 15-packs of Veronesi's beloved Coors Light to her home outside Pittsburgh.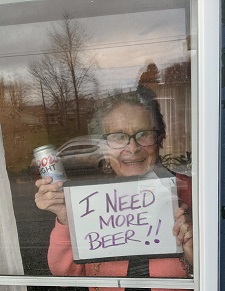 "One of the tenets of our company is 'people first.' That not only goes for our employees, but our customers, too," said Lindner. "This was the quintessential 'people first' moment."
And while Veronesi is stocked up on Coors Light for now, Molson Coors extended a standing offer for more whenever she's ready for replenish her stash.
Veronesi, who told Pittsburgh's KDKA-TV that she has a beer every night to relax, marked the moment by cracking a Coors Light on her front porch.
Olive has enjoyed the spotlight since charming the internet last week. In addition to maintaining her beer-a-night indulgence, she says she still feels great, even at 93.
"I can still kick a football, and, if you like, hit a home run!" she said.
Veronesi's story is reminiscent of another western Pennsylvanian whose love of Coors Light made national news. In 2018, Andrew Slavonic, a 101-year-old World War II veteran from McMurray, Pa., said that he drank a Coors Light every day at 4 p.m. since 1996.
Coors Light surprised Slavonic with a stocked Coors Light-branded refrigerator, brand apparel and a trip with his family to the company's brewery in Golden, Colo.