J Balvin's back, and he might just pick up your next tab.
The global music superstar and Miller Lite have renewed their partnership for a second year and continue to focus on appealing to Latino and younger legal-age drinkers and supporting Latino businesses.
To mark the partnership, Miller Lite and J Balvin are introducing J Balvin's Tab, a program where legal-age consumers can enter for a chance to have their bar tab covered* by the musician, as well as other prizes like signed merch. Starting March 1, Miller Lite and J Balvin will be giving away up to 10,000 beers a week through April 30.
Miller Lite is bringing back its J Balvin-inspired aluminum pint, which has been given a colorful makeover that includes his signature lightning bolt. A portion of proceeds from the J Balvin pint, which will be in market for a limited time starting in March, proceed from the sale of these pints will be donated to the Accion Opportunity Fund, which supports Latino businesses.
The program will donate up to $150,000 to provide funding for as many as 50 Latino-owned businesses across the U.S. To date, the partnership has yielded about $275,000 for the organization through sales of the J Balvin-inspired pints, as well as the line of "bodega wear" J Balvin and Miller Lite released last year.
"From the very beginning, we have shared J Balvin's love for real moments and creating a positive impact, whether that's with friends and family or the Latino community nationwide," says Elizabeth Hitch, senior director for Miller Lite. "In our latest collab, we have the same mission – making more moments taste like Miller Time while also giving back."
The partnership with J Balvin, who has sold more than 35 million albums worldwide, has helped Miller Lite make inroads with Latino drinkers, says Sarah Irizarry, marketing manager for Miller Lite.
Following the introduction of the J Balvin pints last spring, Miller Lite saw sales among Latino drinkers grow more than two points through 13 weeks that ended Jan. 1, according to IRI multi-outlet and convenience data. And, Irizarry says, when the J Balvin packs were on display, they drove sales.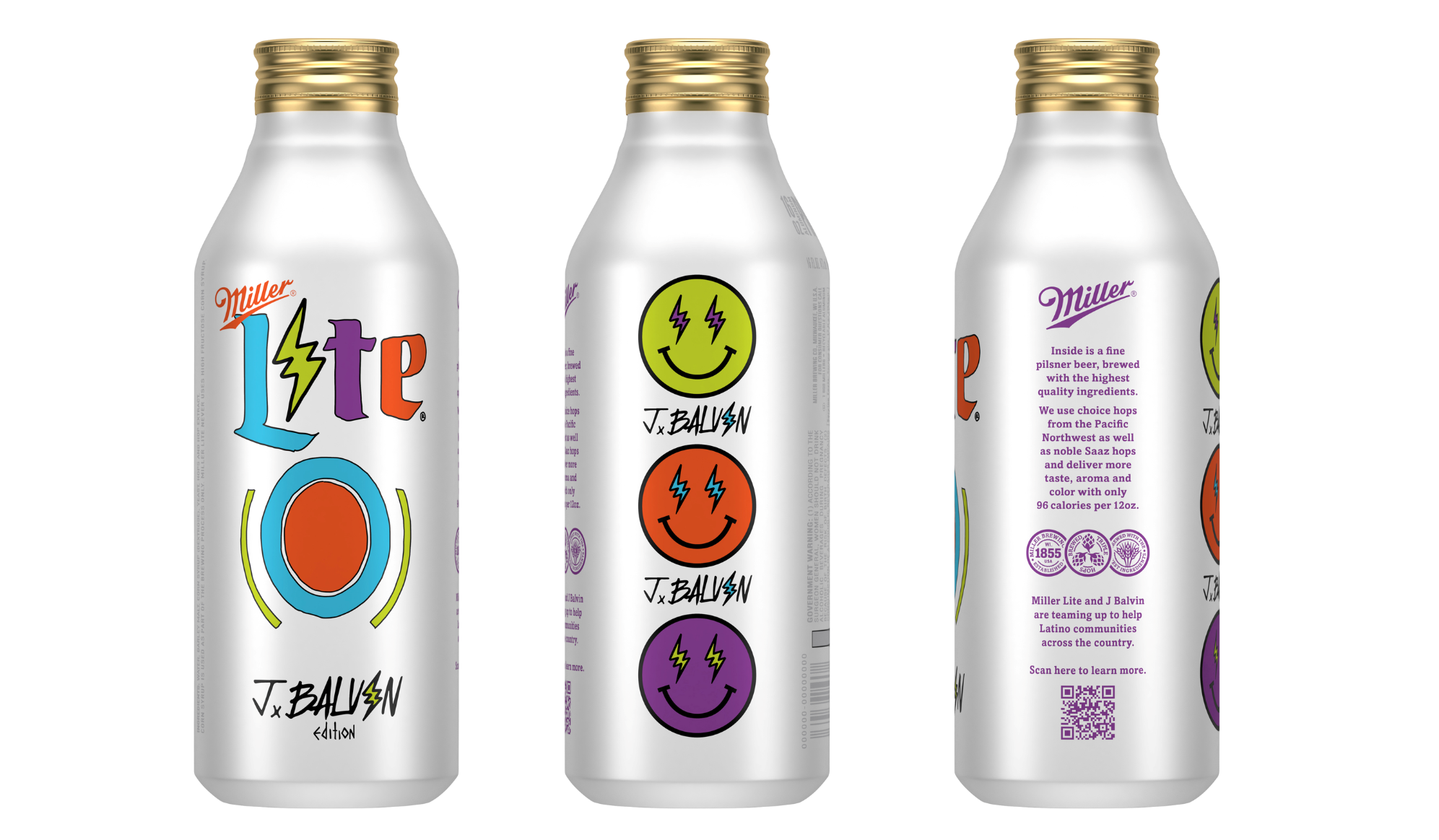 "We definitely saw support in key markets that overindex in Latino population, but the best part was we saw that display support across the country, not just in markets you'd expect to see it," she says, pointing to IRI data that show an 88% lift when the J Balvin nine-pack was on display.
"The pints definitely drove excitement and impact, and it's a great way for our consumers to see, touch and feel the partnership," Irizarry says. "We can see it moving the needle and making an impact with Latino consumers. This is a huge opportunity for Miller Lite."
*See official rules for full details. No purchase necessary. Void where prohibited.