Every year, MillerCoors employees across the country give back to their communities.
Whether they're raising money for charities like the United Way, sending clean drinking water to regions hit by disasters or helping military members find jobs after their service, the company's employees make helping others a key part of their jobs.
In 2018, for instance, the company sent hundreds of thousands of cans of clean water to communities in need, including southern Iowa to help residents under a boil order, the Carolinas to aid in the recovery from Hurricane Florence and California to help those affected by the state's wildfires.
In Texas, a team from MillerCoors and partners Faust Distributing and Houston Distributing worked with the Houston USO to treat some 90 members of the military and their family members to watch a Houston Texans game in the Miller Lite suite and donate $10,000 to the USO.
In the Milwaukee area, members of the finance and business process divisions bought and delivered gifts for 100 children from underserved neighborhoods. And at the MillerCoors brewery in Elkton, Va., employees were honored by the United Way with two prestigious awards for their outreach and aid efforts.
From raising money for ALS research to hosting job skill-building events on military bases, MillerCoors employees pitched in around the country to make their communities stronger. Here is a closer look at just a few of the ways they've given back in 2018:
United Way honors Fort Worth brewery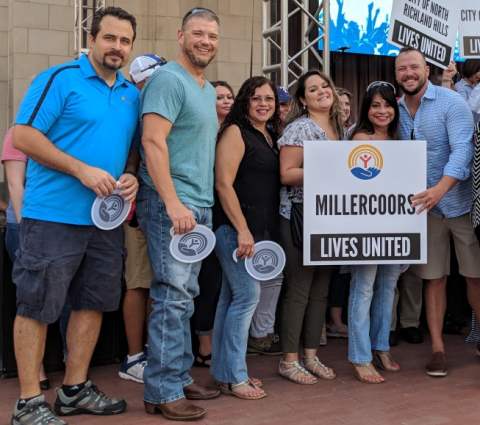 The Fort Worth brewery and its employees were recognized by the United Way of Tarrant County as a top corporate partner for their continued support of the charity's annual giving campaign. The brewery each year raises close to $50,000 in its workplace giving campaign, which helps support programs serving veterans, the homeless, chronically ill patients and struggling students. Employees also volunteer year-round for United Way events.
"MillerCoors and United Way have been tremendous partners across the country for decades, and the impact to people's lives has been amazing," says Tyler Emler, United Way of Tarrant County director of corporate relations. "But what has been especially encouraging to me is the work that is being done on the local level right here in Tarrant County thanks to the support of the generous employees at the Fort Worth brewery. This support touches thousands of people in our community. Simply put: None of this would be possible without the dedicated support of great companies like MillerCoors."
MillerCoors employee honored by National Guard in D.C.
Andrew W. Perez, senior chain sales executive at MillerCoors, was honored by the District of Columbia National Guard this year with its partnership award, which is presented to an individual in the community who has presented outstanding support to strengthening the D.C. National Guard military community. The awards, held to recognize unit-level and individual award winners from both the D.C. Army and Air National Guard, honored Perez for "his enduring commitment over the last decade to community partnership, outstanding service and leadership to support military families of the D.C. National Guard."
Perez helped lead a partnership with the charity Operation Homefront to deliver holiday dinners to 400 enlisted members of the D.C. National Guard Joint Command and their families. MillerCoors has partnered with Operation Homefront since 2009 through its Miller Lite brand, and the Thanksgiving meal was a part of the company's overall efforts to help serve military members throughout the year. The company makes an annual corporate contribution of $15,000 toward the holiday dinner program.
"As we enter our ninth annual event program, it is truly an honor partnering with Operation Homefront and the D.C. National Guard in gratitude to members of the U.S. Armed Forces," Perez said. "Operation Homefront has been an instrumental partner identifying those military families most in need of financial, medical and emotional support, while delivering essential resources on a daily basis. It's truly a small gesture compared with the sacrifice and commitment of our U.S. Armed Forces families."
MillerCoors and distributor partner donate $67,500 to ALS research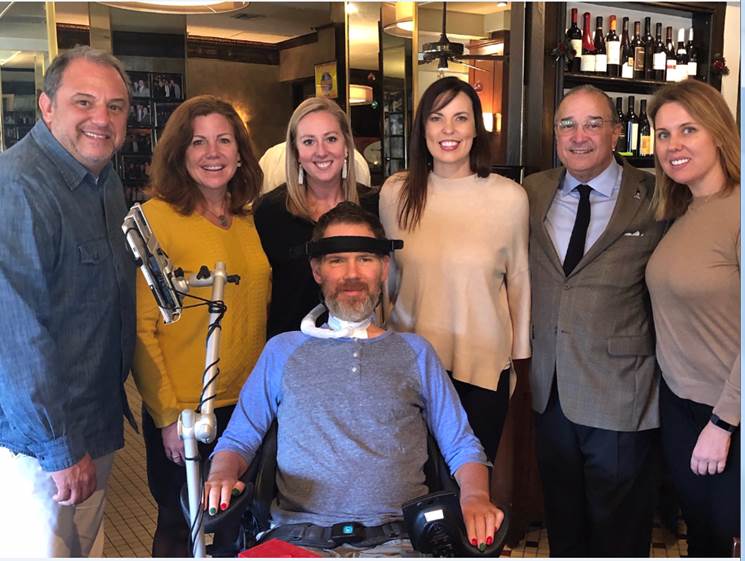 For the second consecutive year, a MillerCoors team in Louisiana ran a program to support the Team Gleason Foundation, a charity started by former New Orleans Saints player Steve Gleason after he was diagnosed with ALS. MillerCoors this year donated $50,000 to the foundation. MillerCoors and distributor partner Crown Crescent Distributing also this year worked with bar and restaurant accounts in the region to donate an additional $17,500 through a Coors Light-led promotion called Raise One For Team Gleason.
Jaime Vavrick, General Manager of Arkansas, Louisiana and Mississippi for MillerCoors, said she and fellow MillerCoors employees Aimee Corass and Tom Schwaner were invited to lunch with the Gleason Foundation team as a thank you for "all MillerCoors has done to advance their work." The foundation shared technologies that Gleason is testing in the hope they will be made more widely available for others living with the syndrome. "I have never personally felt so good about a MillerCoors investment in terms of both helping people and selling beer at the same time," Vavrick said.
MillerCoors and distributor partners donate $10,000 to USO
MillerCoors, Houston Distributing and Faust Distributing donated $10,000 to the Houston USO this year as part of a charitable event held at a Houston Texans game. The partners also hosted 90 members of the military and their families in the Miller Lite Texans suite for the game and handed out pieces of Texans memorabilia to each. The event was one of several charitable efforts organized this year by MillerCoors South Texas General Manager Mike Lowe, who teammates call "an incredible example of leadership" and "a pretty special guy."
Lowe also hosts an annual gathering of his Texas MillerCoors team, always incorporating a charitable activity. This year he and his team donated, collected and delivered food and gifts to families in need in San Antonio. Cody Butters Lewis, who recently moved to Houston to work as part of Lowe's extended team, said: "I've been working in the beer industry for quite some time, and I have to tell you that the heart and dedication that Mike Lowe puts into his team is immeasurable."
Lowe's work to remind his team "that the beer business has always been joyful and can provide so much to our communities has reinvigorated me to do more personally and professionally with my community," Lewis said. "I am sure you know what a great GM Mike Lowe is, but I felt the need to express how much of an impact he has made on me in such a short amount of time."
United Way honors Shenandoah brewery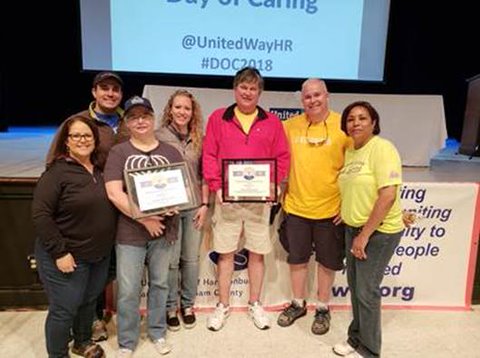 The MillerCoors Shenandoah brewery in Elkton, Va., was recently recognized by its United Way chapter with two awards. One honors "superior annual corporate investment" in United Way's Community Impact Fund, employee campaign best practices and employee volunteerism. The second recognizes a company or organization for the largest contribution to the community impact campaign.
Each year, Shenandoah employees participate in United Way volunteer projects such as Stuff the Bus and Day of Caring and serve as board members of the United Way and its partner agencies. The Shenandoah brewery completed its 30th annual employee campaign in 2017, with funds raised through employee pledges, special events and corporate match totaling $98,755, making it the top contributor to its local chapter.
Trenton brewery employees assemble 5,000 survival kits
Every year the Trenton Brewery shuts down for a day, in part to give its employees an opportunity to help its local United Way and the Cincinnati VA Medical Center. This year, Trenton employees created 5,000 "survival kits" for those in need, each of which included combs, shampoo, toothbrushes, toothpaste, soap and socks, as well as fleece blankets.
MillerCoors hosts networking event for Marine Corps
MillerCoors hosted a three-hour networking event in July on the U.S. Marine Corps Barracks in Washington, D.C., that helped provide Marines with resources to transition into a corporate career or entrepreneurial ventures following their service. The program, called Business and Beer, drew 180 Marines and was held in concert with the Marine Corps Community Services group. The event included networking sessions and an expert panel featuring Leinenkugel's Brewing President Dick Leinenkugel.
"It was terrific being able to work with the Marine Corps," Leinenkugel said. "These women and men represent our nation's finest, and to be able to assist them with their transition out of the Corps into their next chapter of service is very fulfilling."
MillerCoors awarded two Marines with $1,000 transitional benefit grants for presenting their business idea to the panel.
"This type of community services program, helping Marines transition from the Corps to civilian life is a top priority of the Commandant," said Bob Marshall, a MillerCoors global account executive who leads the military channel.
MillerCoors breweries make beers for charity
To cap off the year, four MillerCoors breweries pitched in on the largest charitable collaboration ever among the nation's brewers to aid those affected by the Camp Fire in Northern California, the deadliest in the state's history.
Blue Moon, Saint Archer, Terrapin and Hop Valley were among some 1,400 breweries to sign on to brew an IPA developed by Sierra Nevada Brewing Co. The beers are now flowing at each of the breweries' taprooms and restaurants.
Sierra Nevada expects to raise some $10 million for the charity through the effort, about five times the amount it set out to raise.
Saint Archer this month released a beer of its own to aid victims, families and the firefighters affected by the California wildfires. The San Diego-based brewery will donate 100 percent of the proceeds from its California Strong brand to the California Fire Foundation, a charity that provides emotional and financial assistance to families of fallen firefighters, firefighters and the communities they protect.
The beer is now pouring at Saint Archer's tasting rooms in Miramar and Leucadia, and the brewery is shipping kegs of the double IPA to on-premise accounts throughout the state.
"The ability to support a charity that has a statewide mission is really important for us as a California brewery," said Saint Archer Director of Marketing Adam Warren. "We're not just a company selling beer, we want to do our part to give back and be a support outlet for our community as well. That is something that's important to me, my team, our brewers and the Saint Archer brand as a whole."