Molson Coors Beverage Co.'s embrace of "beyond beer" products now has international ambitions. The global beverage company signed exclusive agreements with British hard-seltzer maker Bodega Bay and Miami Cocktail Company to distribute their growing brands in the United Kingdom and Ireland.
Under terms of the Bodega Bay pact, Molson Coors will distribute its two flavors, Elderflower, Lemon & Mint and Apple, Ginger & Acai Berry, to on- and off-premise accounts across the U.K. and Ireland. Bodega Bay is already found in high-end retailers such as Harrods and Harvey Nichols, as well as upscale bars owned by Drake & Morgan, Incipio Group and Darwin & Wallace.
The Molson Coors partnership will expand Bodega Bay's footprint, scaling the growth of the London-based brand, which introduced its hard seltzer last year.
At 4% ABV, the 73-calorie Bodega Bay is lower in alcohol than most hard seltzers, and is aimed at "healthy hedonists," or consumers who want a refreshing alcoholic drink with friends, but don't want to compromise their healthy lifestyles with a high-calorie, artificially sweetened option, Bodega Bay founder Charlie Markland says.
"Bodega Bay has successfully launched in the U.K. market thanks to its unique brand and truly great tasting liquid – immediately tapping into the big trends towards premium ready-to-drink alcoholic drinks and a desire for low-calorie, naturally flavored options that reflect a more health-conscious lifestyle," says Jim Shearer, category, insight and innovation director for Molson Coors' EMEA and APAC operations. "The growth and opportunity in the hard seltzer category is clear, but we wanted to partner with a brand we felt had the ability, because of the sheer quality of the drink and brand proposition, to become a cornerstone of the category as it grows."
The partnership "feels like a really natural and right next step for us," says Markland. "We're starting in the U.K. and Ireland, but the plan is to scale internationally with Molson Coors, targeting Western Europe markets, Australia, Japan and South Korea."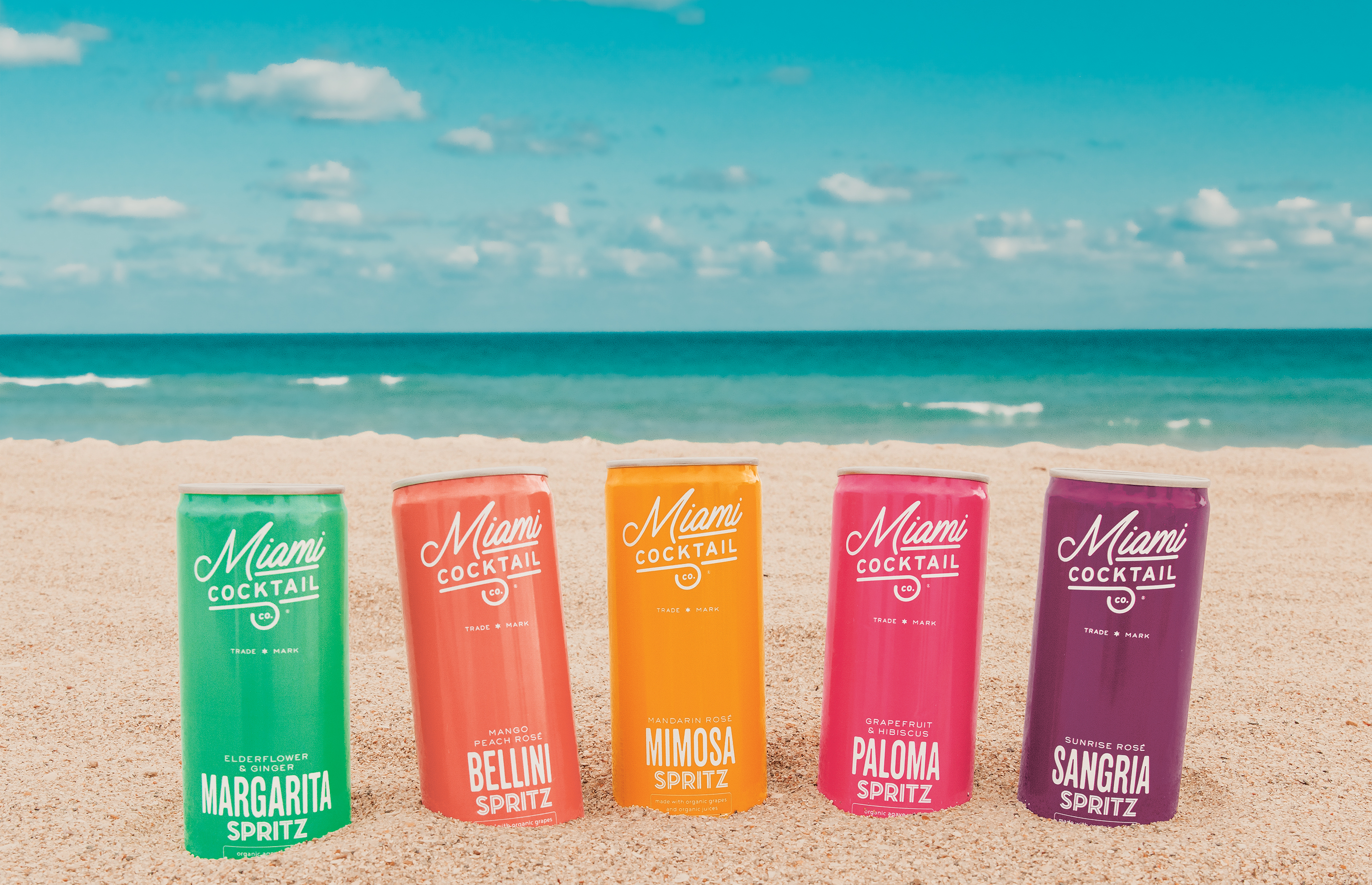 Florida-based Miami Cocktail Company's premium organic ready-to-drink, lower-calorie cocktails feature natural ingredients, and come in two styles, Organic Spritz and Small Batch Originals. Organic Spritz comes in five flavors: Margarita Spritz, Paloma Spritz, Mimosa Spritz, Sangria Spritz and Bellini Spritz. Each 250ml can contains 110 calories, no added sugar and 4% ABV. The Small Batch Originals are made for sharing, the company says. Coming in 750ml bottles, they include Copper Pot Margarita (12% ABV), Sunset Sangria (9% ABV), and Blood Orange Mimosa (8.4% ABV).
Miami Cocktail Company products are already found in Harvey Nicholls stores, and will launch in 150 Waitrose locations across the U.K. this summer. The brand hopes to leverage its partnership with Molson Coors to expand into Europe and Australia, says CEO and co-founder Ross Graham. The deal kicks off as the U.K. ready-to-drink category is expanding, growing by 15% in 2019 to £340m ($463 million), according to Nielsen.
Seltzer explosion
The Bodega Bay deal comes as the hard seltzer segment has exploded in the U.S., with brands such as White Claw, Truly and Molson Coors' Vizzy driving triple-digit growth over the last three years to what is predicted to be a $2.5 billion market by 2021. Hard seltzers accounted for nearly $1.5 billion in sales from March 7 through May 30 alone, according to Nielsen.
White Claw landed on British shores earlier this month, the latest entrant in a growing market inspired by the success of hard seltzer in America. In the last month alone, at least four new brands have been introduced in the U.K., including AB-Inbev's rebranded Mike's Hard Seltzer and craft giant Brew Dog's Clean & Press brand. Even global grocer Aldi has thrown its hat in, introducing Nordic Wolf earlier this month.
Launched in 2019, Bodega Bay is among a crop of U.K. hard seltzer pioneers that include DRTY, as well as smaller American brands, such as Oskar Blues' Wild Basin and H2Roads, from Connecticut's Two Roads Brewing Company, and offerings from Swedish cidery Kopparberg.
Molson Coors' tie-ups with Bodega Bay and Miami Cocktail Company are its latest moves to gain a foothold in the growing beyond-beer market.
Already in 2020, it has launched Vizzy, a hard seltzer that contains antioxidant vitamin C from acai berry superfruit; MOVO Wine Spritzers, and Leinenkugel's Spritzen, which blends beer with splash of seltzer.
And in Canada, it's supported a robust launch of Aquarelle, a vodka-based canned drink. The beverage maker also plans later this year to introduce Coors Seltzer.
Launched nationally in April, Vizzy has made impressive inroads in the crowded U.S. hard seltzer market. Of all products released in 2002, Vizzy's 12-pack variety packs are already the No. 3 new item across the entire beer and malt category, behind only White Claw's new variety 12-packs and Corona Hard Seltzer variety 12-packs, according to Nielsen.