MillerCoors this week is relaunching Miller64 with a new look designed to appeal to health-conscious drinkers seeking lower-calorie light beer options.
Included in its overhaul is a new descriptor aimed at putting a finer point on its functional benefits: extra light beer.
"We're reinforcing what an extra light beer can be. Miller64 is a bit more flavor than you'd expect, especially at just 64 calories, but it's balanced and refreshing – a perfect fit for a growing group of drinkers who pay close attention to health and wellness trends," says Nigel Jones, a marketing manager who leads the brand for MillerCoors. "With Miller64, we think we have a product already in our portfolio that speaks directly to them."
Renovated packaging includes a brighter palette of colors to lend a more uplifting vibe to the brand, as well as a nutritional panel that highlights the lager's 64 calories per 12-ounce serving and 2.8% alcohol by volume.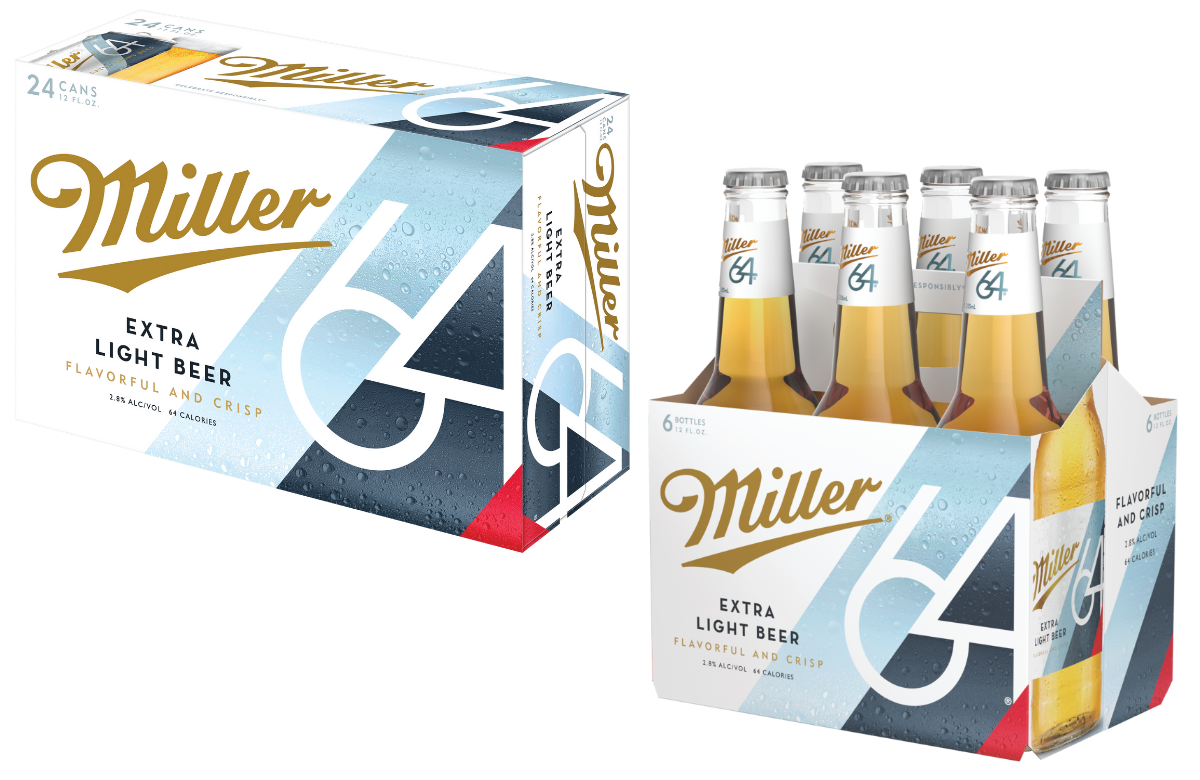 First released nationally in 2008 as MGD Light 64 and later repositioned as Miller64, the brand over the past five or so years has received little marketing attention. That's despite it pulling down significant volume in its core markets, Jones says. "We see a lot of volume sitting out there and an untapped opportunity for this brand to carve out its own space."
Since the brand last made any significant marketing investment, a new generation of drinkers has entered the category, and many of them are opting for drinks like hard seltzers, and beer brands including Michelob Ultra and Corona Premier – each of which have relatively light flavor profiles. "They're clearly more open to beers with this type of flavor profile than we've ever seen before," Jones says.
Indeed. Hard seltzers and ultra light beers have lit the beer world on fire this summer, accounting for seven of the top 10 growth brands, as measured by Nielsen all-outlet and convenience data through Aug. 24.
And Miller64 fits squarely into this space, Jones says.
When the brand first unveiled its plans to update Miller64 to a group of distributors and employees in March, it received resounding approval and a boisterous response. Emboldened by new excitement and interest in the brand, Jones and Co. opted to relaunch the brand with the new packaging and a marketing campaign that's slated to hit later in the fall.
"We feel great about Miller64 and all of the excitement around it," Jones says. "We think we have something here, and we can't wait to see what kind of momentum we can build in the months ahead."