One of the world's largest coffee chains is collaborating with a craft brewer on a porter scheduled to be released this fall.
Dunkin' Donuts is teaming up with nearby Harpoon Brewing on the 6 percent alcohol-by-volume beer, Dunkin' Coffee Porter, which will be available in the Northeast region, according to Boston.com.
While collaborations are nothing new for the beer industry, Dunkin's decision to partner with Harpoon on a packaged beer — even if it's a limited release — puts a new stake in the ground. Dunkin' Donuts, based in Canton, Mass., has more than 12,000 restaurants in 36 countries, making it among the largest coffee and baked-goods chains in the world. And surely the largest to lend its name — and coffee — to a beer label.
For Harpoon, the 18th-largest craft brewer in the U.S., according to the Brewers Association, the collaboration with Dunkin' seems a natural fit because of both brands' relative strength and — in Dunkin's case, ubiquity — in the Northeast. The benefits to Dunkin' Donuts, which has exponential more size and reach than Harpoon, appear to be more intangible and centered on goodwill the brand can generate in its home region. (My analysis, no source.)
Dunkin' last year worked with Massachusetts brewery Wormtown on a draft beer sold only at that brewery's taproom. The coffee and doughnut purveyor also lent its name and coffee to a taproom-only pumpkin beer brewed in 2017 by North Carolina's Catawba Brewing.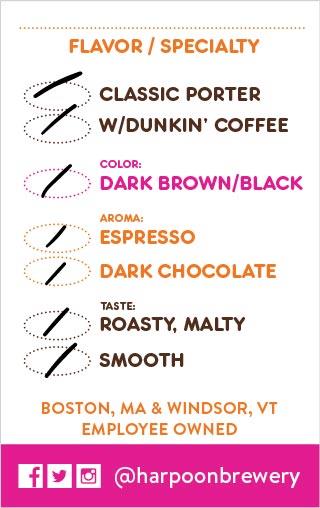 The two brands have worked together previously on small-batch products concocted for private functions, Harpoon spokesman Chris Bonacci told Boston.com. He did not respond to a request for comment. A spokeswoman for Dunkin' Donuts confirmed the collaboration but declined further comment.
Dunkin' Coffee Porter will be available in bottles and cans packaged at Harpoon's Canton brewery. It will be wrapped in Dunkin's purple and orange colors and contain the Dunkin' marks. The rear label of the bottle mimics the flavor descriptions emblazoned on Dunkin's cups, including references to color, aroma and taste.
Such partnerships are de rigueur in the industry today, fueled by the rise of craft. The motivations behind collaborations are myriad. Breweries collaborate with each other on beers. They team up with restaurants, radio stations, sports teams, athletes and even musical artists to create specialty beers, often one-offs or limited releases crafted for festivals, special events or specific venues.
Budweiser, for instance, is partnering with the bourbon brand Jim Beam on a limited-edition brew called Budweiser Reserve Copper Lager, which is aged on Jim Beam bourbon barrel staves and slated for release next month. Bud's parent company, Anheuser-Busch, also has engaged in a number of collaborations in recent years via its acquired craft brands, including a recent tie-up with English rockers Def Leppard.
MillerCoors craft brands also have collaborated with other breweries, artists and public figures on beers. Terrapin Beer Co. this summer partnered with Atlanta Braves Hall of Famer Chipper Jones on a Kolsh-style beer called CJ10. That's after the brand collaborated with former Atlanta Falcon football player Jessie "The Hammer" Tuggle on Hammer 58, a pale ale. Another MillerCoors brand, Hop Valley, last year released Reveal, a pale ale brewed in collaboration with ambassadors from the LGBTQ communities in the Pacific Northwest. A portion of proceeds went to support LGBTQ nonprofits. Leinenkugel's, meanwhile, last year partnered with Munich-based brewery Hofbräu München on an anniversary lager to celebrate its 150th year.