It's been more than 30 years since Molson Coors' brands last had a nationally broadcast Super Bowl ad. That's changing this year, when the beverage company returns to the national airwaves, with Coors Light and Miller Lite each vying for the spotlight.
But even when brands like Coors Light and Miller Lite were barred from the national stage, they still found ways to nibble their way into the public consciousness — albeit on a smaller scale than broadcasting to the millions of viewers who tune into the Super Bowl each year.
In an effort to enter the conversation around the big game, Molson Coors' brands put forth some of their most creative campaigns to grab a share of drinkers' attention – and have a little fun at their competitors' expense.
These off-Broadway campaigns gave Molson Coors more than just an entrée into the cultural zeitgeist, says Tim Calkins, a professor of marketing at Northwestern University who studies Super Bowl ads.
"When you couldn't buy a spot, it opened up a lot of opportunities," he says. "It's a chance to be creative and take some risks.
"You can be much more edgy and quirky because you're not showing (an ad) to 100 million people. …There's freedom in these guerilla campaigns to take creative risks and do fun things."
The brands took that artistic license and ran with it, creating spots that could have been classic Super Bowl ads, if not for legal technicalities.
Here's a look back at how Molson Coors tackled the Super Bowl in recent years, despite being effectively locked out from the national broadcast.
2002-2010: Coors Light as Official Beer of the NFL
Coors Light was the "Official Beer Sponsor" of the NFL from 2002-2010, allowing it to use NFL logos and trademarks in its advertising and marketing. But Coors Light was still unable to buy ad space in the Super Bowl. Today, Coors Light still has some affiliation with pro football. It's the official beer of the Las Vegas Raiders. On top of that, all-world quarterback Patrick Mahomes, a self-professed Coors Light fan, has appeared in Coors Light ads. Miller Lite, meanwhile, is the official beer of 16 NFL teams, including current playoff teams Buffalo Bills, Cincinnati Bengals, Dallas Cowboys, Jacksonville Jaguars and Philadelphia Eagles.
2009: Miller High Life's 1-second beer ads
In 2009, 30 seconds of national airtime cost $3 million. Miller High Life looked to put a twist on the big Super Bowl ad spend, airing 30 1-second ads on local TV stations leading up to the game. The Champagne of Beers spent $100,000 a second – and it was worth it. Sales of High Life in the week after Super Bowl XLIII leapt 8.6% versus the same time the year prior, according to Nielsen; they were up nearly 5% for the week before the game.
2010: High Life features little guys
While Super Bowl ads are almost exclusively the purview of big companies, Miller High Life opted to share the stage with four small businesses in an ad that ran in local markets. Featuring a California barber, a New Orleans baker, an Arizona guitarsmith and Chicago baseball-card shop, the ads celebrated High Life's unpretentious manner. In the four-week period leading up to the Super Bowl, High Life saw a 2.8% sales boost versus the prior year, according to Nielsen.
2021: Miller Lite's calorie-burning URL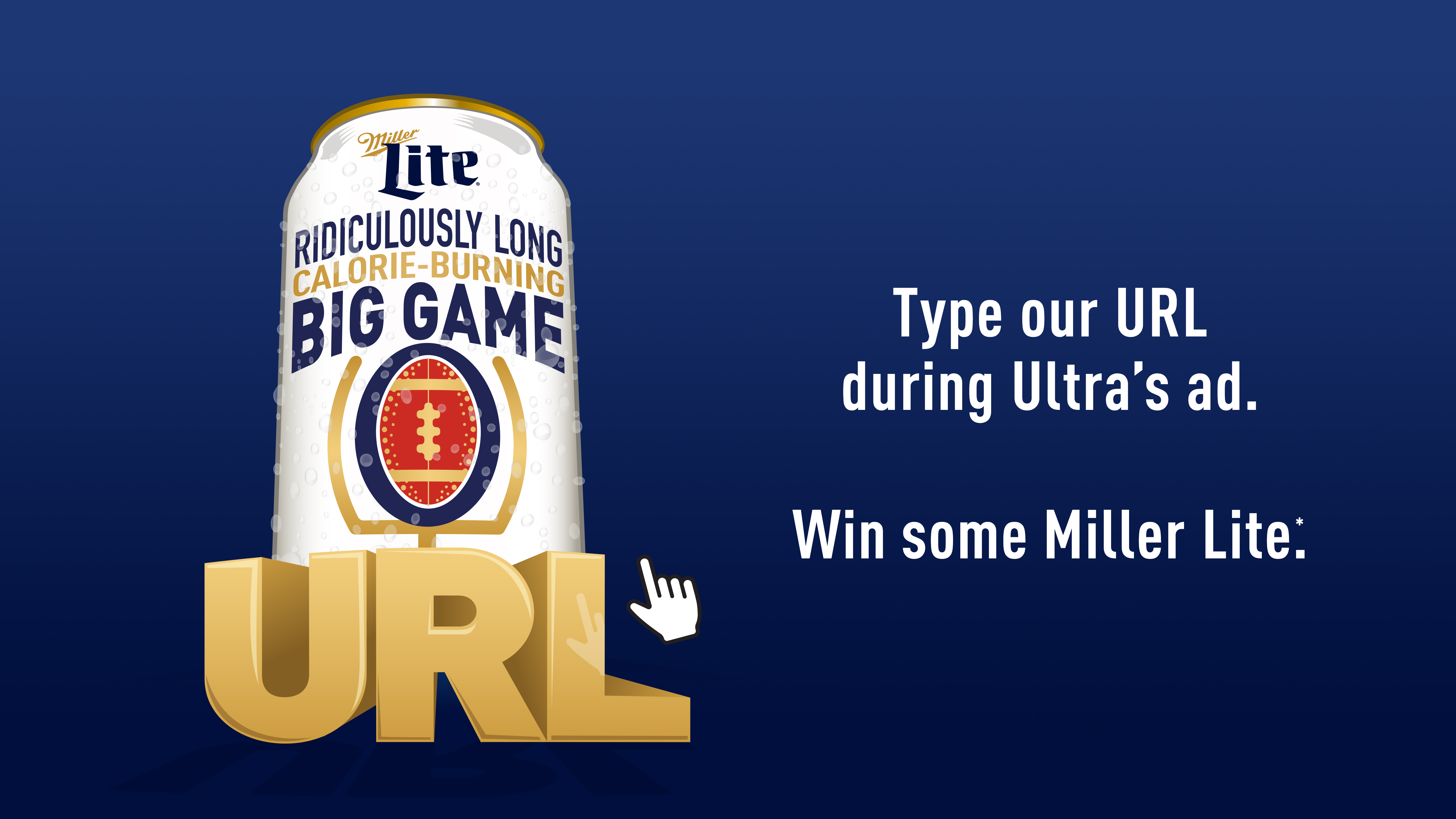 While AB InBev-owned Michelob Ultra enlisted a cadre of sports stars for its 2021 TV ad, Miller Lite opted to have some fun with its chief competitor, which has just one fewer calorie than Miller Lite. In creating an absurdly long URL – scientifically formulated to burn one calorie – Miller Lite asked fans to type in the 836-character URL into their internet browser while Ultra's ad aired for a chance to win free beer. The program poking fun at the one-calorie difference preceded ads that aired last summer that played up Miller Lite's flavor credentials, showing a cyclist pouring a slim can of "Extremely Light Beer" over his head.
The stunt got people talking, racking up more than 1 billion media impressions, according to data compiled for Molson Coors, and more than 18 million shares on Reddit.
2021: Coors Light Dreams
Also in 2021, Coors Light worked to put an ad where no one had ever put one before: directly into people's minds – while they slept. The beer brand worked with dream experts to see if "targeted dream incubation" could bring people to dream about imagery associated with Coors Light, like mountains, streams and refreshment. It released a video and soundscape a few days before the Super Bowl, allowing fans to try the experiment and generating plenty of buzz. It also enlisted singer Zayn Malik, who streamed his night of Coors Light-inspired sleep live.
The spot has earned more than 1.4 million views on YouTube, with hundreds of thousands of views coming before the game. And it aired as Coors Light finished the first quarter of 2021 with the strongest category share performance since the first quarter of 2017.
2022: Miller Lite enters the Metaverse
In 2022, it was Miller Lite's turn to go where no beer has gone before, this time establishing the first branded bar in the Metaverse. The Miller Lite Meta Lite Bar opened for business in Decentraland, inviting legal-age consumers to stop by for a digital pint and a chance to win free pixelated swag. The Meta Lite Bar drew in visitors, who stayed for an average of more than 20 minutes, while the set up won record traffic for a branded event in Decentraland.
During the game, Miller Lite also aired the Metaverse's first beer ad, poking fun at typical Super Bowl tropes, like pop stars, puppies and a certain breed of horse – drinking Miller Lite, of course.
2022: Miller64 answers the world's easiest math question
Most people will agree that 80 is more than 64, but Miller64 found a gobsmackingly large number of Americans believed the opposite to be true. To confirm that 80 -- the number of calories in Bud Light Next -- is a larger number than Miller64's 64 calories, the brand asked world-renowned mathematician Dr. Ken Ono to weigh in. He crunched the numbers and found that, yes, 80 is indeed larger than 64. "I can't understand is why anyone would think 80 is smaller than 64," he said.